What are some Zen living room decor ideas?
Neutral tones
White spaces
Minimalist
Natural stone-look
Originating from Japanese concepts of tranquility, meditation, and relaxation, Zen living room decor ideas have all been about bringing these elements into your home. What started out as a way of life eventually branched out into interior decoration, redefining the way people designed and used each of their spaces. What better way to liven up your home and create a fresh new look than with Zen-inspired looks that explore the roots of introspective architecture?
Any Zen living room focuses on making the entire area as relaxing as possible. It's getting rid of the zany centerpiece that sticks out like a sore thumb, or the mismatched furniture making everything look outdated. Instead, Zen promotes creativity through a Japanese-inspired way of life — simple, yet alluring; minimal, yet stunning.
If you've always wanted to create an elegant living room space with these nuances in mind, then this guide is here to help you out. From versatile tones to outdoor vibes that freshen up your indoors, these ideas below can help you recreate the look into your own space. Check them out!
Neutral Tones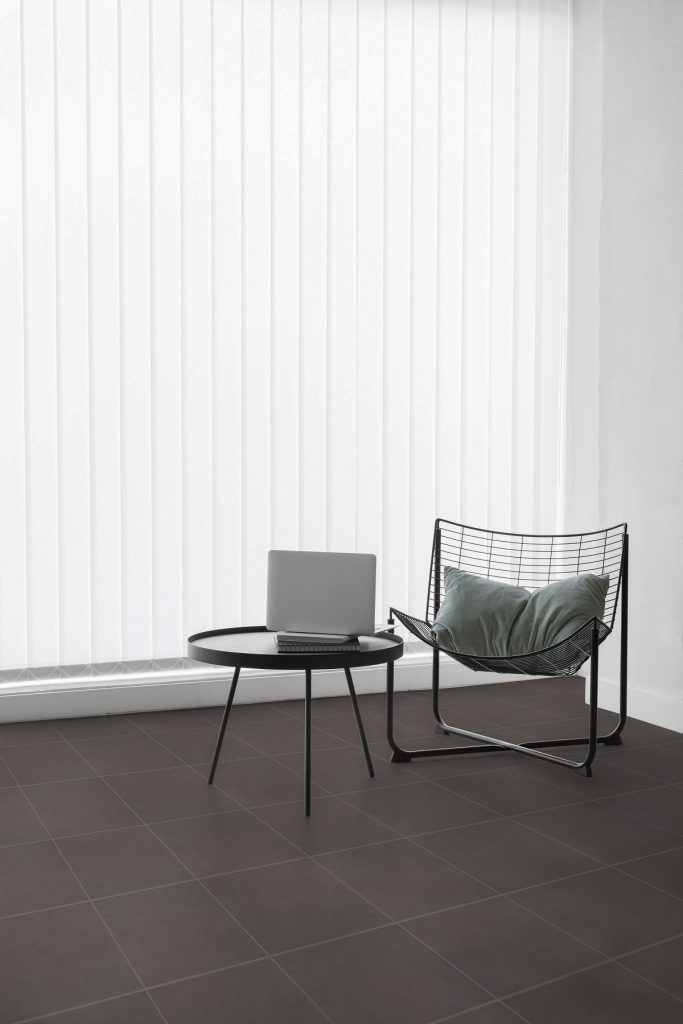 [30×30] 03P
Many contemporary Zen styles to date tend to veer towards the classic white or black — and for good reason. These two shades are extremely easy to work with. Not only that, but they build the foundation of any Zen interior design — neutral tones bring about a calming and soothing effect to any room, provided that they're executed well.
Aside from these familiar shades, you're also welcome to invite other colors like beige, dark blue, dark gray, or even earth tones. Your floral upholstered furniture may be swapped out for modular couches in grey tones, complete with matching accent pillows.
If not your furniture, then you may also apply Zen concepts to your walls, floors, hanging installations, or even passageways. Wooden doors or custom-built nooks, shelves, or any wood-designed storage space add a fitting contrast to the rest of the neutrality.
White Spaces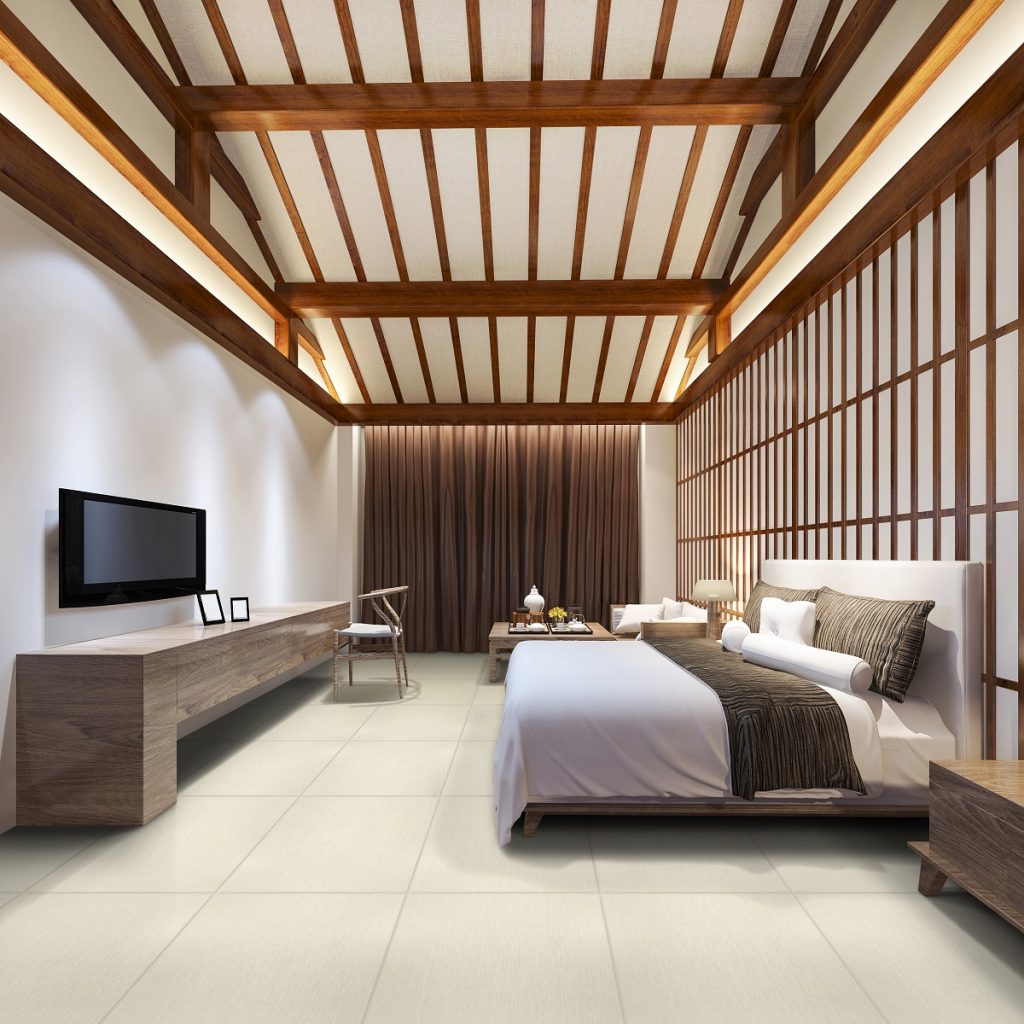 [60×60] ME6010
In any Zen-to-be living room, you simply can't go wrong with using white shades. There's just something about this tone that's distinctly Zen — it creates a tidy and clean-cut look that makes your interiors feel cohesive, seamless, and well-organized.
You don't necessarily have to work from the ground up just to incorporate white into your living room. It can be a simple choice of changing the furniture, choosing the right additions, or bringing in more natural lighting into the space.
The idea is to add any shade of white in locations that you see fit. Whether it's with your varied combination of coffee table decor or what have you, white shades offer a calming effect that's unmistakably Zen.
Minimalist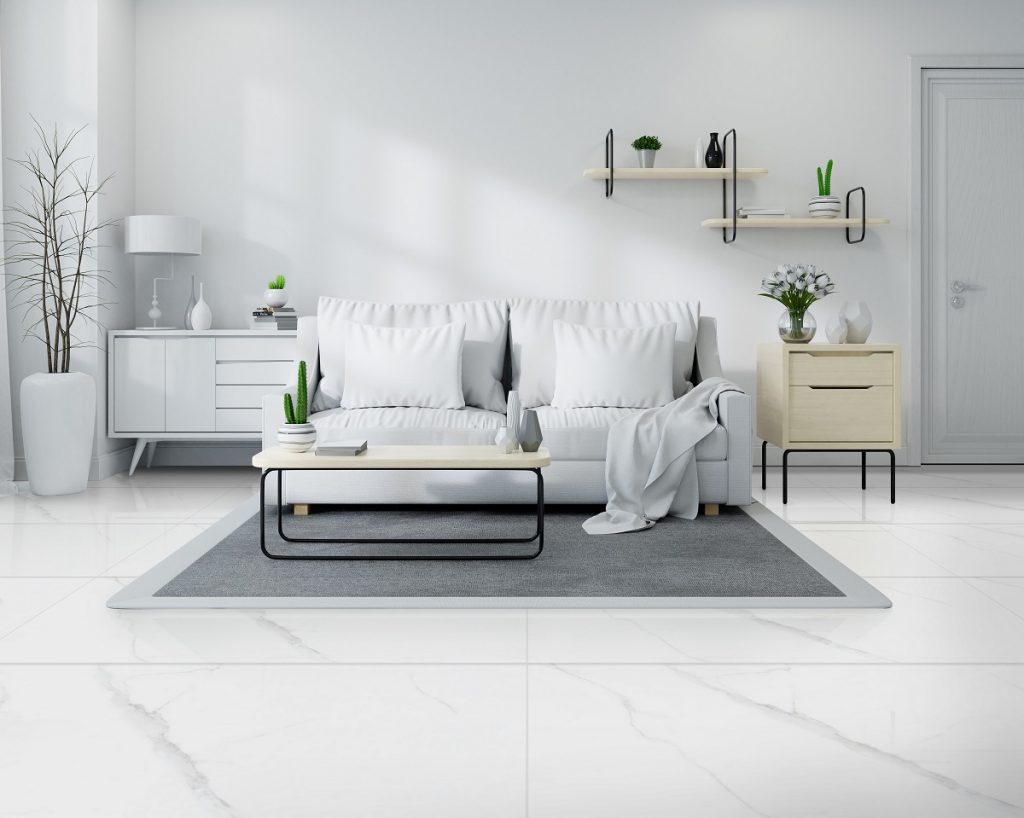 [60×120] L12601
Marie Kondo made waves in 2019 for her "KonMari" method of decluttering spaces, tidying up, and getting rid of anything that does not "spark joy". Many have likened her interior design philosophy to be a subdued version of the minimalist style — subtle, yet completely nails what Zen decors attempt to achieve.
You too could adapt this technique into your living rooms by following a few design conventions. Zen minimalism is the perfect opportunity for you to get organized, starting with this part of your home. Take a look into each piece currently taking up space — any piles of books or papers on flat surfaces simply have to go. Take away anything that doesn't belong and place them back inside appropriate storage spaces like magazine racks, drawers, mounted shelves, and the like.
Once you've taken care of all the mess, try focusing on what you can do to populate the space without being too overwhelming. A small, Japanese-inspired decorative bowl may be a good centerpiece, combined with a small stack of coffee table books to while you or your guests' time away.
Natural Stone-Look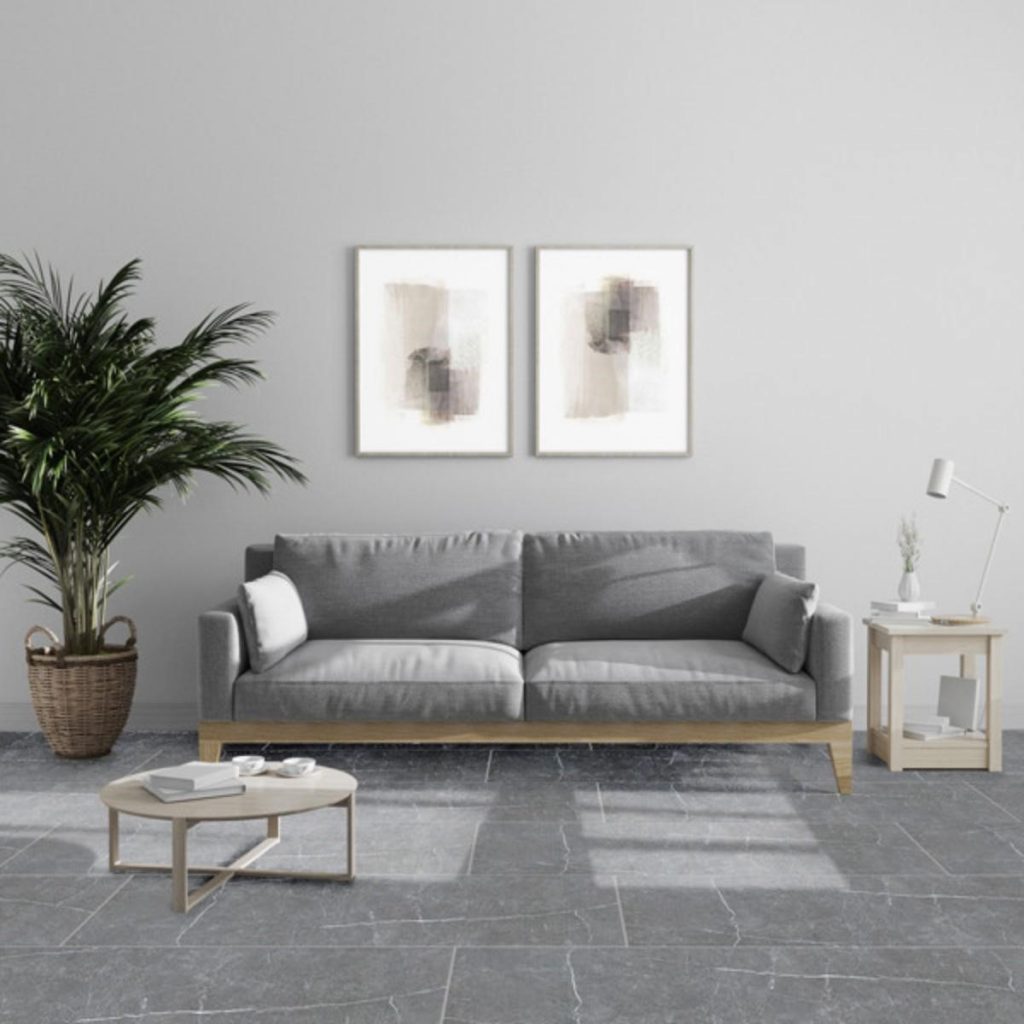 [30×90] G2C-25NPEA
Finally, no modern Zen architecture would be complete without natural stone. Since time immemorial, decorative rock or stone structures have been foundational pieces in Japanese gardens. They have always been the Japanese's representations of colossal architecture like mountains, Shinto Shrines, or Buddhist statues revered in ancient and modern history.
Now, you can also bring a piece of this tradition to any Zen living room inspiration by choosing natural stone look flooring. Floor Center's tiles are perfect for this, as they create a sleek surface by which to base other matching Zen pieces. Add fresh pops of color with indoor plants or landscape artwork that ultimately match the vibe you're going for. Find wooden finishes to complement the stone-inspired flooring and complete the entire look.
Key Takeaway
Zen living room decor ideas may be elusive to the beginner interior decorator, but the key is to understand what this design movement seeks to convey — that is, relaxation, calmness, and introspective spaces.
Try out a combination of these techniques on the list above. Neutral colors make for a perfect backdrop, complete with wood furniture and matching tones. Then, transform the entire space into a fully functional room by taking concepts from minimalist styles for clutter-free and truly Zen living quarters.
Interested in more stylish design tips? Check out our Styles & Ideas Guide to learn more! We're also welcoming you to our FC Tile Viber Community Group! Be up to date with the latest tile tips, tricks, and trends, wherever and whenever.