What are some wood-look tile ideas for 2021?
Herringbone style
Dark wood pattern
Minimalist porcelain style
Walnut design
Wood designs offer a unique presence in any modern home. Whether outdoors or indoors, they're a popular option due to the practicality and visually appealing design that simply works. If you're planning a few home renovations this year, there's no doubt that going for wooden-style finishes for your floors, walls, and surrounding fixtures would make a sound choice. Many wood look tile ideas for 2021, when executed properly, will elevate the look and feel of your humble abode.
You can experiment with all sorts of ways to incorporate wood-look ideas in your home or building. The best part is, you won't experience the drawbacks of actual wood — granted they may look expensive and all-natural, but they're extremely difficult to maintain. With wooden-inspired tiles, patterns, and arrangements, on the other hand, you have the freedom to transform your interiors and exteriors into something undeniably cozy and stunning. Take the year's design ideas to the next level with these wood-inspired looks. Check them out!
Herringbone Style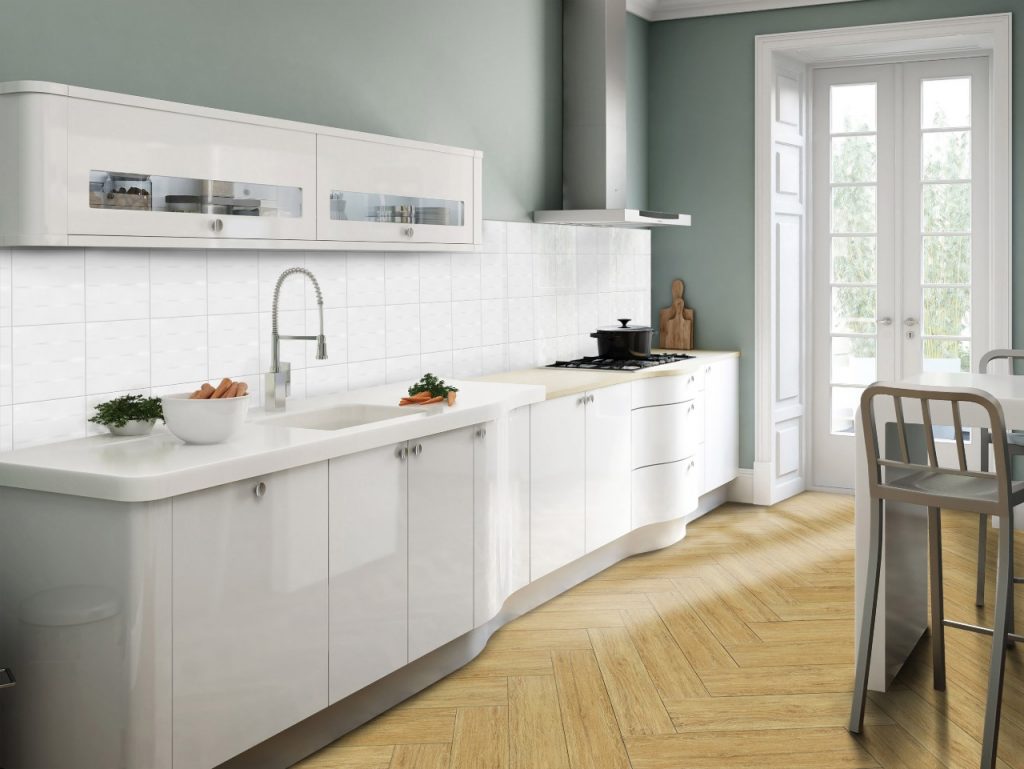 [20×20] + [15×60] 22AW1H, A1562
While it may not exactly pertain to a type of wood, the first design on this list refers to the pattern or the way by which the tiles are applied. For the Herringbone style, rectangular tiles are arranged in such a way that they create a zig-zag pattern. Since each tile or plan is precisely cut, the ends meet together to create a beautiful, yet fun design that's ideal for any avant-garde villa.
Herringbone pattern tiles are best done on tile shapes that have longer widths. This 15×60 tile, for example, is the perfect fit for the Herringbone look, complemented by a creamy white, and yellowish mahogany shade.
Try this out in your kitchen or dining room. Bring out the look of your tile pattern by adding a white color contrast on your countertop, cabinet, or backsplash of your choice. Even a simple pattern can already bring out the charm of your dining space.
Dark Wood Pattern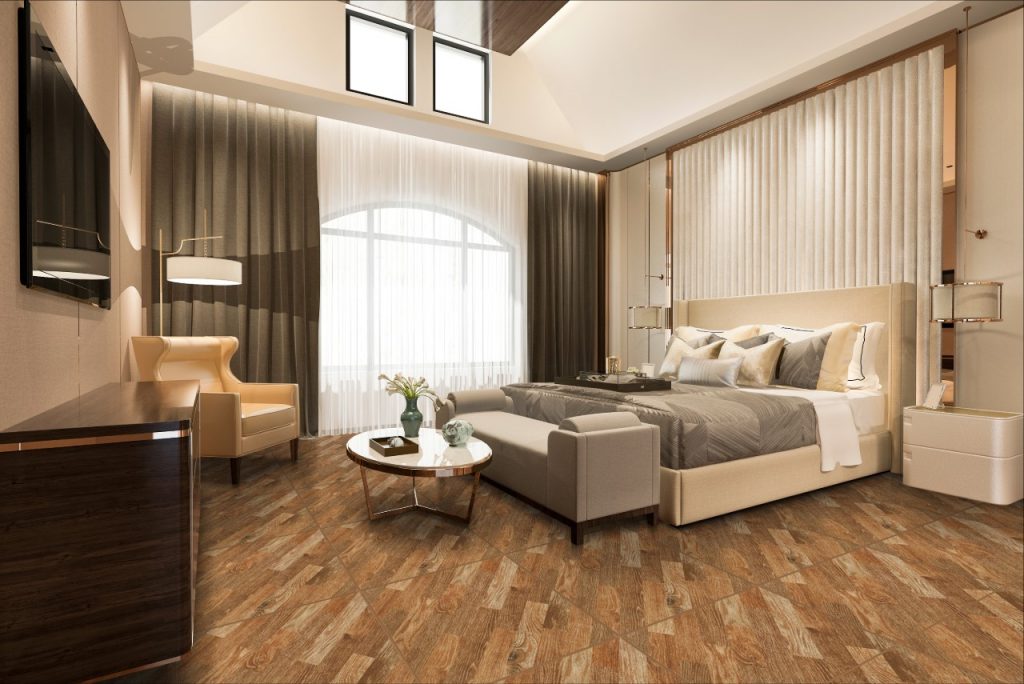 [60×60] CL06
Most wooden-inspired tiles are made out of porcelain or vinyl, but this doesn't take away from the fact that they look wholly natural and alluring. Their versatility remains unmatched, which is why you can pick out virtually any part of your home and incorporate a fresh layout of these tiles.
Dark wooden tones, in particular, can introduce a vibrant, yet lovely and welcoming feel into a space. Coupled with effective techniques, you can definitely design a bedroom, living room, or an open-plan space with beautiful, dark hardwood-inspired flooring.
Opting for single-planked wooden tiles that have to be installed one by one can be time-consuming, which is why you can turn to pre-set patterns. The large-format 60×60 tile above sports a diagonally-offset pattern that emulates the appearance of true wooden floors. Its dark tone matches well with similar dark textures and an interior color palette that plays with different rustic shades — white, cream, beige, and brown to name a few. Finish off the decor by layering it up with soft cushioning, box pleat curtains, or any decor that you think would work best.
Minimalist Porcelain Style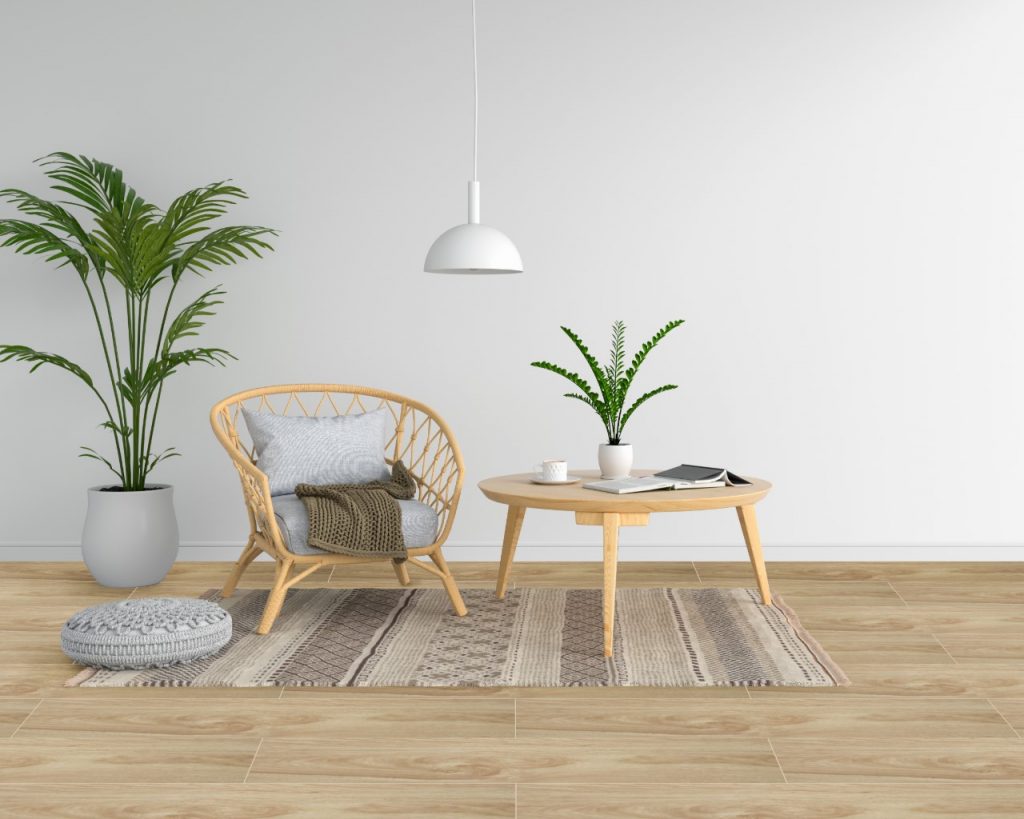 [20×100] 2100P2
Contrary to what you may think, wood is not only a popular fixture in rustic homes. In fact, they've slowly found their way into even minimalist, modern styles that emphasize relaxation, functionality, and practicality. If you've been dying to find a balance in designing a traditional, yet ultimately contemporary space, then the porcelain wood-look tile might just be your best bet.
Simple and no-frills — not much needs to be considered when designing with a set of wood-look flooring for a minimalist environment. Choose small and low-height furniture that will fit well into a small, but ergonomic space. For example, you could go for a small round coffee table paired with a rattan chair for the living room. Add a pop of color with stylistic decors, such as a large wall centerpiece, or a few potted plants to achieve that natural, yet minimalist vibe.
Walnut Design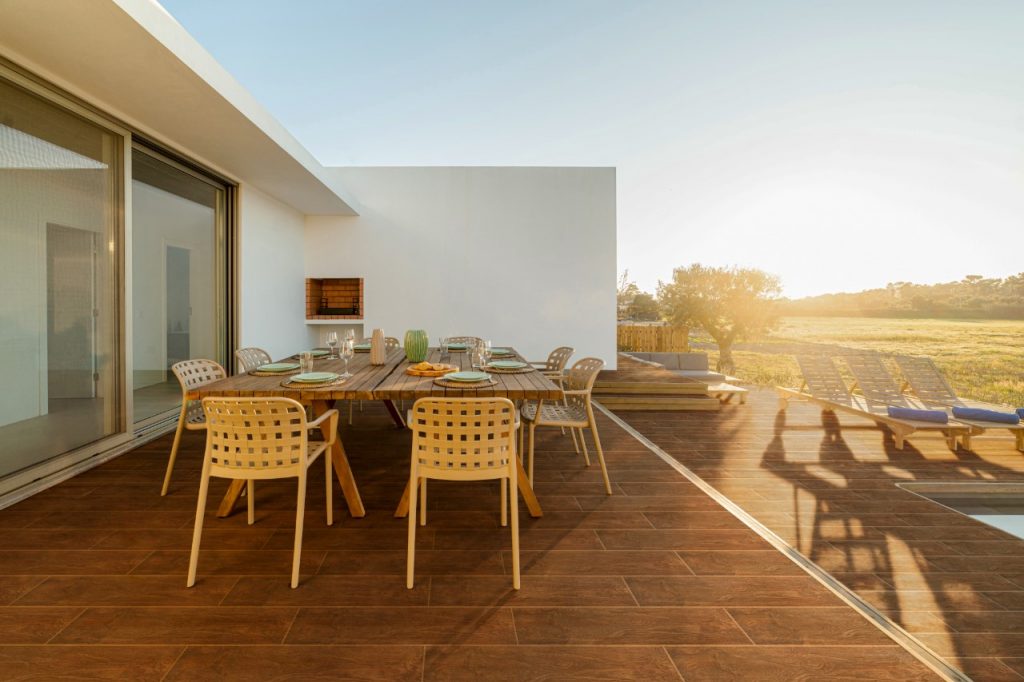 [15×80] 1580P3
Staying true to its natural environment, a wood-look tile setting can also be executed in any outdoor space. In fact, many homeowners have found them to be the perfect choice in achieving exquisitely-built decks, patios, or any other outdoor area.
This walnut-shaded wood-look tile by Floor Center makes all of that happen with its charming design. You can use this tile for any type of outdoor look — be it in platform areas or as part of a small swimming pool or hot tub. To come up with a completely stylish look, pair the deck with a matching set of outdoor furniture, picnic tables, chaise lounges, and what have you. Soon, you'll find yourself retreating to a well-designed, wood-look space that you've always dreamed of.
Key Takeaway
In need of fresh wood look ideas for 2021? Bring your design aspirations to life with Floor Center's unique collection of wooden-inspired flooring! Whether it's a minimalist living room or an exquisite outdoor area, you can never go wrong with our options.
Curious to learn more? Check out our Styles & Ideas Guide here! You're also invited to join our FC Tile Viber Community Group! Exchange fresh new ideas and about the latest tile, tips, tricks, and techniques for better interiors and exteriors.