What are timeless kitchen colors?
White
Grey
Black
Beige
Brown
It can be easy to get caught up in the hottest designing fad when remodeling your kitchen. However, these will soon fade out — leaving your kitchen looking dated. When you're in your forever home, you want to choose color schemes and designs that can survive constantly changing trends.
So, it's important to know timeless kitchen colors that can withstand the test of time, and which designs appeal to your personality and style. Luckily, we have just the guide for you! Here are some beautiful kitchen colors that can keep your home looking modern and sleek for the years to come.
White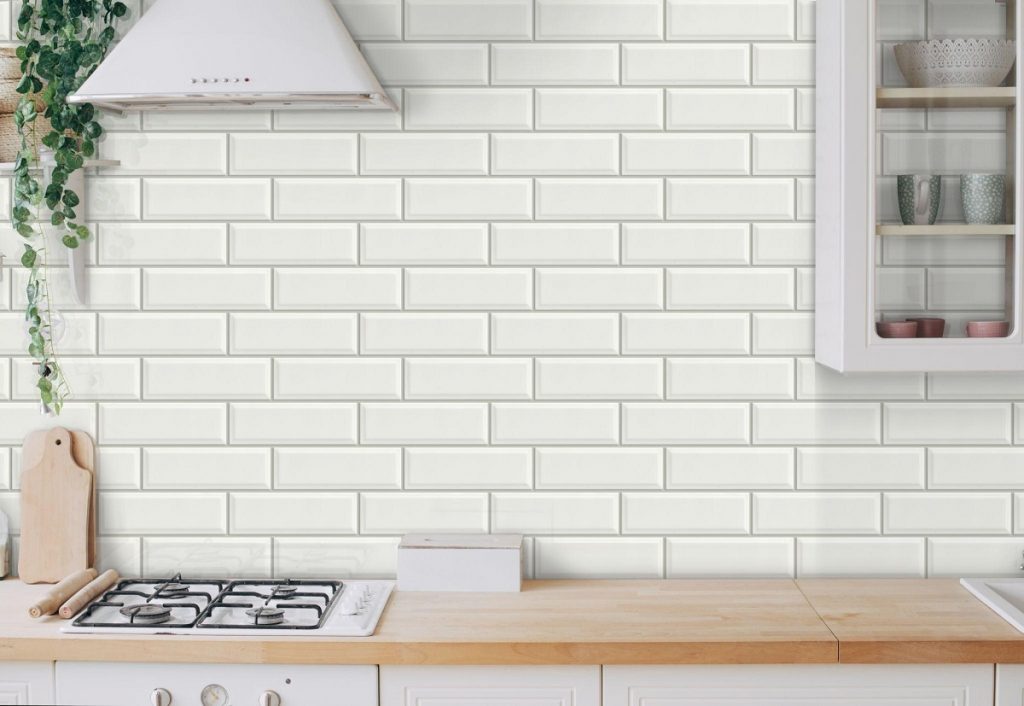 [10×30] 13GAW1
From farmhouse to ultra-modern, white-themed kitchens have been popular in almost every type of home. This is a testament to the color's timelessness — if it can fit many different themes, then it can withstand the test of time. White is also a great color to work with, as any other addition automatically matches with this neutral color. White tile can be easily updated over the years with a change in cabinet color, or in kitchen decor.
With a white scheme, you can choose a variety of combinations. You could go for white subway tile and white floor tiles, and pair them with wooden cabinets and countertops for an all-natural look. You could also go for an all-white design using different shades of white, such as a white backsplash with off-white marble-look counters. The possibilities when using white tile are endless, and it is one of the most versatile options you can pick for your kitchen.
Grey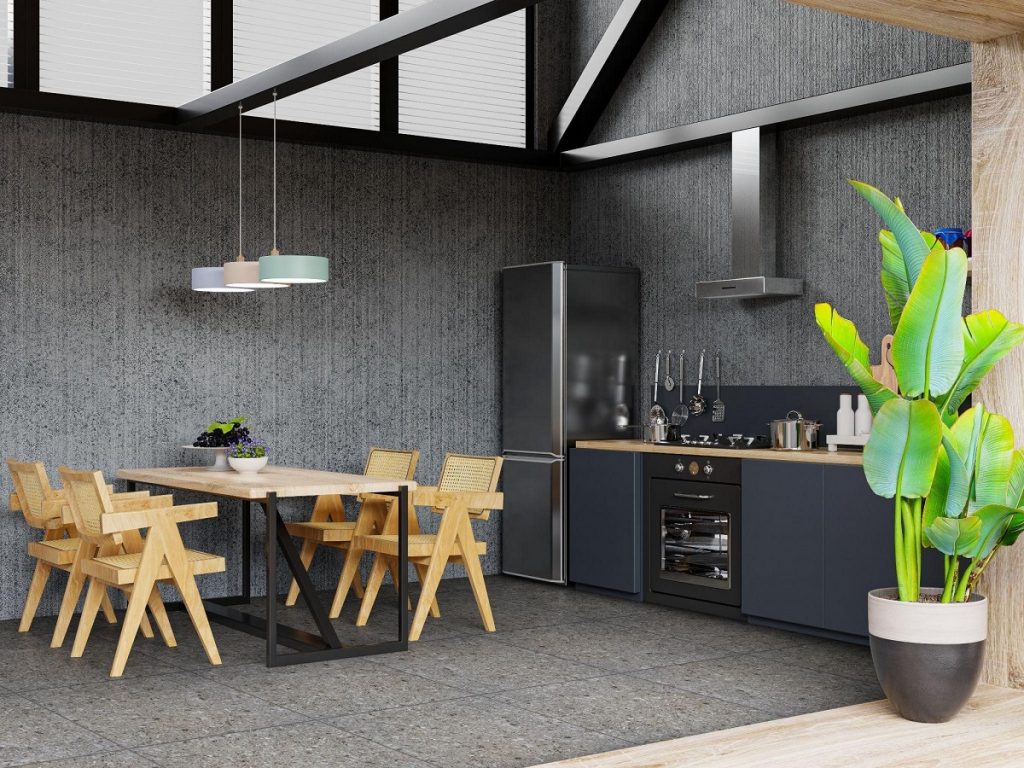 [60×60] P127-7
Pewter, dark gray, slate, concrete-like — all shades of grey tile make for an interesting color palette for your kitchen. Gray is considered a sophisticated and mature color and is pleasing to the eye. This is why many homes favor gray-colored tiles for their rooms, and why this color has been popular for years. Its popularity and timelessness have made it a staple color found in many designs, such as modern, rustic, Scandinavian, and minimalist homes.
Similar to using white, gray colors are neutral enough to be paired with many different design elements. That means using gray tile for your kitchen can fit many different styles, and can be easily updated by quick changes to the surrounding elements. For example, you could pair your gray tile with a darker backsplash, and finish the room with natural wood furniture. As time passes, you could update this look by changing the color of the backsplash, or replacing wood with steel. Whichever way you choose to go about it, using gray can bring a sense of calm into one of the busiest rooms in your home.
Black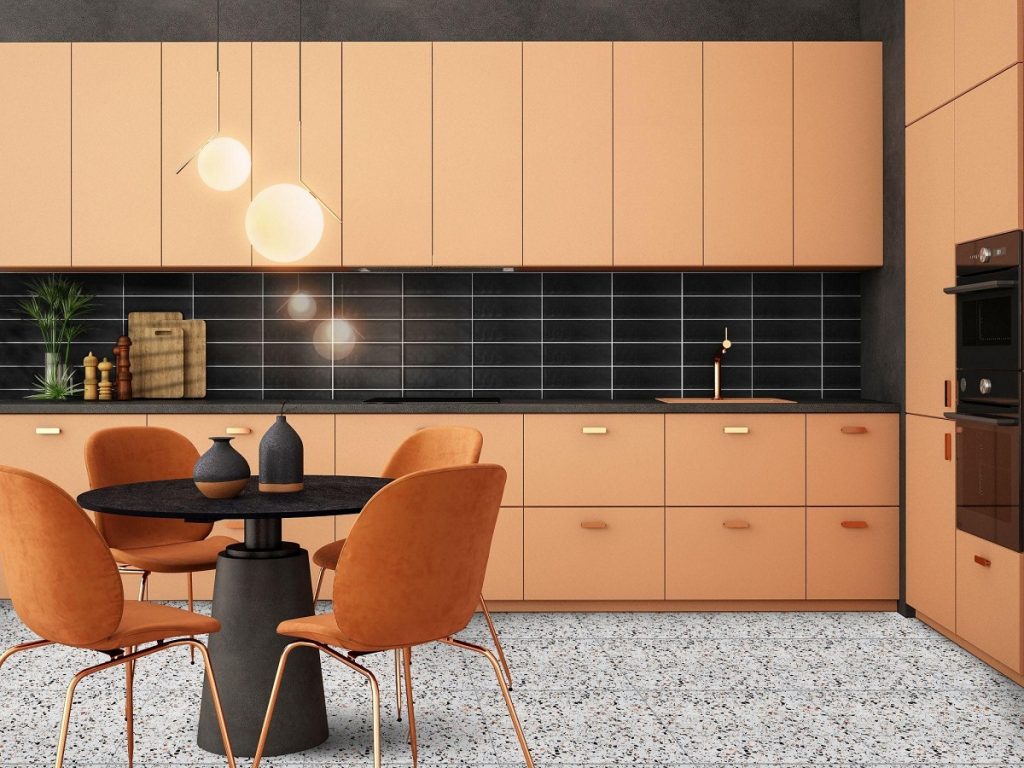 [60X60] P129-7 + [10×30] 13UDH1
Using black for your kitchen can be a more dramatic and bold choice — but it's still considered a timeless color. While it is sure to make your kitchen stand out, the nice thing about black is that it's still considered a neutral color. Meaning, it can blend in nicely with whatever style you choose to pair with it. Whether you're leaning towards traditional, or mid-century modern, or eclectic, black just makes everything look good!
However, one of the things to consider when using black tile is that it can make your space feel smaller. To counteract this, try pairing your tile with brighter colors — like gold — as well as warm-toned fixtures and furniture — like warm browns and peaches. Using black subway tile as a backdrop will make these colors pop and appear more lively and vibrant. You could also use lots of light fixtures and a lighter floor tile to make the space seem less dark.
Beige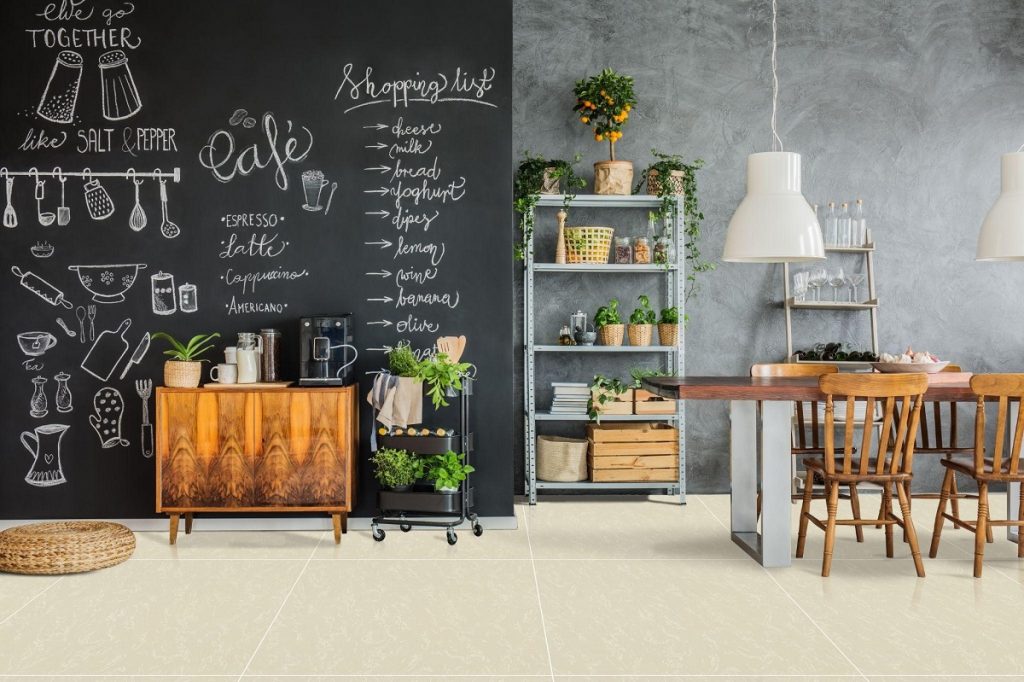 [60×60] V-C
Although white, gray, and black are the more popular colors that come to mind when you think of 'timeless' colors, using beige and pale creams can also be a good choice for your home. Compared to the other options, beige is considered to be one of the softer color options for your kitchen.
Like the previous options, beige is also neutral, but many people think that this color is boring and less sophisticated than the other colors. This is a misconception. You can't go wrong with a good beige tile — it creates a comforting and timeless feel for any space in the home. This can be especially suitable for those who want earthier tones for a homely feeling in their kitchen. Using beige tiles in the kitchen works well with a variety of wood types, darker colors, and metal fixtures — perfect for mixing and matching.
Brown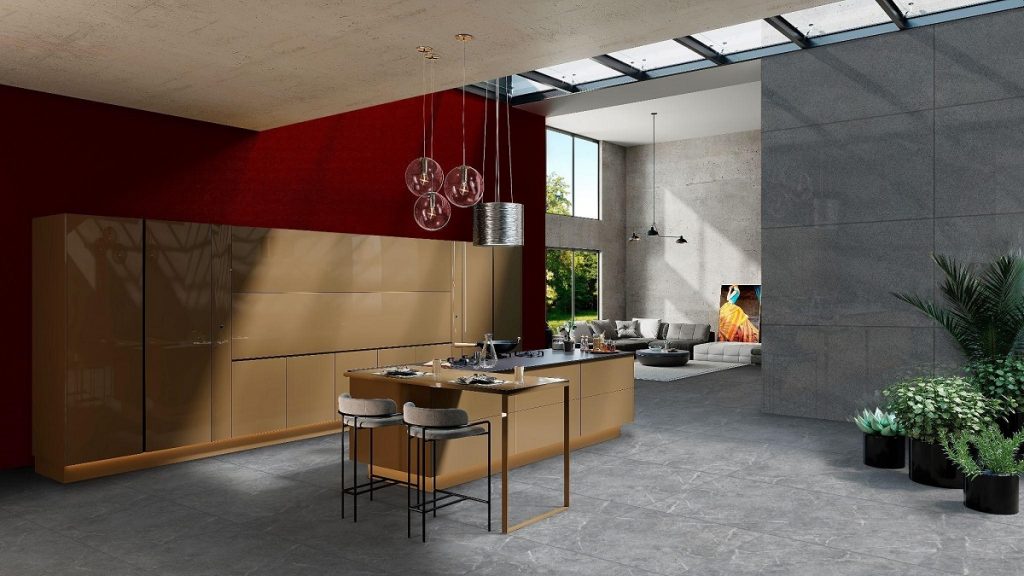 [60×120] Y1AC-61QE + [60×60] P1414
Colors such as brown are naturally considered to be timeless because it reflects the colors we see in nature. Using medium to dark brown colored fixtures, such as cabinets and counters, has been a popular option since the 1970s. Up to now, this color is still one of the most preferred kitchen colors of all time.
To work with a brown color scheme, you can pair it with other elements you can find in nature. For example, you may choose to have brown cabinets and fixed appliances. In this case, tiles with a stone-like look are the go-to option for kitchen floorings. This is a modern-looking combination that can withstand the test of time.  Pairing the medium-brown elements with a cool-toned flooring gives the whole room a classic and sophisticated look, without dating your kitchen.
Key Takeaway
When remodeling your kitchen, consider using some of these timeless kitchen colors for your design. Using these colors will help you make your kitchen more stylish without becoming dated in just a few years.
Looking for supplies for your kitchen project? Let Floor Center's tiles help you build timeless and sophisticated interiors. Check out our Styles & Ideas Guide here for more inspiration! Do you have any interesting kitchen designs that we haven't covered? Our FC Tile Viber Community Group is here for you to share your ideas, and keep up to date on tile tips, tricks, and trends.