What are modern farmhouse-style ideas for your home?
Think Neutrals
Use Wood Accents
Add Raw Textures
Unite Styles and Eras
Mix in Metals
Keep it Family-Styled
Uniting a modern look with rustic touches — a modern farmhouse design combines the best of the old and the new. It harnesses a cozy, country look and marries it with contemporary elements to create a design style full of neutral tones, clean lines, and layered textures.
Whether you're someone wanting an updated take on the farmhouse look or someone who's in love with rustic chic, this design is perfect for you. For those looking to use this timeless style for their home, try these modern farmhouse style ideas! These tricks will show you how to integrate your love for homely and cozy decor into your home.
Think Neutrals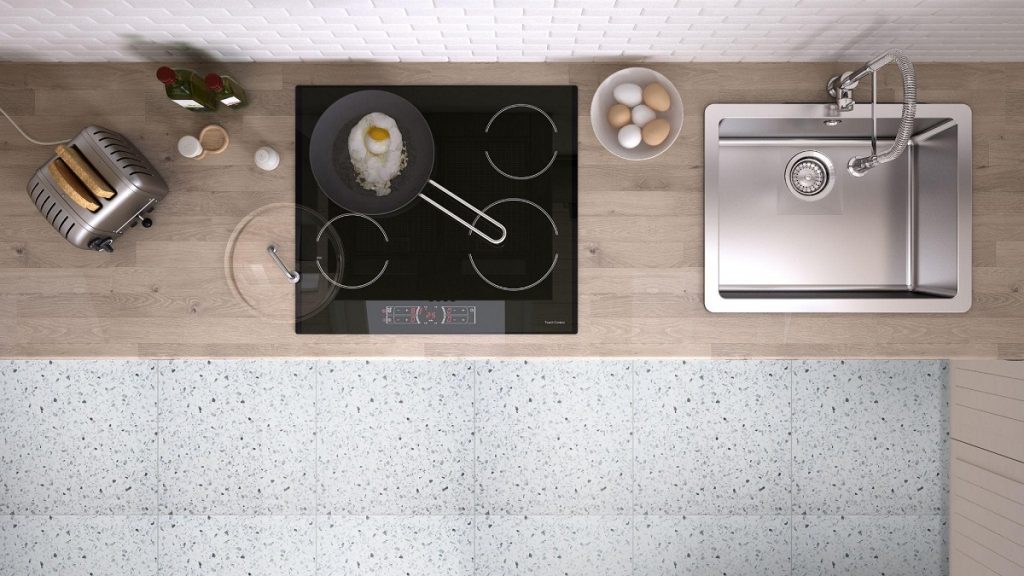 [30×30] I-3460
Neutral colors are the mainstay in a modern farmhouse look. Using white tones helps to keep the design timeless and classy. However, you can still keep things unique and fresh by integrating pastels, warm browns, and even light blues and greens. This is perfect for those who want a calm, but warm look for their modern farmhouse design.
For those wanting more contrasting shades, you can do so — just remember to use them as accents, not as a main component to your palette. Try using charcoal greys, emerald greens, navy blues, and even pops of bright yellow and red around the home. With these deeper accents, it moves the overall feel of your home from simple contemporary to a chic modern style.
Whichever accent colors you choose, always remember the key ingredient to this design — the neutral colors. They should always be the base colors for your home, so make sure to add varying shades of whites and creams.
Use Wood Accents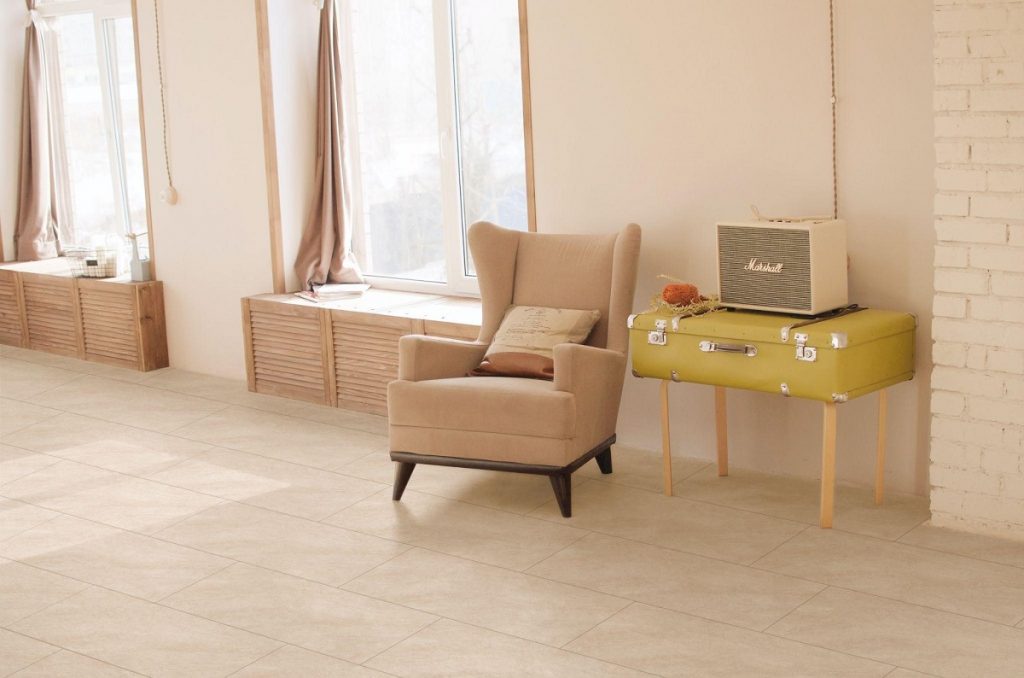 [30×90] Q83-003PG
Expansive, modern rooms can feel cold and inhospitable without the right features. Adding wood accents, such as furniture with different tones and finishes, are the perfect design elements to use. Using wood accents can help add some warmth to your room while still keeping in line with a neutral palette. You can also use some textured wood pieces, such as the wood-shutter paneled benches in the interior above.
While using wood isn't a novel idea when it comes to farmhouse decor, using different tones in the material is something new to consider. Try adding a few different finishes ranging from light to dark in a single room. Wood grains are naturally complimentary to each other despite the broad tonal shifts, so you don't have to worry that one piece will look too out of place.
Add Raw Textures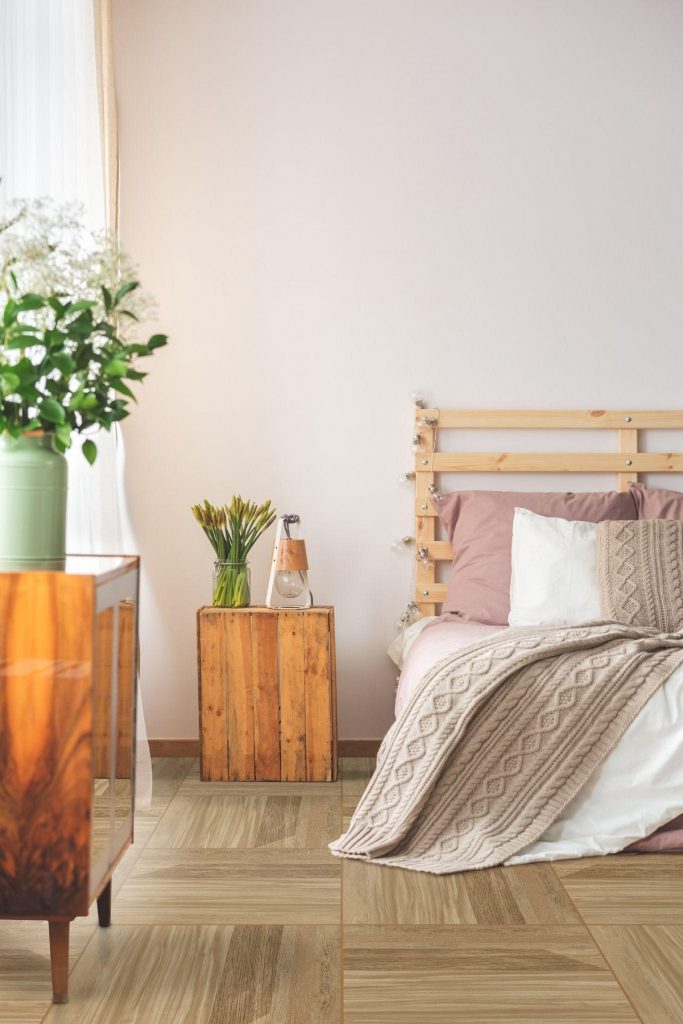 [40×40] F53
Embrace the natural surfaces of unfinished wood, stone, and metals to enhance the rustic look in a space. Using weathered and rough materials adds a sense of history and charm to your home. However, for this to work, these pieces need to be paired with sleeker elements, such as smooth and glossy surfaces. This contrast helps to accentuate the beauty of both the finished and unfinished elements.
Try using un-waxed woods, unpolished or tarnished metals, and even concrete pieces around your home. You can use the same kinds of woods and metals in the space, just with polished surfaces. The outcome is a space with a refined, but rustic feel, which is the overall aim of a modern farmhouse design.
Unite Rustic with Refined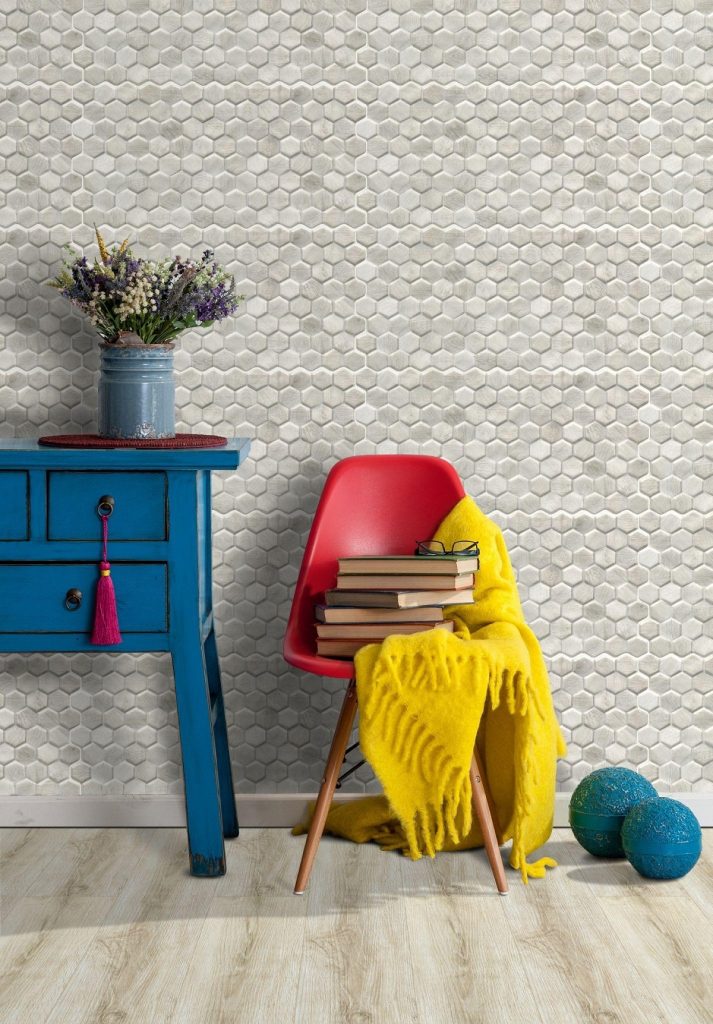 [30×60] NHC63016 + [18×122] LD6187-5A
Adding modern and vintage design pieces creates a character-rich look for your space. Using old ceramics and metal containers as vases can create a contrast with the wooden textures around the home. Having worn pieces like an old coffee table or drawer in your living space can be a visual foil for the other white and polished furniture pieces.
Having this juxtaposition by including vintage and "worn-down" decor along with your more refined and natural pieces is a great way to achieve a modern farmhouse design while adding your touch to the style. Don't be afraid to reuse and recycle, and even work on the decor yourself. Shop around and bring in vintage items that can add history and depth to your home.
Mix in Metals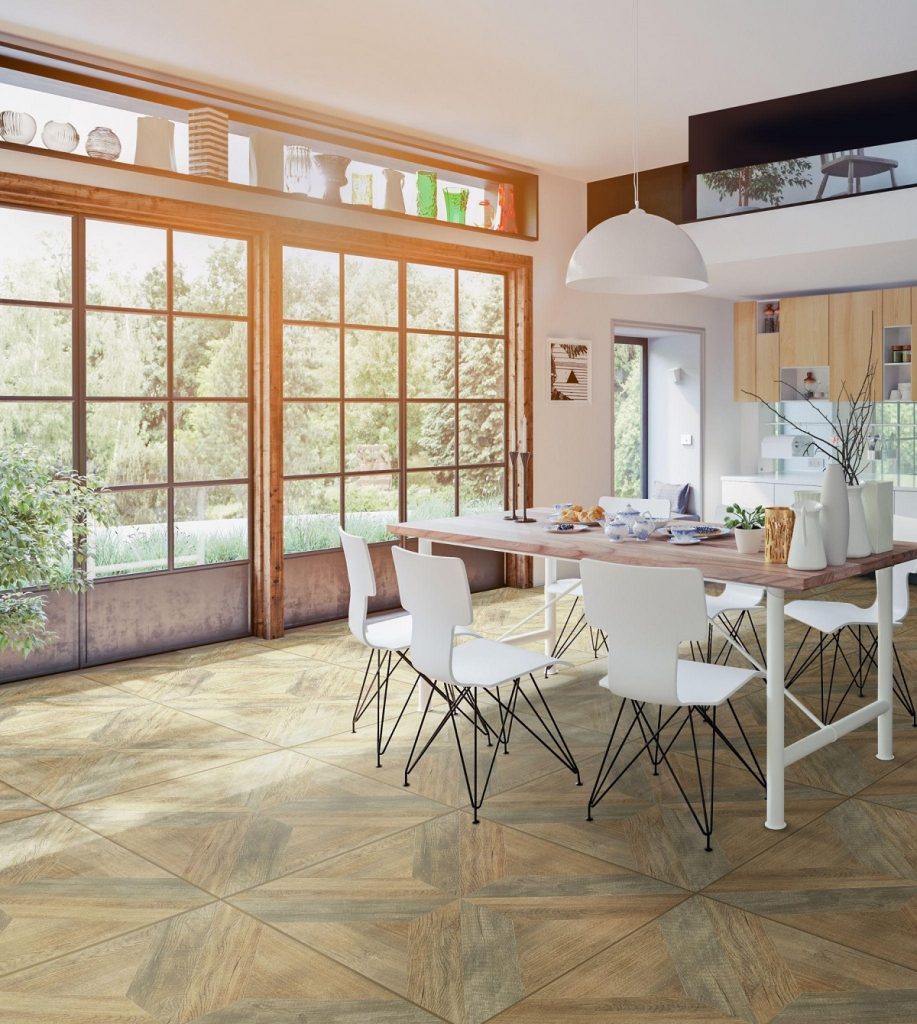 [60×60] CL20
Don't just stick with wood; you can mix in metals too! When thinking of metal pieces, industrial design comes to mind. This style is rooted in hard finishes and raw textures — also common in farmhouse styles. To marry metals into your space without deviating too far from a modern farmhouse look, add in elegant ceramic and glass decor, and throw in some delicate textiles.
If you're adding metals, consider using unfinished surfaces, and using mainly iron, copper, and brass items. You can mix polished and rough pieces of the same metal to create some contrast. Like in the interior above, you can use reclaimed iron sliding doors to open up your living room and decorate with dining chairs with polished iron legs.
Keep it Family-Styled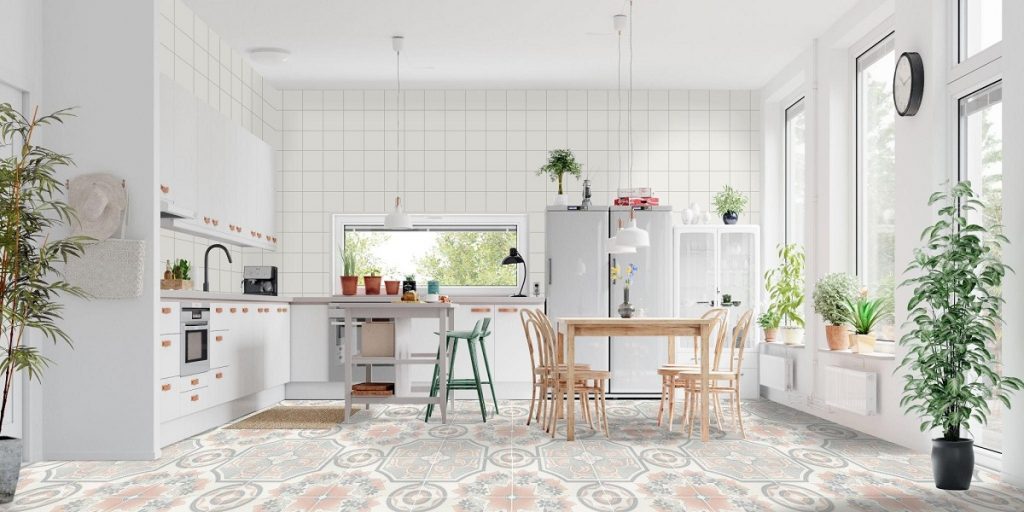 [40×40] S4040A + [15×15] 15AW1
Whether you decide to stick with light accents, unfinished pieces, or forgo the vintage touches, there is one key thing you have to always include in your design. At the heart of the modern farmhouse look is a warm and welcoming space for family (and friends!). So, make sure that your home is designed to embrace your loved ones, and provide cozy spaces for everyone to sit back and relax together.
Try using islands and bar stools in your kitchen. This subconsciously invites people to come up and chat with you while you're cooking or fixing up a snack. You can also add plenty of seating options around your home to create a comfy environment. This also encourages people to relax, while providing many spaces for people to hang out in. Overall, making these design choices creates a welcoming and comfortable atmosphere for your family and guests.
Key Takeaway
Modern farmhouses are the perfect mix of warmth and refinement. Adding rural styling and natural elements into modern interiors creates a sophisticated yet cozy feel. If you're considering this look for your renovation or new home, try out these modern farmhouse style ideas. These tricks can help you create this wonderful design for your home while helping you add your personality to the process.
Bring your ideas to life with Floor Center's wide range of modern design-inspired flooring. Whether you're going for more contemporary or more rustic looks, we have just the option for you!
Feeling inspired? Check out our Styles & Ideas Guide to find ways to incorporate your aesthetic and dream styles into your home. You can also share ideas and inspiration with our FC TIle Viber Community Group! Share your thoughts and hear from fellow tile experts about new tips and tricks to using our tiles.