What are some modern rustic design ideas?
Gray textile look
Carved white
Natural stone
Brown + white duo
The modern rustic style is a marriage of natural and modern elements. Modern rustic design ideas continue to highlight this uncanny charm in various ways. Designs have always highlighted open-plan spaces, incorporated contemporary furniture while featuring exposed natural elements wherever architecturally appropriate. Perfecting a modern rustic vibe may be elusive, but the key is to focus on simple color schemes and using pieces that bring a little bit of the outdoors inside.
Many people make the mistake of overthinking it when designing a modern rustic room of any kind, but it shouldn't be the case. It all starts with choosing pieces that will work together from a visual standpoint just as they would on their own. For example, a piece of stainless steel chair is stylish on its own, but pairing it with reclaimed wood or wood-look finishes just takes the aesthetic to a whole new level. Try it out for yourself with these unique ideas below!
Gray Textile Look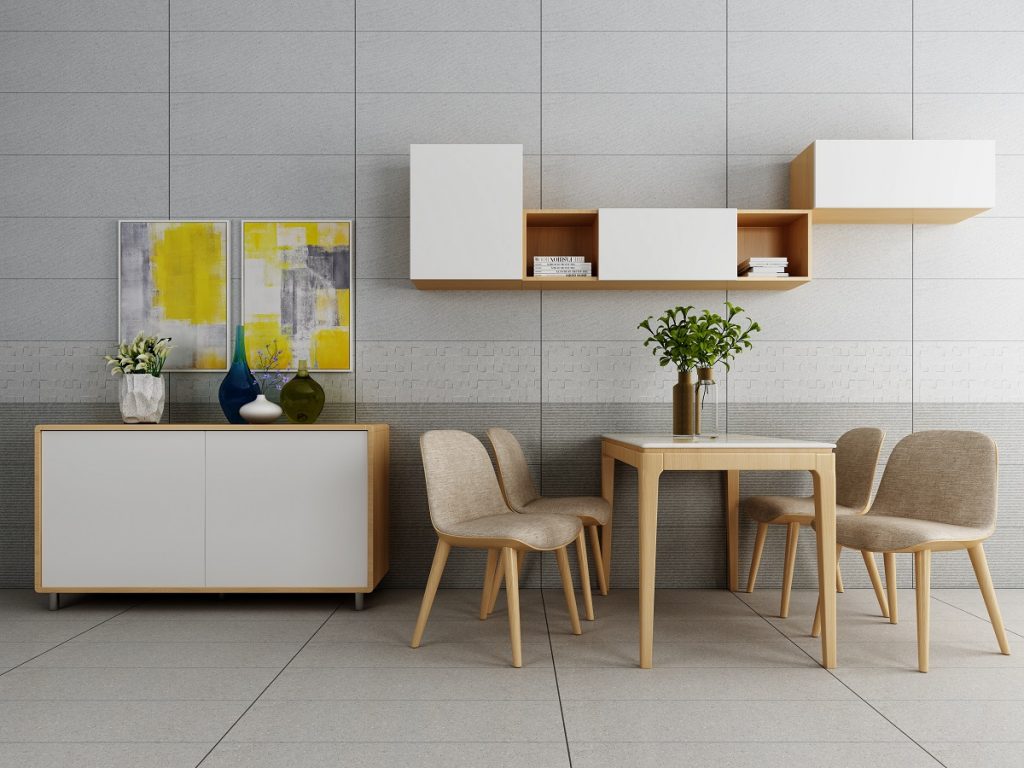 [30×90] G2C-01NPEA
Starting off this list is a gray textile look for your flooring. It's chic, clean, and simple — all the makings of a modern style that's surprisingly easy to complement. With neutral tones, you can pretty much choose anything under the sun to balance out contrast and complementary.
Add a splash of color to these unique neutral tiles by using light wooden furniture. If you're thinking of making them a part of your dining room or kitchen. Take it up a notch with furniture selections, like backless wooden bar stools, a long island table, wooden cabinets, or modular storage shelving, or wood slat cabinets with fresh new hardware.
Carved White

Many may be daunted with designing a white modern rustic bathroom, but there's definitely nothing wrong with going back to basics, as long as you use this shade in a creative way.
Floor Center's embossed white tiling, in particular, is a classic standout for this kind of interior style. It also works well as a subtle backsplash because the alluring texture offered by these tiles is a breath of fresh air from the usual generic tile fixtures.
What's more, is that this tile is modern rustic exemplified — add some flair to your space by inviting in a piece of nature through reclaimed wooden elements that can complete the look.
Natural Stone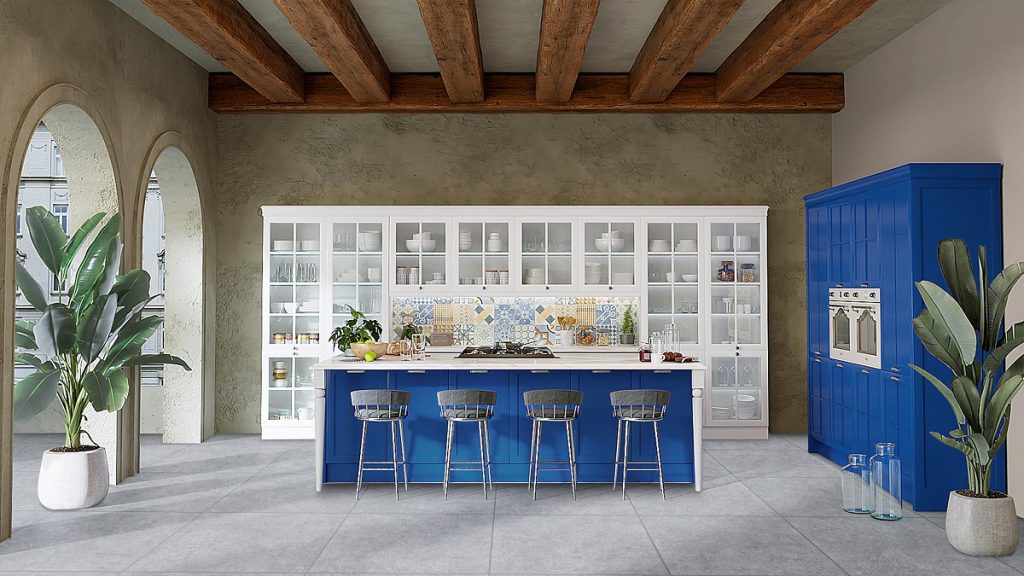 [60X60] P147 4
Working with natural stone tiles may be easier for outdoor spaces, but there's no reason why they can't be part of the indoors. Along with wooden styles, natural stone floors can elevate your spaces to the next level.
Check out the space above — the large format 60×60 gray tiles help to create a spacious kitchen effect, yet the kitchen doesn't at all look barren. This is because while the gray color gives off a cohesive look, the modern furnishing and sleek accents create a stunning effect that fills the room. Add a touch of creativity by combining this large format tile with a classy and colorful kitchen backsplash that exude opulence.
Brown + White Duo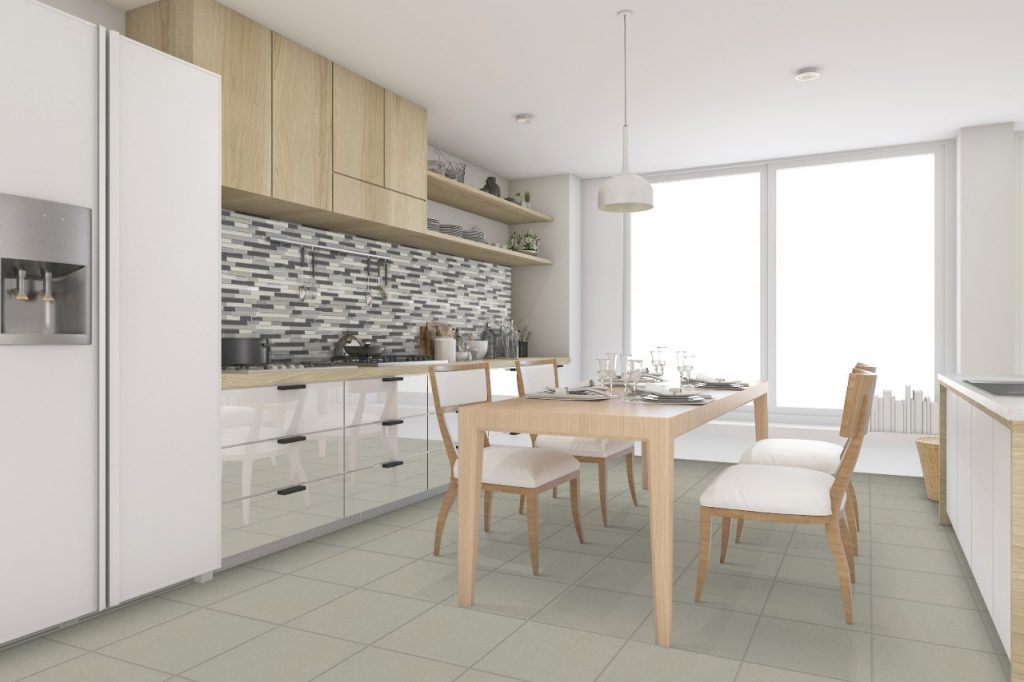 [30×30] 3885P + W-04
The best thing about modern rustic is that you can mix and match a combination of high-modern and natural styles to come up with a look that simply works. You don't have to limit yourself to totally modern or totally rustic — play around with various looks and incorporate classic touches here and there for a nice balance.
Instead of a completely whitewashed dining room, for example, you can take inspiration from the photo above by setting up a dining table complete with semi-tufted side chairs. Then, you can focus on other styles, such as pendant lamps or an industrial-style sink backsplash. Wooden elements and metal inserts, appliances, and cookware will provide the distinct modern rustic finish perfect for your project.
Key Takeaway
Are you looking for perfect modern rustic design ideas to revamp your interiors? This guide teaches you a few key tricks to nail this style. Take inspiration from these looks that will certainly make your home worthy of the modern rustic distinction. From industrial-fusion styles to simple gray looks, these ideas will have you designing gorgeous spaces in no time at all.
Make Floor Center's tiles a partner to your every home decoration project. Learn more about various style ideas you can do by checking out our Styles & Ideas Guide. You can also be a part of our FC Tile Viber Community Group and exchange stunning tile ideas for your spaces.