What are the differences between granite and synthetic granite?
Granite
Expensive
Waterproof
Natural strokes
Synthetic Granite
Versatile
Wide variety of looks
Affordable
Tiles are undoubtedly the best way for you to transform any part of your home into something beautiful and personal. They're capable of producing both a wide array of abstract, patterned, and natural looks. It shouldn't be surprising that you make such materials like natural stone a part of your next home renovation. You might even encounter the debate involving synthetic granite vs granite in choosing which tile is perfect for that elusive natural finish.
Granite
Granite has been a popular choice among many kinds of residential and even commercial spaces. These tiles have long been associated with luxury and there's certainly no secret as to why. The production of granite slabs that have been distributed for use is just so complex — starting from the drilling process up until the polishing and refinement stages.
The stone itself is made of many kinds of crystalline and minerals — like quartz and feldspar —  that have been solidified and clumped together with the help of a cooling process. Tile manufacturers have to drill out large blocks of granite from quarries themselves, and then subject the material to further machining to transform them into slabs. As such, natural stone tiles or slabs, have many advantages — they not only offer a natural look, but they're also long-lasting and easy to maintain.
Expensive
Tiles that are manufactured from natural materials are typically more expensive compared to their synthetic, or man-made counterparts. As mentioned before, granite slabs are mainly composed of raw materials such as quartz, feldspar, and other crystalline. Once the mining process has culminated, the material would still have to undergo other exhaustive mechanisms in order to make the granite fit for distribution.
Knowing this, it's no surprise that granite is one of the most expensive materials on the market. More than that, installing granite can also be a difficult undertaking. There needs to be precision in both the cutting, fabrication, and application stages in order to make full use of the material.
Waterproof
Granite slabs are naturally waterproof and non-moisture absorbent. This means that they don't easily break under certain environmental conditions. You wouldn't even have to worry about spilling a bit of water or juice on your granite-top counters since the stone's non-absorbent qualities protect against this.
With waterproof granite, you'll avoid common interior designing pitfalls like molds that may be difficult to clean. This also makes the job of cleaning granite tiles so much easier compared to wood, for example.
Natural Strokes
Who wouldn't want to make nature a part of their home? There's nothing like the beautiful appeal of granite slabs to brighten up your living space.
One of the best things about granite is the multitude of designs that you'll be presented with. No two granite slabs are the same, allowing you to take advantage of non-monotonous patterns, natural strokes, and lively formations for your spaces. Each slab gives your space a more unique look — you can be sure that your environment won't be anything like you've seen before.
Granite tiles are perfect for any kind of home design, whether it be industrial, contemporary, brutalist, or what have you. Textures of granite slabs are very natural to the touch, making them the perfect addition to different interior design movements.
Synthetic granite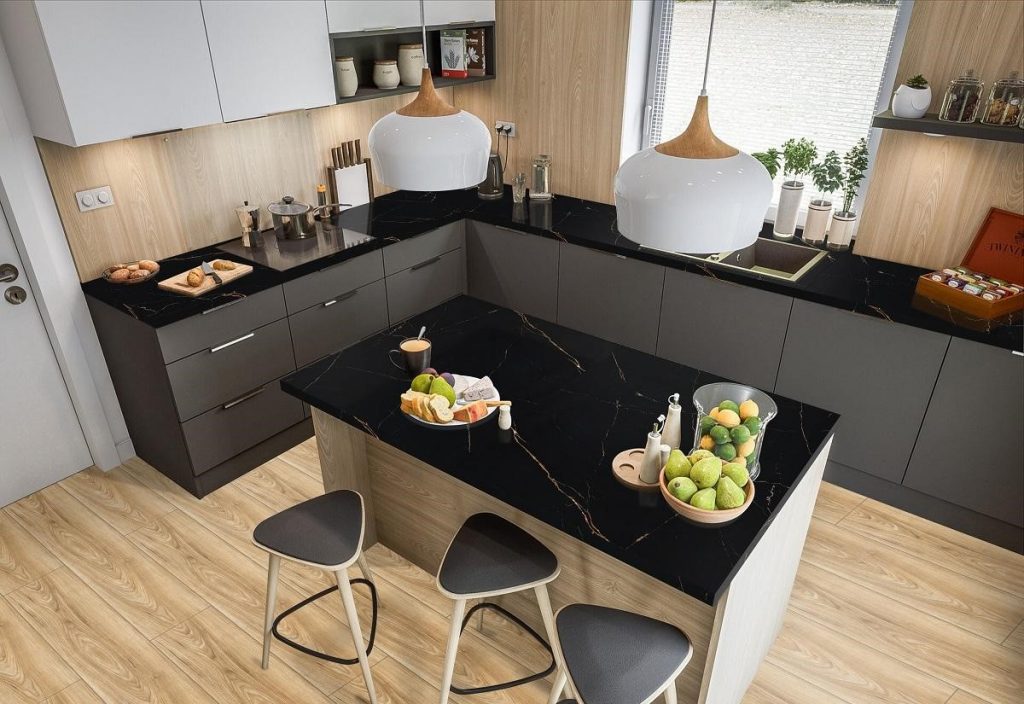 Unlike natural granite, synthetic granite is imbued with man-made materials that emulate the look and feel of real granite. Though there's still a percentage of natural materials involved in the production process, resins, polyesters, acrylics, dyes, and pulverized marble take the fore.
The term "synthetic granite" may also refer to liquid or epoxy granite. This largely depends on the raw material and the process that was used. Unlike your typical synthetic granite slabs, liquid granite isn't at all a tile, but rather a kind of reinforced concrete, wherein the design can be manipulated in the pouring and decorating process. Synthetic granite is affordable and comes in uniform finishes that some homeowners might look for.
Versatile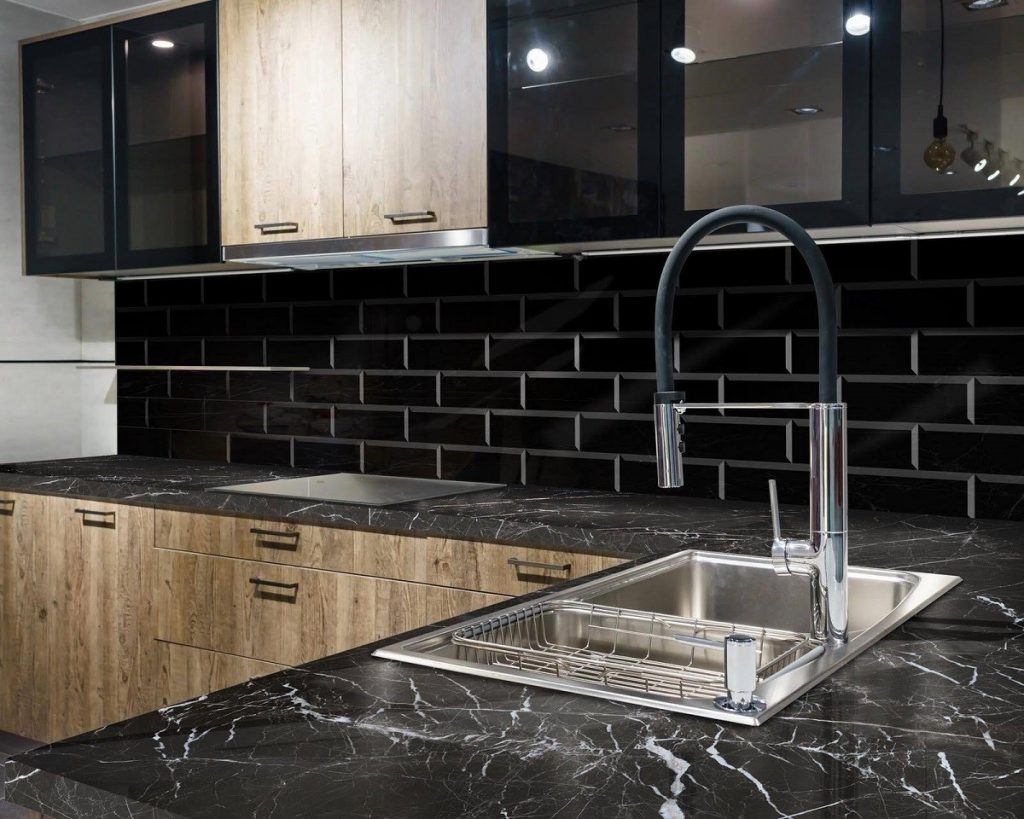 Synthetic granite can provide a much more structured and uniform yet versatile design for each man-made tile that you're presented with. With this in mind, you'll have the freedom to come up with a multitude of synthetic granite arrangements and combinations to create clean-cut looks to your satisfaction.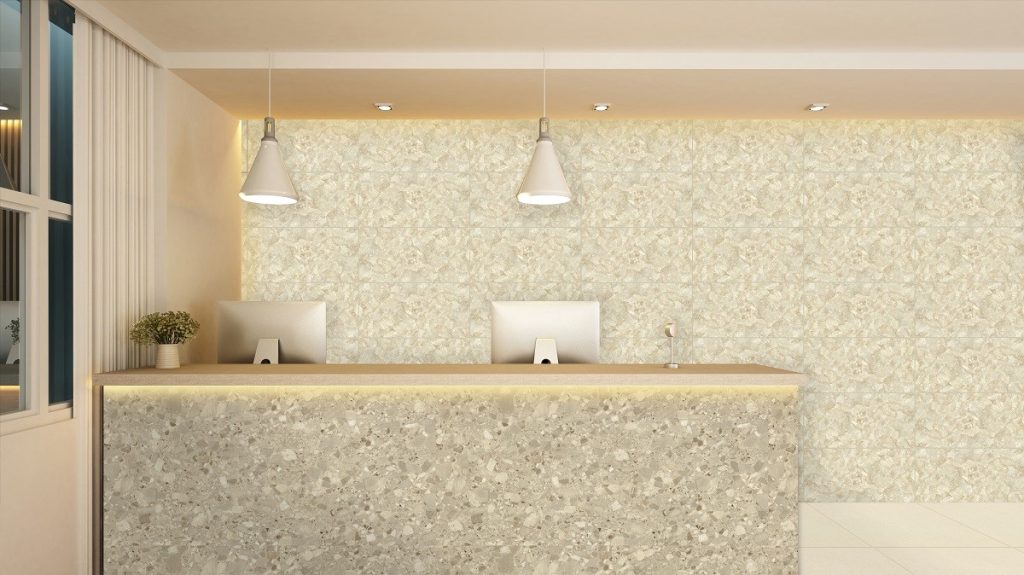 The most widely-used application for synthetic granites can be found across many kitchen countertops as well as furniture. They can easily complement various installations like backsplashes, wall cabinets, or stainless steel sink cutouts. Due to the many colors and patterns that you can choose from, you'd be able to design a beautiful space that's worthy to grace the covers of interior design publications.
Wide variety of looks
Both synthetic granite and real granite gives you the option of choosing from over a wide range of looks and designs. Since synthetic granite makes use of acrylics and dyes, you can find brighter colors or different patterns that come in different shades. You can easily make synthetic granite a part of your contemporary homes — you need only choose the color scheme or pattern which best suits your preferences.
Affordable
Both real granite and synthetic granite score high on the affordability criteria. Though this doesn't mean that you can't make synthetic granite a great addition to your luxury home. With the right designs, you can easily come up with a look that comes close to those exhibited by natural stone tiles. If you're on a tight budget, you can easily turn to synthetic granite slabs to create an aesthetically-appealing, yet cost-efficient room design.
Key Takeaway
It may be challenging to choose between synthetic granite vs granite. You can expect to spend a lot more on real granite. Despite this, there are many price-friendly natural stone tile options that you can find in the market. Synthetic granite has the full capacity to mimic and even surpass the appearance of real granite. Manufacturers of synthetic tiles are also capable of including mixtures of different dyes and pigments to create a completely unique look.
Need help finding the most ideal synthetic granite designs to achieve your dream look? Let Floor Center help you out! Our wide array of synthetic granite tiles might just be the missing piece you're looking for to get that perfect tile design. Click here to get in touch with us today!
We're also on Viber! Be the first to know the latest tile tips, trends, and promos! Join our  FC Tile Viber Community.