What are the kitchen design trends for 2021?
Marble-Look
Wood-look finish with bright yellow
Flower pattern
Blue Mediterranean pattern
We're now two months into the new year and if you haven't yet, now's the perfect time to check out the most popular 2021 kitchen design trends that can upgrade this part of your home. Although January 1 has come and gone, it isn't too late to find a kitchen design that won't go out of style. Some styles are making a lovely revival — think marble-look, flower patterns, grey looks, and wood-look finishes. Meanwhile, there are other styles that take inspiration from Pantone's Color of the Year for 2021: Illuminating Yellow and Ultimate Grey.
Try out your hand with these designs and discover what kitchen look you can come up with! Complement your newly-improved look with a few striking tiles that can make all the difference. Interested? Listed below are some ideas that will make for a stunning kitchen redesign. Check them out!
Marble-Look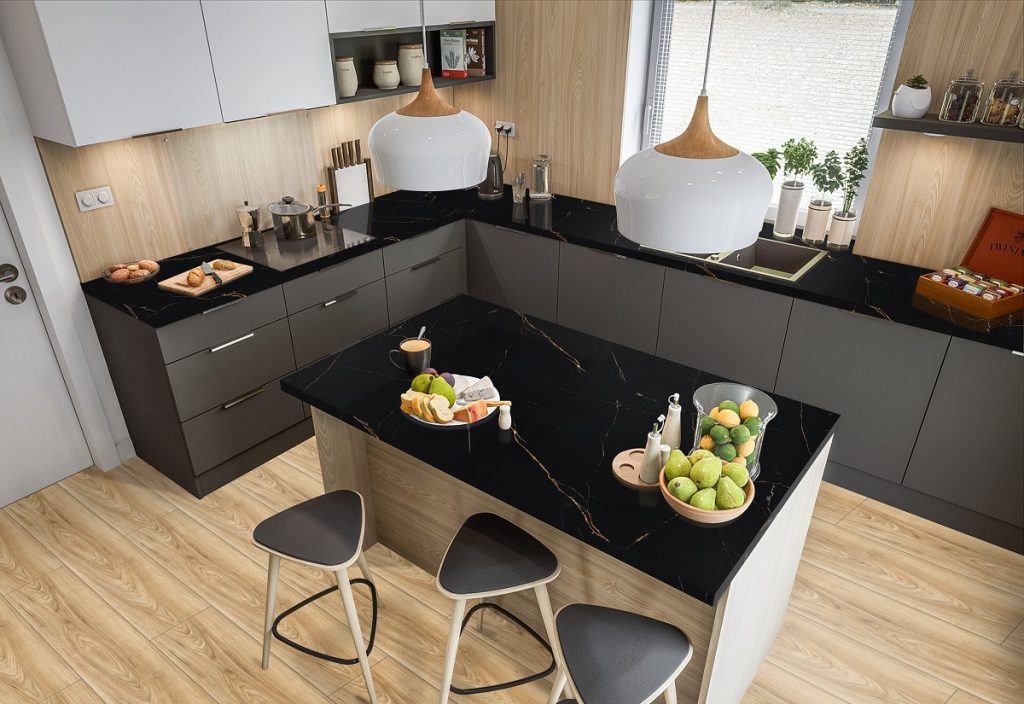 [60×60] LF6833 + [20×100] AI212
Marble is one of those classic and timeless designs that are making a comeback in 2021 — and for good reason. They just fit so well in any kind of home — be it industrial, urban modern, or contemporary. More than just that, marble has long been associated with luxury. It's such a versatile design choice, that you can incorporate this design into any part of a home and still make it give off the Haute vibe you're going for.
In this kitchen render, you'll see that the black marble-look tile has been deftly incorporated as part of the center island. While the design may not take up the entire space, its subtlety stands out, thanks to the light brown wood-look wall and floor tiles that surround it.
To achieve the look, go for matching modern fixtures. You can opt for clean storage spaces, such as a slab, modular, or a custom-built kitchen cabinet in white, black, or dark grey. Add your choice of recessed or modern pendant lights that can match the entire space.
Wood-Look Finish with Bright Yellow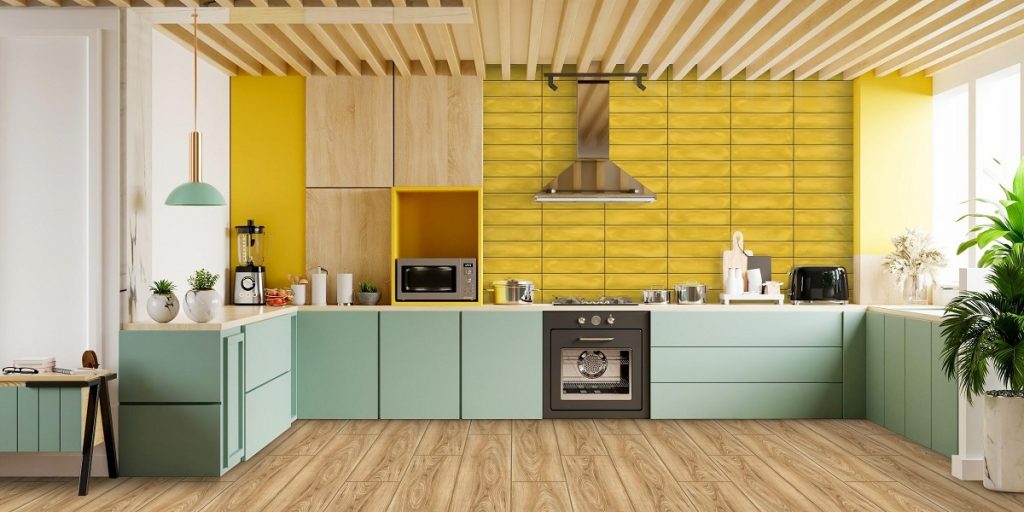 [7.5×30] 730WEP3 + [20×100] AI212
Pantone has declared the Illuminating Yellow and Ultimate Grey as the top colors for the year 2021. It's no surprise that avid home designers would want to make these colors a part of their kitchen spaces.
Adding vibrant colors such as yellow may seem tricky in the beginning. You don't want to overdo it, but at the same time, you don't want to relegate it into the background of your entire kitchen.
For this design, you can come up with the modern standard of adding metal furniture and counter islands — but if you want to take it up a notch, going for a classic retro feel might do the trick.
Pair your vibrant yellow wall tiles with handle-less kitchen cabinets in an aquamarine color for the perfect contrast to yellow. You can also use this chance to downsize your kitchen — collapsible furniture, small indoor plants, and miniature appliances are some of your options.
Flower Pattern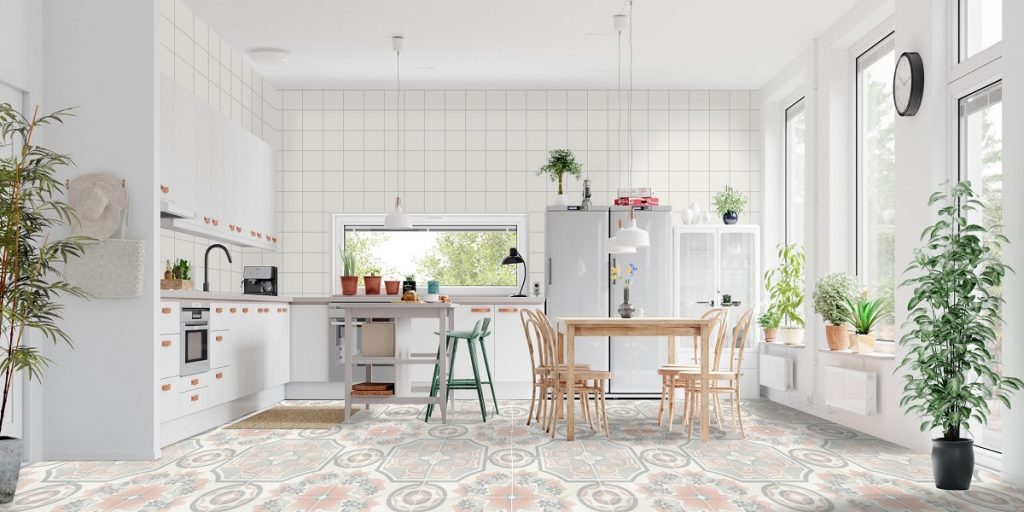 [40×40] 4040A + [15×15] 15AW1
While not everyone may warm up to the idea of floral kitchens, lovers of this type of design may beg to differ. Because of their uncanny looks, floral patterns can create a standout kitchen. The right set of tiles with a washed-out white color can easily get your floral kitchen moving in the right direction.
Focus on making the entire space as cozy as possible. Additions, like indoor plants, pendant lighting, and a set of farmhouse furniture and storage spaces can complete the entire look.
Blue Mediterranean Pattern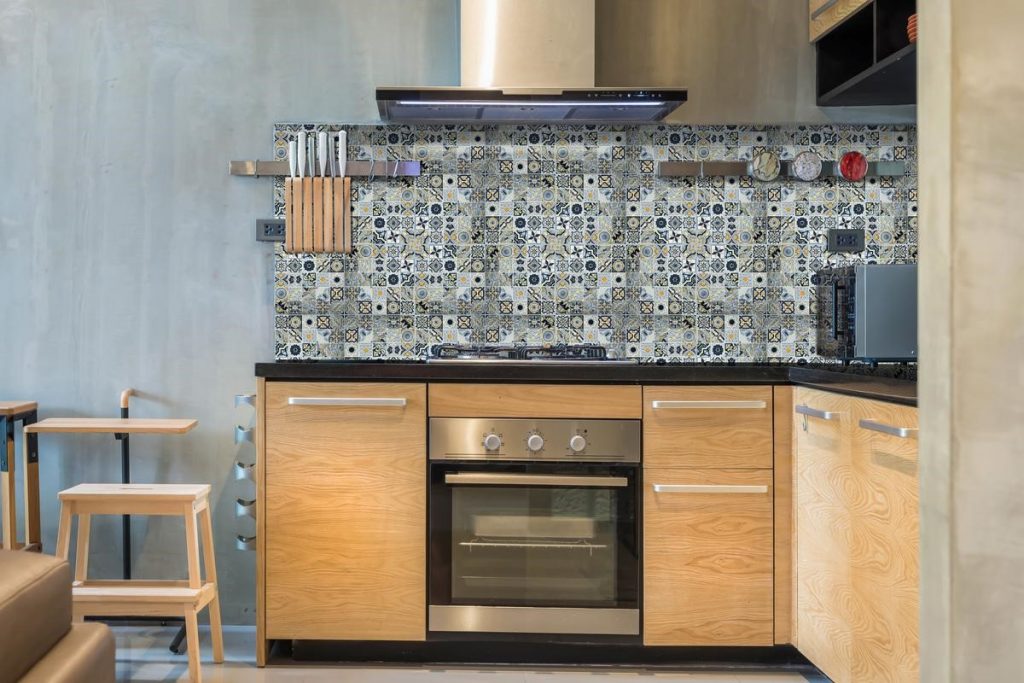 [30×30] K3742
Ever wanted your own Mediterranean-inspired modern kitchen? Now you can, with this unique tile pattern.
The most important thing to consider is the kind of colors that you'll use. Mediterranean styles typically incorporate cool and refreshing hues, such as teal, blue, aqua, or green.
With this blue Mediterranean-pattern tile as your kitchen backsplash, you can pair it with a painted wall in any of these colors. A choice of wood or metal for any additions, such as dining tables, chairs, cabinets, cupboards, kitchen hoods, or hanging racks will all work to make your Mediterranean kitchen come alive.
Key Takeaway
In this list, we've rounded up several 2021 kitchen design trends for a brand new look for the kitchen. From classic retro looks to a completely modern kitchen, these styles can serve as inspiration for your next home renovation project.
Looking for more design inspirations? Floor Center's Styles & Ideas guide can help get you started! Click here to learn more! You may also get in touch with us for more information on our products.
We're also on Viber! Be a part of our FC Tile Community Group and be the first to know about the latest tile tips, tricks, and trends.