What are the top kitchen design ideas?
White marble look
Black marble design
Modern minimalist grey
Natural stone look
Rustic indoor
You always want your kitchen to look beautiful, organized, and neatly arranged. If you're due for a kitchen renovation this year, then there's a lot of kitchen design ideas that you may want to check out. It's not just about finding the right kind of appliances, furniture, lighting, or equipment — it's also about color and style. Paying attention to how every element in your kitchen matches your floors and your walls is also important to achieve your desired look.
Take a look at your current kitchen space — what could be improved? Maybe a fresh set of new tiles or backsplash can easily get the job done. Now's your chance to come up with awe-inspiring kitchen interiors with these classic and contemporary designs. Check them out!
White Marble Look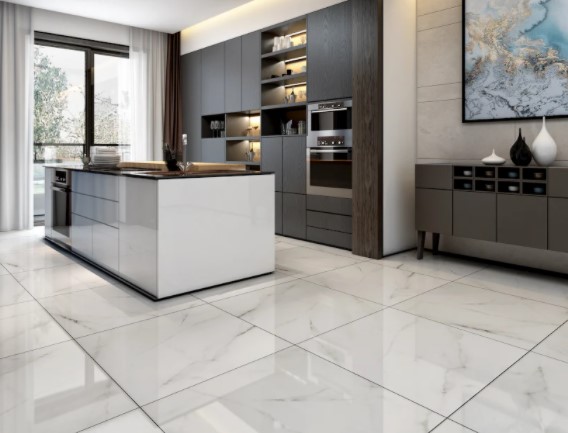 [60×60] EG17
Marble tiles are the symbol of sophistication. Paired with a basic shade of white, and you'll already have a sleek and classy design that you can work with.
The thing about white marble tiles is that they're so easy to work with. You can virtually combine them with any shade or color and there's no doubt that it's going to fit in without difficulty.
This EG17 tile from Floor Center, in particular, is suited not only for your kitchen spaces but as part of a shared space with your living room.
For design ideas, try to focus on darker tones that can seamlessly blend with the rest of the design. You could fixtures like kitchen center islands, stainless steel appliances, or decorative vases. You might also want to consider building wooden cabinets for in-wall ovens featuring ebony or any dark-colored hardwood.
Black Marble Design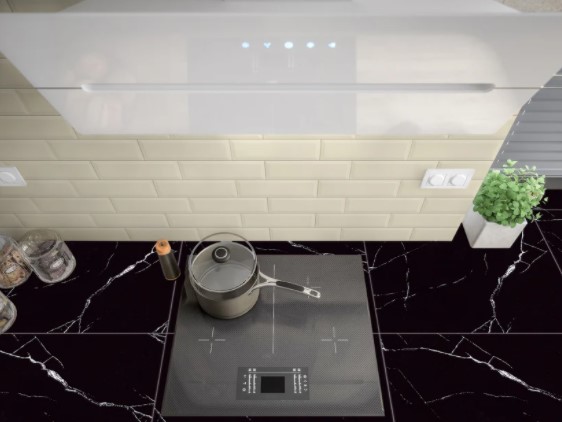 [60×60] LF6825
Real marble can be expensive and might not really be everyone's cup of tea. While it may appear beautiful to look at, it's not really durable and moisture-free. Your best alternative is marble-look tile styles that are sturdy, versatile, and easy-to-clean.
Another kitchen idea you may want to check out is a tile countertop. Who says that you have to limit your use of tiles to floors and walls? Certainly not this beautiful black marble-look tile.
With this tile, you can transform your kitchen into a more stylish and elegant space. Its jet black color features marble-like streaks that look just like the real thing. Have it as part of your stove countertops or any contemporary center island of your own choosing.
Complete the look by adding ivory border tiles as part of the backsplash. You may also want to throw in a new set of kitchen cabinets, an induction stovetop, and a whole new kitchen exhaust system for added functionality.
Modern Minimalist Grey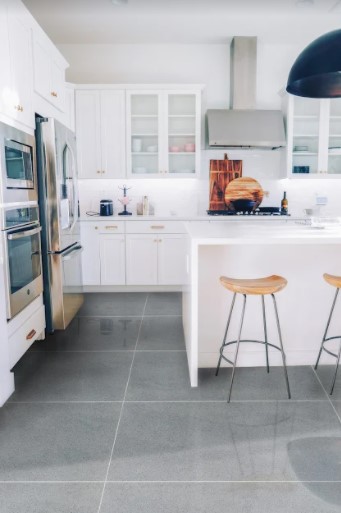 [60×120] Y1AC-51QE
This grey tile is the perfect choice for your dream minimalist kitchen. Although it sports a basic look and comes in a subtle shade of grey, it does help your kitchen feel cleaner and more polished.
Minimalist kitchen designs are all about simplicity and functionality. You don't want to put too many elements that can overwhelm the overall aesthetic. Instead, you'll want to focus on basic colors and essential fixtures.
Try out flat panel-style cupboards or cabinets painted in white. If you're incorporating a mini dining area, a bar-style kitchen counter complete with matching bar stools works best.
Natural Stone Look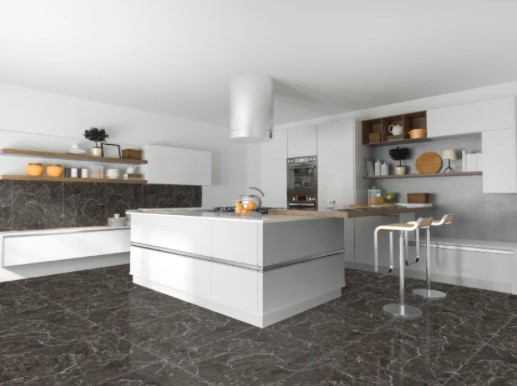 [60×60] LF6816
Here's an idea for low-ceiling kitchens that you may want to take a look at. Although using natural stone-look tiles may seem unconventional, they're actually effective in helping you design an avante garde kitchen.
With natural stone-look tiles, you want to make sure to make use of neutral colors like white, light gray, cream, or sand. These colors are vibrant, but they're pleasing to look at — the contrasting tones from the tiles and the overall design also add to the appeal of the room.
Change your kitchen renovation up a bit by adding your own touch of creativity. Instead of your typical wall cabinet or lighting, look for custom-built fixtures like strip lighting, or wall-mounted shelves, for example.
Rustic Indoor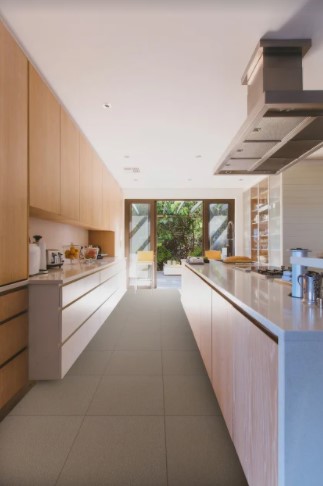 [60×60] G0JBE-06
There are very few design styles that truly capture the essence of natural looks — rustic is one of them. If you've always wanted to have rustic indoor kitchens but didn't know where to begin, then this brown tile might be the key.
Rustic kitchen designs nowadays are usually combined with other design movements like traditional, minimalist, or contemporary. Although the occasional exposed beam is a distinct feature, you don't necessarily have to limit yourself to that. It is, however, essential to work with wooden elements to really bring out that natural, rough-edged vibe.
You could experiment with fixtures like handle-less cabinets, pendant lighting, or any semi-customized kitchen element that you want to add. You can guarantee that this rustic-style brown tile will naturally blend in.
Key Takeaway
Want to know how to come up with beautiful kitchen design ideas? It's all about sticking to basic design elements while also balancing that with your creative freedom.
For example, if you're dying to achieve sophisticated marble designs without the price tag, a good alternative would be marble-look tiles. On the other hand, minimalist-contemporary designs focus on functionality — keep this in mind when it comes to redecorating and rearranging the different elements of your kitchen.
The best piece of advice when you're undergoing a kitchen overhaul is to make sure that you also focus on the things that you add — whether it be fixtures, potted plants, lighting, cabinets, drawers, and the like. Once you've got all of this down, then designing an elegant kitchen on your own is certainly possible.
Love these designs? Check out our style guide here to come up with more awe-inspiring interiors and exteriors. You're also invited to join our FC Tile Viber Community Group! Click here to learn all the latest and most useful tile tips, tricks, and trends.