What are the design ideas you can do with the colors of the year?
Japanese-style bedroom
Bright yellow bathroom
Contemporary kitchen
Natural stone living room
What better way to start off your home redesign this year, than with Pantone's Color of the Year for 2021? Luckily for you, you don't just have to work with a single color. Lovers of DIY interiors and stylistic living will definitely appreciate two colors on their arsenal to experiment on: Ultimate Gray and Illuminating Yellow.
With two completely contrasting colors, it might seem difficult in the beginning to draft a design that you want. However, this is where the hidden charm of these two colors surface — belong to opposite ends of the spectrum, these complementary colors offer you limitless options on styling your interiors or even outdoors. From Japanese-style bedrooms to a bright yellow bathroom, listed below are just some design ideas to get you started with 2021's Colors of the Year. Continue reading to learn more.
Japanese-Style Bedroom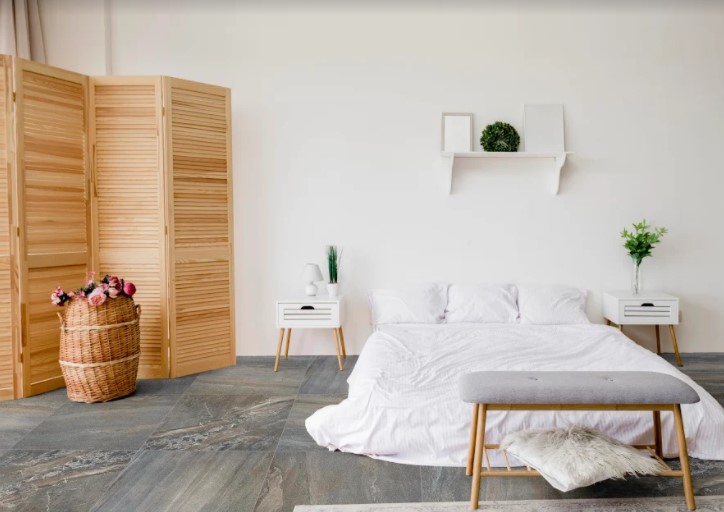 [60×60] 6186P
The Japanese have long been known to focus on simplicity and elegance. Together, these two elements of design can bring about something wholly unique, despite its more traditional roots. Now, Japanese-inspired rooms have become a facet of modern interior design. There has now been a departure from the typical colors like red, yellow, gold, pink, and brown. Instead, you'll want to turn your attention towards styling with these gorgeous gray matte tiles from Floor Center.
It's easy to combine this dark tile color with other design elements that appear more visually-striking or vibrant. To achieve your desired look, you definitely want to add tell-tale elements of Japanese design. Think wooden louvered room dividers and a low platform bed for greater emphasis. If you want to add fixtures, some great choices would be a small side table, or your choice of custom-mounted shelves, giving the appearance of both exquisiteness and simplicity.
Bright Yellow Bathroom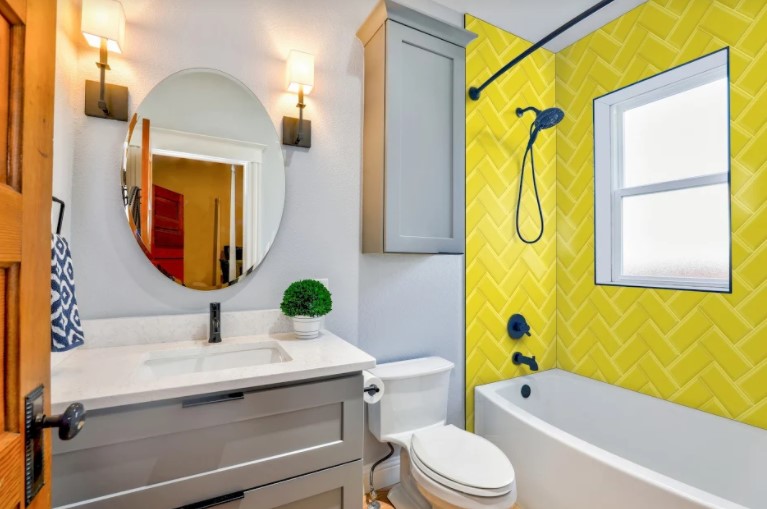 [10×20] 12GCL3
You're probably thinking that yellow isn't necessarily on the list of most popular bathroom colors. While that may be true, this doesn't mean that you can't change that fact. It's all about keeping this simple and making sure that you don't overuse this bright shade.
If you're planning to redecorate a bathroom that's a bit smaller in size compared to the average, then these gorgeous yellow border tiles will be your best friend. For this look, you definitely want to go traditional. Sure you can add your own contemporary flair to it, but the yellow color ultimately works best in the other setting.
Some suggestions would be for you to focus on your bathroom area or the shower room. The yellow border tiles work as an effective contrast against the whitewashed look of the space.
You should also turn your attention towards other fixtures, like your vanity mirrors, lighting, and cabinets. Adding that piece of trimming or flanking your mirror with beautiful sconces lighting might just do the trick.
Contemporary Kitchen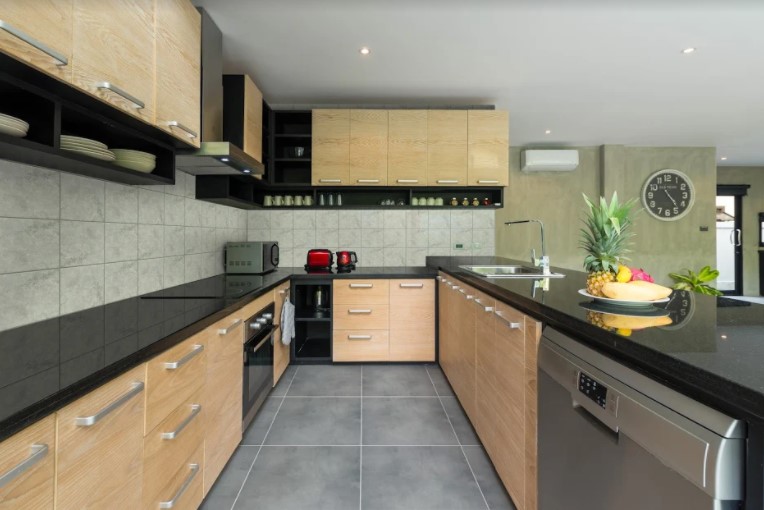 [60×60] CL12, [30×30] 390T
Gray is arguably one of the most versatile colors for interior design. While it does have a reputation for being bland, it has made a name for itself alongside metal furniture and light wood elements in the contemporary movement.
Now you'll have the chance to come up with a lavish-looking kitchen that will no doubt be worthy of landing on the pages of interior design magazines. But to fully commit to this style, you'll want to stick to certain conventions.
For example, stainless steel kitchen appliances, light wood cabinets, cupboards, and dedicated countertops should highlight your kitchen. For your storage spaces, you can opt for customized shelving, but you could also go with slab cabinet doors that have clean lines and coated metal handles. Make the entire arrangement livelier by adding in your choice of small indoor plants like herbs or aloe vera.
Natural Stone Living Room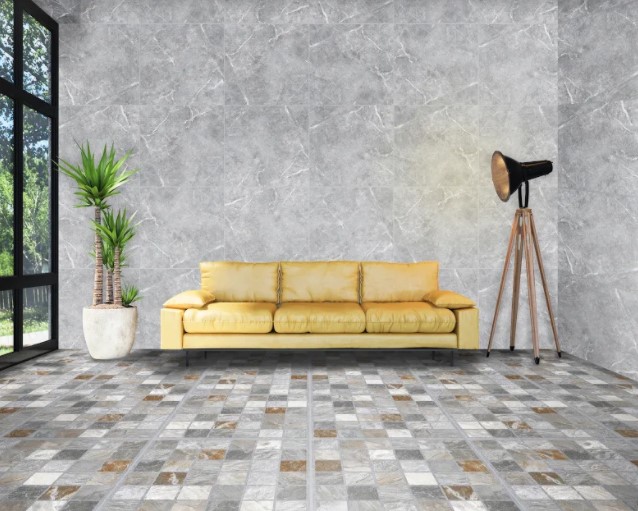 [60×60] P141-4, [60×60] P123-4
For this interior look, you're challenged with combining the two Colors of The Year to create an effortless design. No, you don't need to paint your entire wall yellow and your floors gray — instead, try to find accent pieces that come in those colors.
As you may notice from the image, the living room space makes use of a natural stone-look pattern for the flooring and strikes of gray for the walls. Incorporating a simple piece of yellow furniture in the middle will effortlessly make the space pop out.
While you can also find your own yellow furniture, it's truly up to your preferences on how you want to add that hint of yellow. Why not throw in wall art in there? How about a coffee table with a vibrant yellow centerpiece? There are tons of objects that you can mix and match with. There's no doubt that they'll definitely get the job done.
Key Takeaway
Designing with the Color of the Year for 2021 can be a tough challenge. While you might be tempted to just add gray to everything for the Ultimate Gray experience, there's still the matter of how you can seamlessly integrate Illuminating Yellow.
With this simple guide, however, you've discovered a few key tips and tricks on styling with these two colors. Use them to your advantage to come up with a Japanese-inspired space, contemporary kitchen, an aesthetically-appealing bathroom, or even a simple natural stone-look living room.
Want to learn more about the different ways to style with Floor Center's tiles? Check out our style guide here! You may also contact us for any inquiries.