What are some eclectic bedroom design ideas?
Stick to the basics
Add diverse elements
Combine different furniture styles
Eclectic designs are a great approach to mix various design movements and conventions to come up with a unique interior. Think about two or more of the most popular ideas you can think of, and there's a good chance that they can work together to create a cohesive, yet striking look that's perfect for your home. If you've long been dying to achieve an eclectic bedroom that hits the mark on a plane of styles, then there are a few great eclectic bedroom design ideas that just might work for you.
With an eclectic bedroom or any interior for that matter, there may be a tendency to just use two vastly different styles that you can think of. Unless you know how to properly execute them, you might end up with a zany and mismatched bedroom with each element feeling more like an afterthought. You certainly don't want your bedroom to exude chaos, do you?
Fortunately, the key to nailing the eclectic bedroom lies with a simple concept — harmonious contrast. Don't be daunted, because it's all about experimenting and trying out different techniques and decorations. Let these tips below help you get started on the right foot to a stunningly designed eclectic bedroom!
Stick to The Basics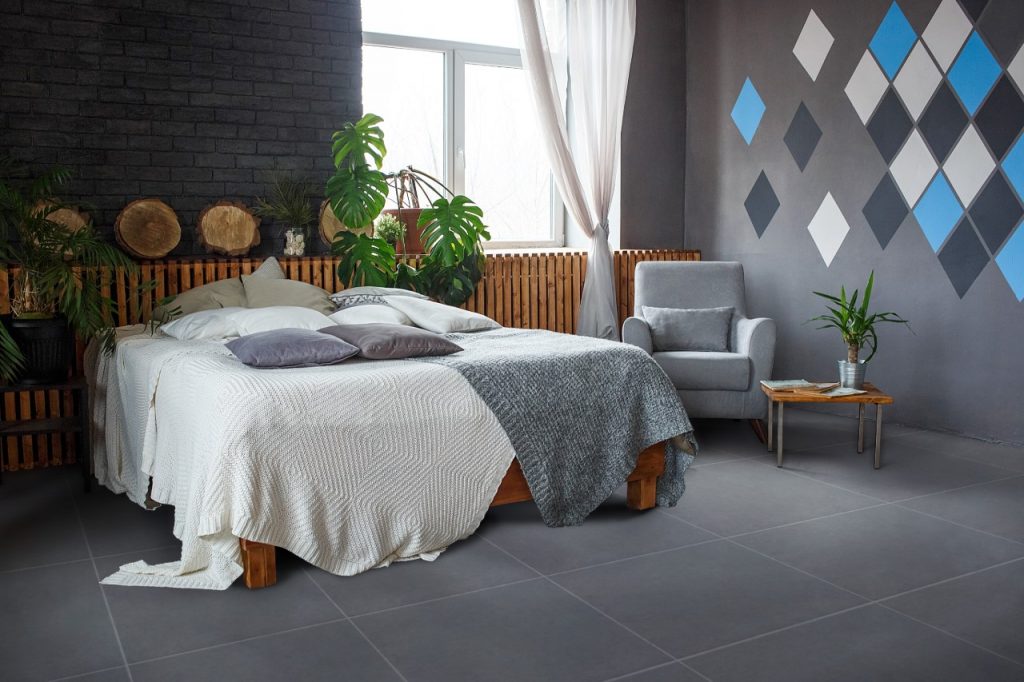 [60×60] ME6615
The first rule of eclectic interior design — don't overthink it. Instead, start by adding a few splashes of color in a dull-looking room. You can choose from a different spectrum of cool shades, such as green, blue, or even purple. These colors can easily be paired with natural finishes and textured materials when incorporated with a minimalist touch.
This doesn't necessarily mean that you have to find exactly purple or blue-colored decor. You can keep it natural by choosing beautiful indoor plants, for example. Set up a few pots around the master bedroom — on top of the vanity or bedside table, or wherever you would prefer. Complement these potted greens with decorative accents such as throw pillows, bolsters, duvet, thick blankets, and the like.
You can also focus on the rest of the space by creatively scattering around little adornments of different materials. For example, a wooden music box and Newton's cradle can work perfectly, especially for a bedroom that also doubles as a home office. It all depends on which two different materials you prefer.
Add Diverse Elements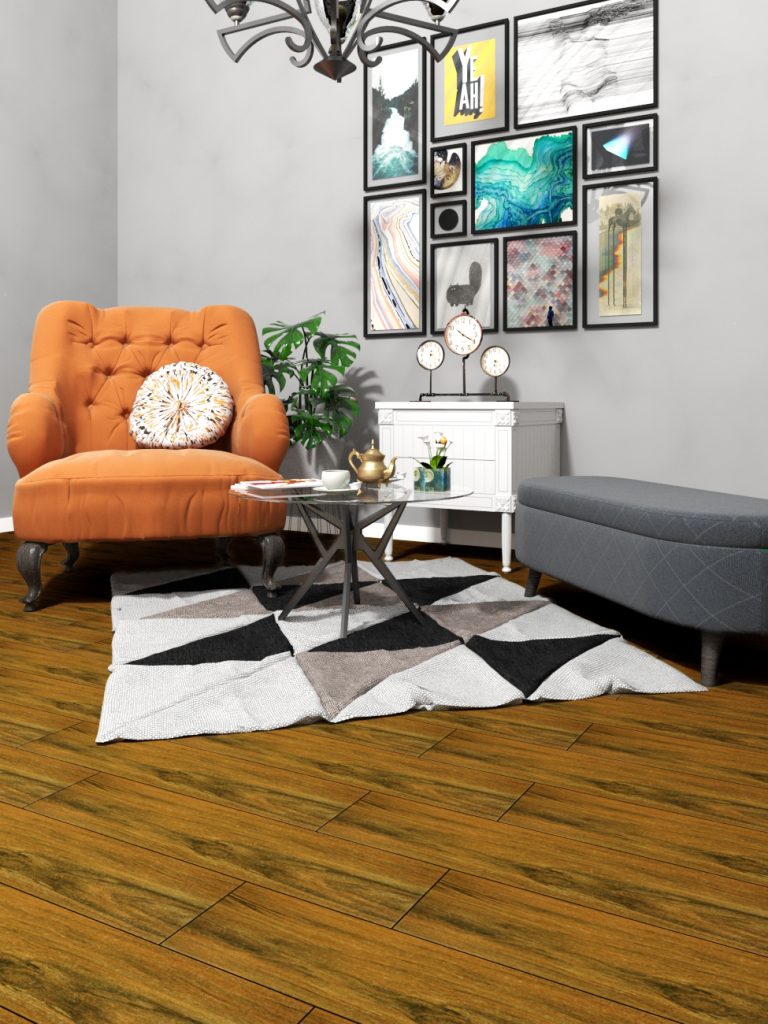 [15×60] IAI023
Diverse elements or colors act as the grounding force in any eclectic design, which is why they should also be a part of your bedroom decorating. When mixed with a personal touch, these are some of the easiest styles to work with — they provide you with limitless design freedom without any need for major renovations. They also act as versatile accents, be it on walls, floors, ceilings, or trims.
This is the part where you can begin layering your bedroom with different textures that add both dynamism and casualness to your eclectic-inspired bedroom. Focus on building a solid foundation using soft materials. For example, you can add neutral colored, yet heavily patterned rug that creates a breath of fresh air to single-toned pillowcases, blankets, or furniture.
If you also prefer a softer and fluffier material, jute, silk, and wool rugs may just do the trick. Make sure they sport a neutral tone so that they can work well together with other decors, such as metal glass lamps, textured pieces, and so on.
Combine Different Furniture Styles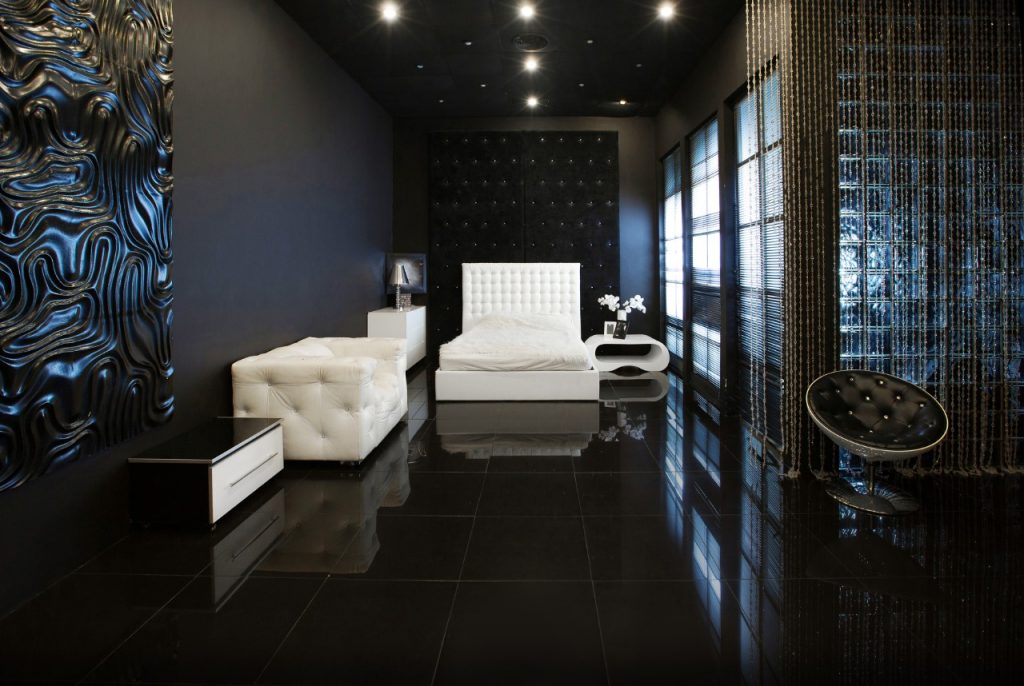 [60×60] K6004
Have you ever seen a rustic farmhouse cabinet being paired with a stainless steel side table? If you're new to eclectic interiors, you should know that furniture is one of the best places to begin with. Don't be afraid if the idea seems too incongruous in your head — you'll be surprised at the appeal that they provide once executed.
If you have a tufted sofa couch just sitting in your bedroom, enliven it by incorporating another furniture style, such as minimalism, for example. In this case, a modular couch works best, as its simple geometric design ties in well with the softness that the tufted couch offers. Just make sure that they come in more or less the same color palette to achieve both a high-contrast, yet harmonious look.
Key Takeaway
Ready to start decorating an eclectic bedroom? These electric bedroom design ideas above will guide you towards the correct path for this unique, popular, and wholly personalized interior design style.
Keep in mind that although eclecticism demands mixing contrasts, this also means that you have to find the balance to create a cohesive look. By sticking to the basics, layering with diverse elements, and adding different furniture styles together, you can already be on your way to creating a magazine-worthy look that's simply you.
Floor Center's tiles are perfect for any kind of interior design. Click here to check out our Styles & Ideas Guide and learn more about what you can do with our tiles! You're also invited to join our FC Tile Viber Community Group! Be on the frontlines of the latest and must-have tile tips, tricks, and trends for better and beautiful interiors and exteriors.