What are some stylish bedroom ideas?
Brick design with concrete look
Light gray wood
Brown wood pattern
Polished beige
There's never not a good time for a bedroom refurbishment. Maybe your sleeping quarters are starting to look dull. It's missing that magic touch that you just can't seem to figure out. You're in luck because these 4 stylish bedroom ideas on this list might give you unparalleled freedom to style your bedroom in the way that you want.
A beautifully redesigned bedroom can create wonders for your home. Aside from an aesthetically pleasing space, you can have a space where you can fully relax with the ambiance.
When designing a bedroom, you have to keep two things in mind: functionality and appeal. You want it to appear sleek and neat by using colors, patterns, and elements that reflect your tastes. At the same time, your bedroom should be a place that you'd want to retire to or rest at the end of the day. Read on to learn more.
Brick Design with Concrete Look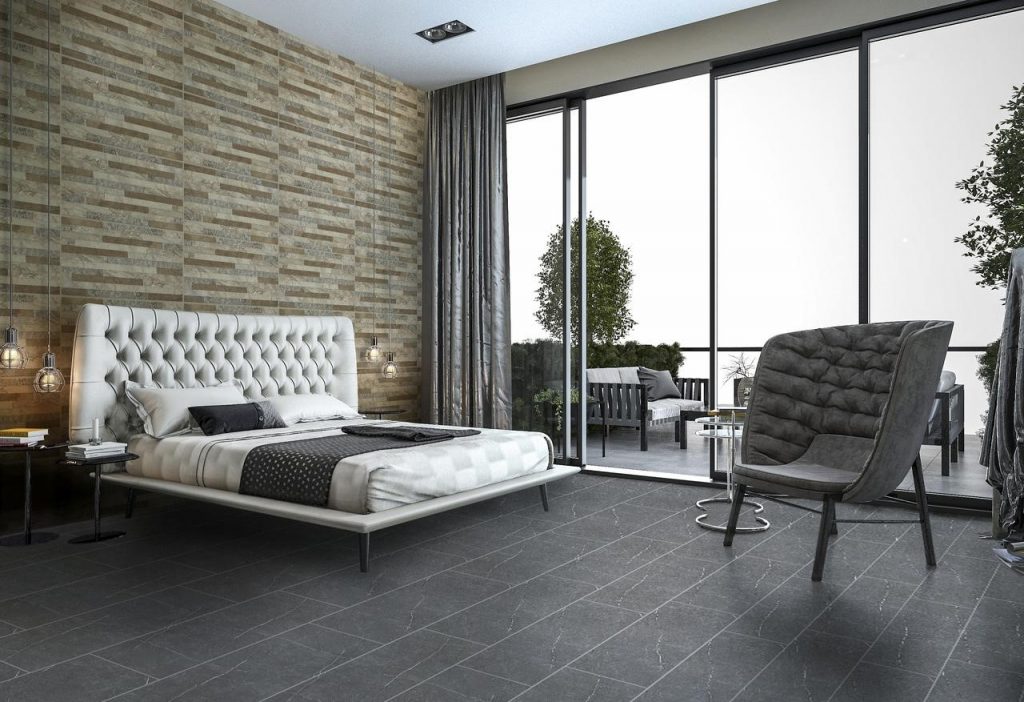 [30×90] G2C-25NPEA + [30×60] P-3612
This first bedroom on our list incorporates both classic and modern styles. One striking feature is the bedroom wall tiles that come in a brick design appearance. The floor is a perfect complement as well —  the dark gray concrete look feels natural and fits perfectly well to create an almost industrial style appeal.
But what really stands out in this bedroom is the furniture. The classic queen-sized bed features a soft tufted headboard — a common fixture in 18th-century European bedrooms. Situated on the other side is a likewise tufted single couch that sports a dark gray color to fit the entire vibe of the room. Wide metal sliding windows provide ample illumination and scenic views outside the room.
To achieve this look, go for custom furniture in neutral shades, like white, dark gray, or black. While the large-size sliding windows do well to bring light to the space when the sun is up, you'll want ambient lighting provided by long drop lights that also act as nifty side lamps.
Light Gray Wood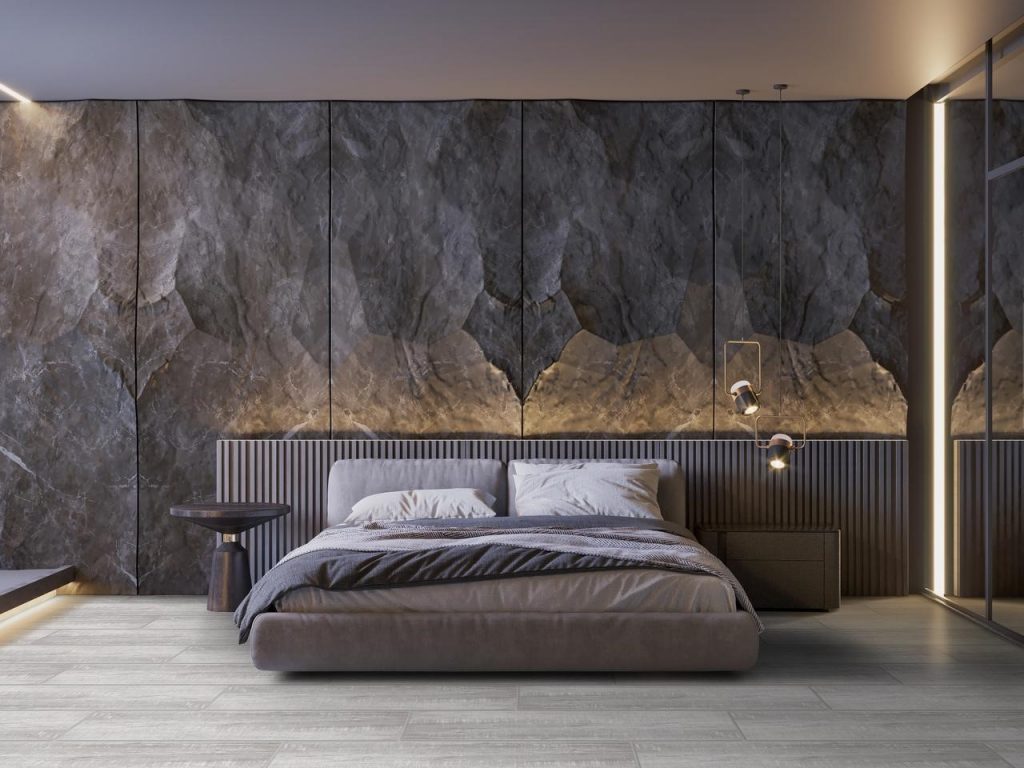 [20×100] AI208
This next bedroom reminds you of class, luxury, and style. It's usually the kind of place you see in grand house tours — the ones you've always dreamed of having. Luckily, there's a perfect tile that can help you come up with your own version of this render — it's this subtle light gray wood-look flooring.
At first glance, the large stone wall paneling is an absolute standout. It just simply takes you in and invites you to relax in the cozy bed. With this style of bedroom, you want to focus on subtle vibrancy, such as the one that you can get from the beautiful accent lighting.
Add a large mirrored sliding wardrobe with subtle lighting that's unique for its kind. Aside from that, you'll want to keep the decor as minimal as possible. Low-height or platform beds make for a great choice, with small bedside tables to complete the look.
Brown Wood Pattern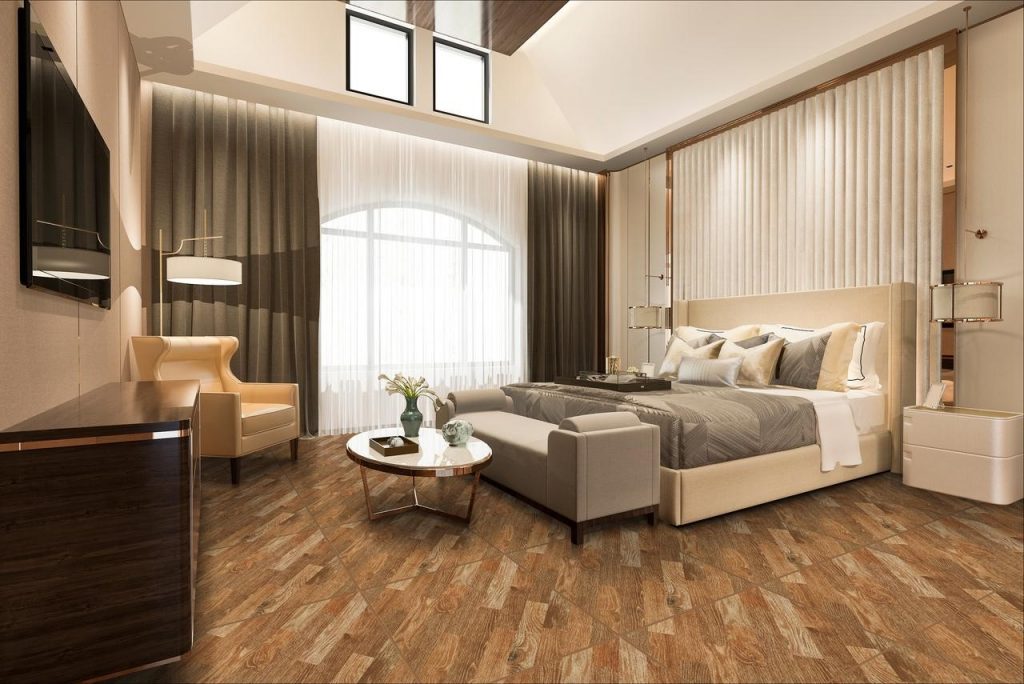 [60×60] CL06
Ever dreamed of staying in a 5-star hotel room? Now you don't even need to walk out of your house. With the right selection of floor tiles, bedroom decor, and furnishing, you can get this elusive bedroom look. Here's how:
First, you'll want to focus on the overall interior look. Your floor tiles and wall appearance can already set the tone of the bedroom. Opt for this large-format wood-pattern tile that does the job of creating a classic look, without the drawbacks. Pair the floor tiles with a light-colored wall such as cream or off-white.
Second is the furnishing. Soft platform bed frames with matching colors will easily do the trick. Fill the space with a single sofa chair on one corner and contemporary bedside tables of your choice.
All there's left to do is the lighting and decor. Choose round lampshades and scatter them as you see fit for better illumination. For your decor, a piece or two of classic landscape paintings can make the space feel more relaxing.
Polished Beige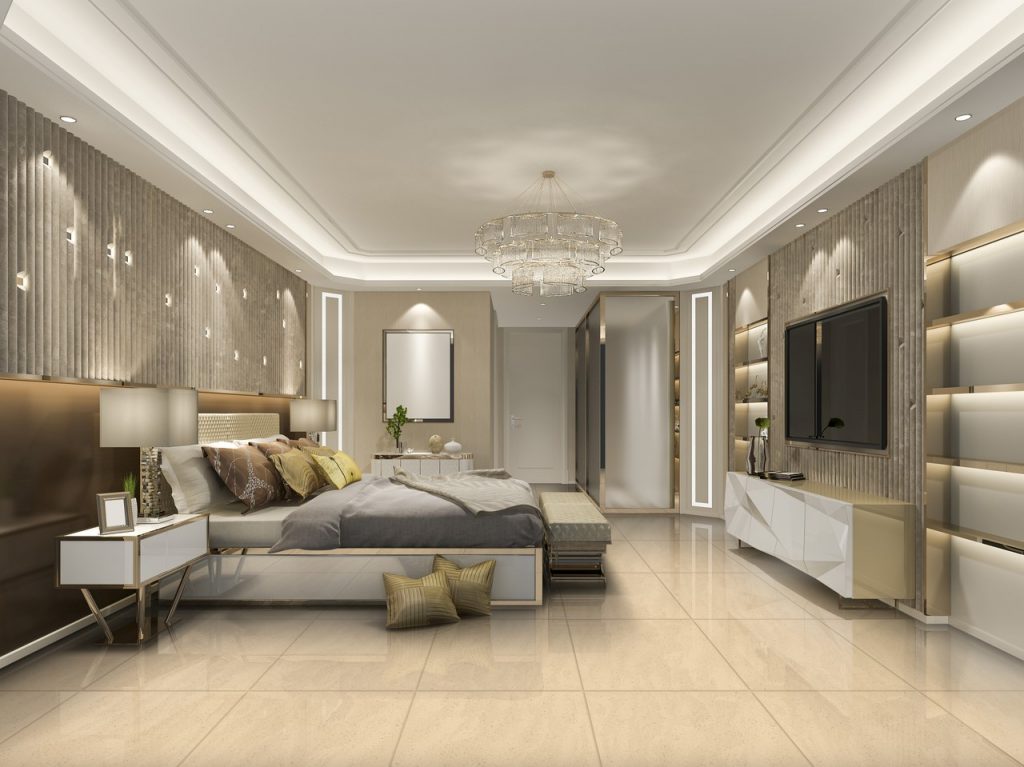 [60×60] G0AC-21QEA
Chandeliers in bedrooms? Some people find this idea inviting. If you're one of them, this last bedroom on the list is what you'll want to go for.
This Haute bedroom is all about the lighting. All types of ambient lighting fixtures can be found in every corner — from the soft wall paneling, display shelves, lampshades, mirrors, and of course, the stellar chandelier in the center.
For this bedroom, go for shiny looks and decorations. A suitable option for your floors is this polished 60×60 tile in a beige, almost cream color. And instead of veneer furniture, opt for high-gloss additions for niche shelves, drawers, cabinets, wardrobes, and the like.
Key Takeaway
There you have it. In this list, we've curated the top 4 stylish bedroom ideas that can create memorable bedroom looks. From a modern industrial to a Haute-style bedroom, all of these designs are sure to transform your once too-familiar bedroom into a place that you'll definitely love.
Looking for more bedroom design ideas? Check out Floor Center's Styles & Ideas guide for tips you wouldn't want to miss out on. You can also contact us to find out more information on all available tile designs.
You may also join our FC Tile Viber Community Group. Be at the forefront of stylish trends, tips, and tricks that you can do with our tiles.