How can you style a large living room?
Decorate with tall plants
Use two-toned designs
Choose large furniture
Group small ornaments together
Now knowing how to style a large living room can be frustrating. Try as you might, you just can't seem to find the right pieces and match them together. For a lack of a better word, everything just seems so bare. No matter how many times you rearrange all the fixtures, nothing just seems to work. Architecturally, your living room size is something that you've always dreamed of — but actually matching all the elements together to maximize the space is a completely different ball game.
Don't worry because you don't have to do any drastic home renovations, all you need is a few key simple tricks that can let you design your large living room to its full potential. Read on!
Decorate with Tall Plants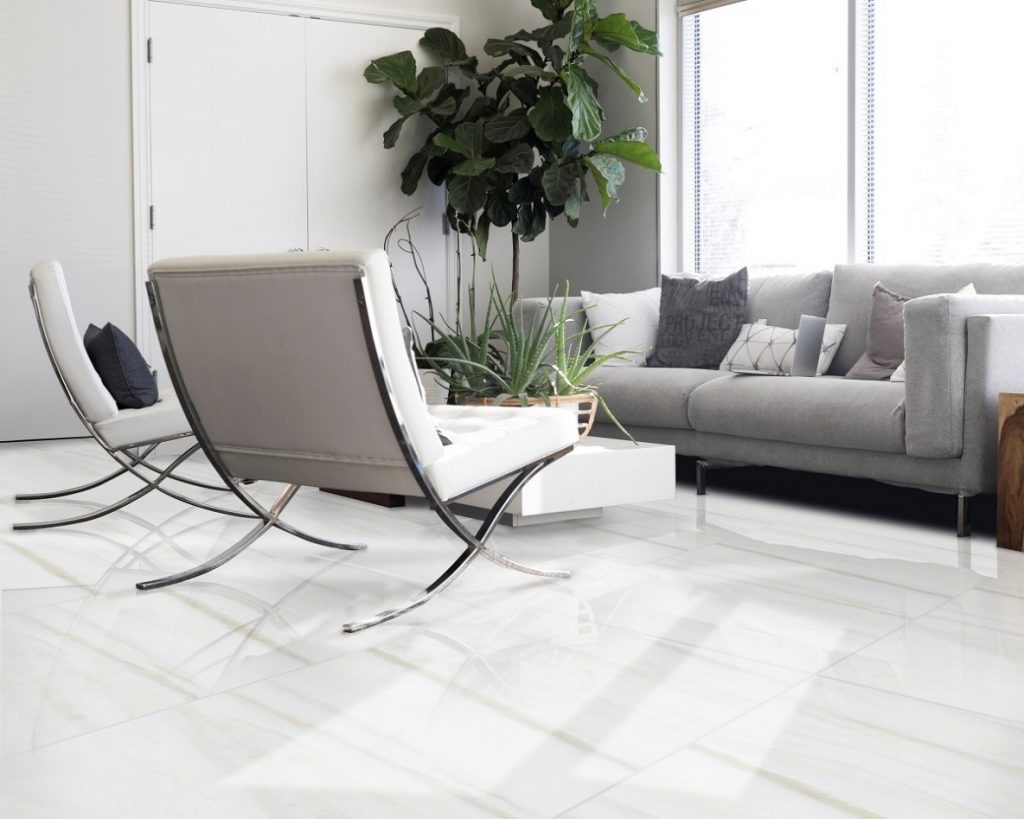 [60×60] EG16
When designing living rooms, you need to keep in mind that no space should feel empty. This is not to say that you should overdo it, but rather you have to find the right balance avoiding an overcrowded area, while simultaneously making the living room feel spacious and vibrant.
A good way to achieve this is to decorate your living room with tall, indoor potted plants that bring both life and a breath of fresh air to the different areas. You can place two pots flanking a couch, or on opposite corners — it ultimately depends on the architectural layout.
For this, you have to make sure that there's enough sunlight entering the room so that it can provide the right nutrients for your plants to flourish. You can start off with any tall-growing plants like Birds of Paradise, Dragon Tree, or an Umbrella Plant (also known as the Schefrella five fingers).
Use Two-Toned Designs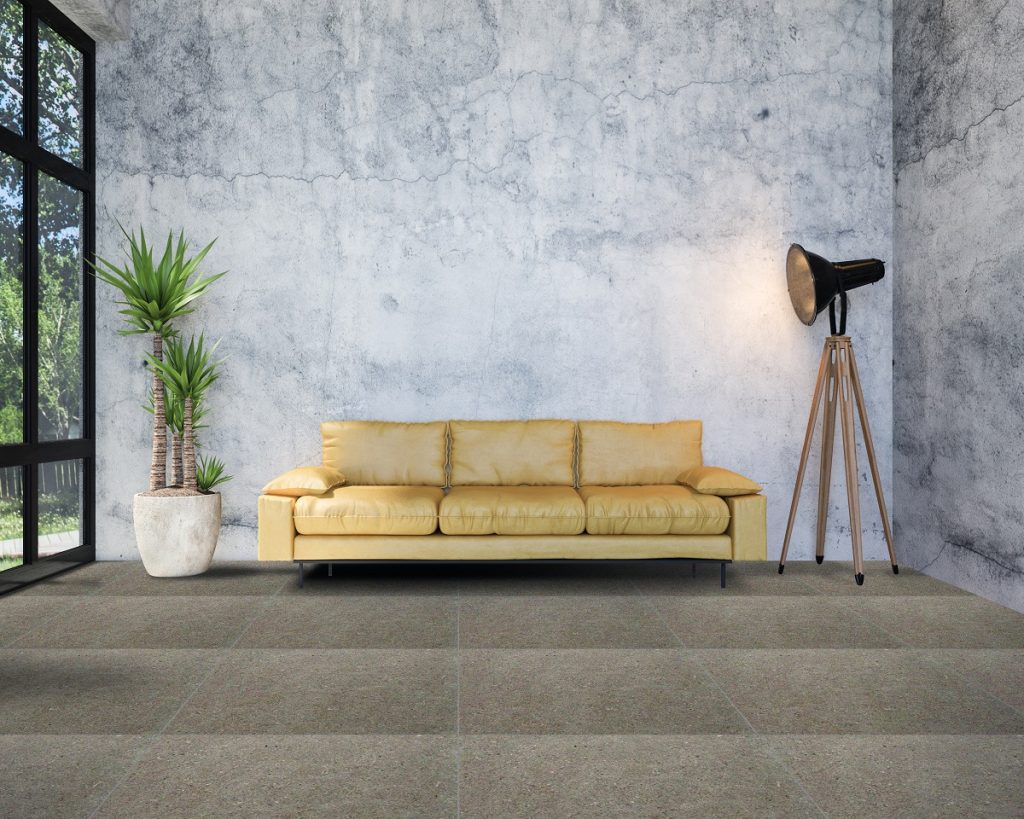 [60×60] P131-4
A living room designed with only a single color can give off the vibe that it's much larger than it actually is. Instead, you can use two-toned, contrasting colors for the walls that can make the ceilings appear lower.
If you want a sleek and contemporary theme, you can utilize light neutral-colored wall tiles. Match the design by incorporating a brown-black floor tile like the P131-4. You can even add complementing furniture, like a glass-stainless steel coffee table or your own set of customized furnishing.
For something more colorful, try to go for colors that aren't too bright. Choosing from a pastel palette to paint your walls may help you achieve the desired effect.
Choose Large Furniture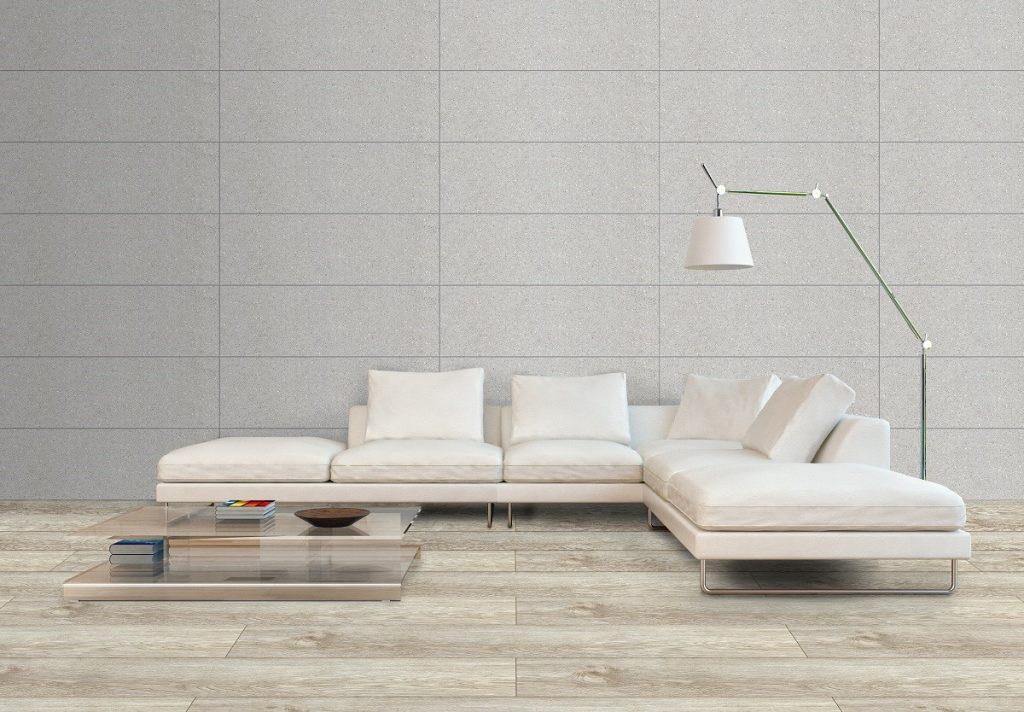 [30×90] G2C-02NPEA + [18 x 122] LD6062-36_
It wouldn't make sense to add a large-size mattress in a small bedroom, just as it wouldn't make sense to use small furniture for a large living room. Here, it's important that any object that you'll want to incorporate in this type of living room is larger than life. This is the perfect way to truly highlight the grandeur of the area.
Might be time to skip out the old wooden coffee table that's only capable of carrying only two or three spread-out magazines at any given time. Turn towards oversized versions that can highlight the vast expanse of space in the living room. Pair it with comfortable, but appropriate seating, like an oversized contemporary-modern or sectional sofa to complete the look.
Group Ornaments Together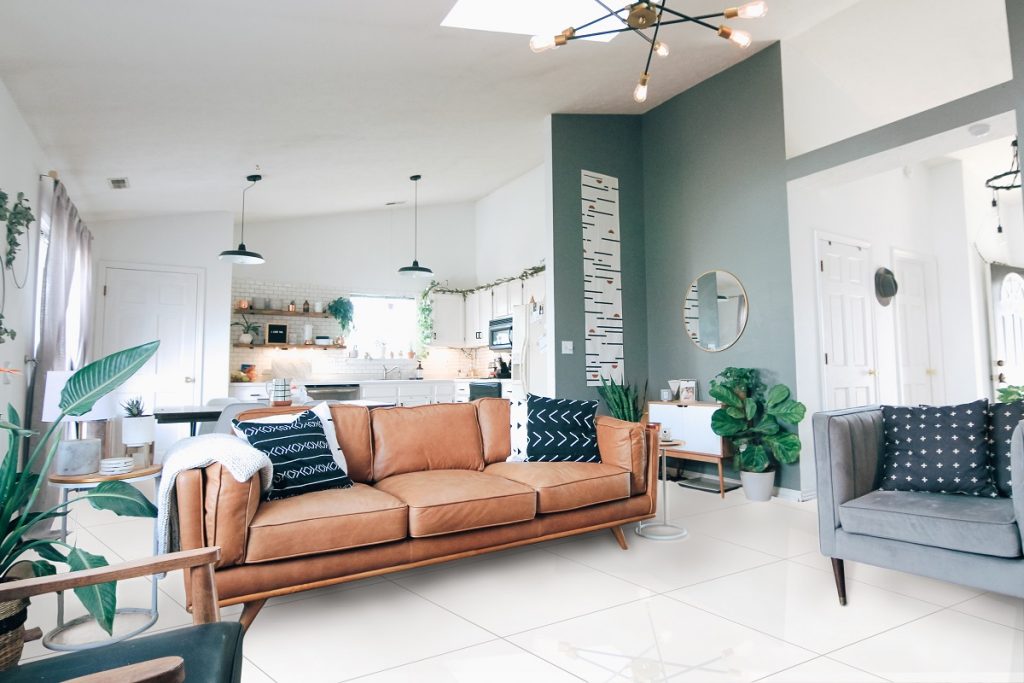 [80×80] E0BC-60QE
While you can always buy — or create — a large painting to adorn your living room walls, it's not really mandatory. Sometimes, you really just have to work with the ornaments and decorations that you have and carefully plan how you want to organize them.
Let's say you have a collection of small-sized figurines, It's a good idea to have them kept inside one large display case that you can safely mount in one corner of the living room. Don't space them out awkwardly in random locations as this can give off a nonlinear look that feels incomplete.
You don't have to limit yourself to figurines or miniature statues — you can group together just about any ornament you can think of, and still end up with a cohesive large living room look.
Key Takeaway
You've learned about some techniques that you can apply when figuring out how to design a large living room. First things first: keep it simple. It's all about the way you organize the entire room to come up with a look that just feels right.
Make Floor Center's tiles your companion when it comes to designing any part of your home! Click here to check out our Styles & Ideas guide for more tips and tricks. You may also contact us for more information about our tiles.
We're also on Viber! Visit our FC Tile Viber Community to learn about the latest tile tips, trends, and promos!