What are some of the stylish 60×60 tiles for your living rooms?
Grey terrazzo look
Natural stone look
Light brown wood design
Salt and pepper style
Polished cream
Choosing large format tiles for your living room is a great way of maximizing its space. There's just something about large format tiles that can wholly transform your space into something different altogether. If you have the right 60×60 tiles for your living room, then achieving your dream look has never been easier.
From exquisite terrazzo-patterned tiles to the classic salt & pepper design, listed below are the styles that you'll definitely want to check out for any living room redesign. Read on to learn more.
Grey Terrazzo Look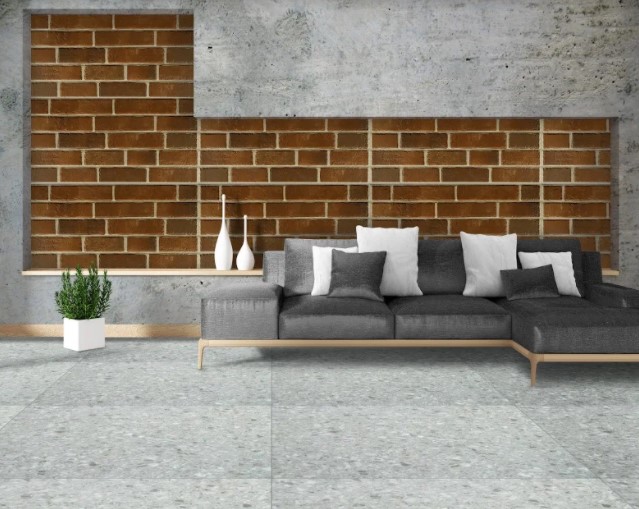 [60×60] P127-7
Unlike real terrazzo, you don't need a professional to help you design with these gorgeous grey terrazzo-look tiles. This is the practical — albeit stylish — alternative to expensive terrazzo flooring that can be expensive in the long run. The P127-7 sports a matte, non-slip finish which also makes it the best choice for the industrial-style living room of your dreams.
When designing with this tile, it's always a good idea to combine it with timeless elements of the industrial design movement. It may be a good time to think about what kind of aspects you'll follow — is it the brick masonry structures? Exposed beams? Customized bookends? Complete your artistic choices by choosing colors in the same palette — grey, light grey, black, or white to really emphasize your dedication to this type of style.
Whether you choose one or a combination of these tell-tale features of industrial interiors, you'll definitely end up with a living room that pays homage to warehouse-style apartments in late 19th century New York City.
Natural Stone Look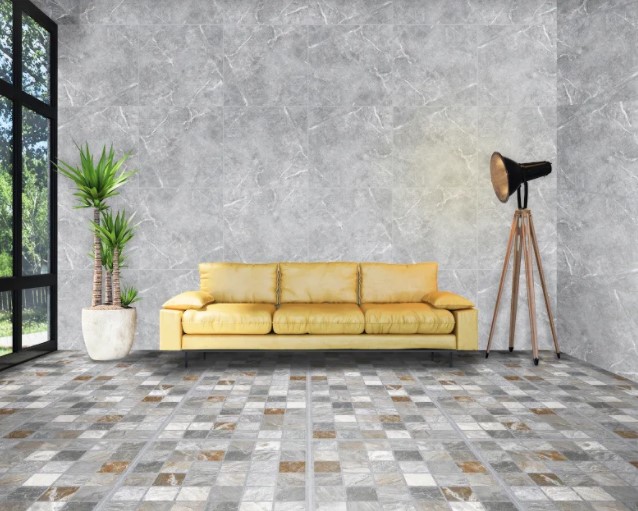 [60×60] P141-4
Sometimes, less is more. This is certainly true if you want to achieve a minimalist living room with the natural stone P141-1 tile. Although at first glance, it may appear bleak in color — the dark grey, natural stone appearance might not really catch your eye — but it's the best choice to make your other fixtures and living room decor pop up.
For low-height living rooms, the P141-1 gives the illusion of loftiness or height, so it's ideal to install columns of this tile on your walls. Now, you can already get into the nitty-gritty of minimalism.
You don't want to oversaturate your living room with tons of decorations and artwork — focus on a single, massive piece that really matches the vibe of the room. As for the furniture, choose a piece that sports a vibrant color to contrast the predominantly-grey interiors of the area.
Light Brown Wood Design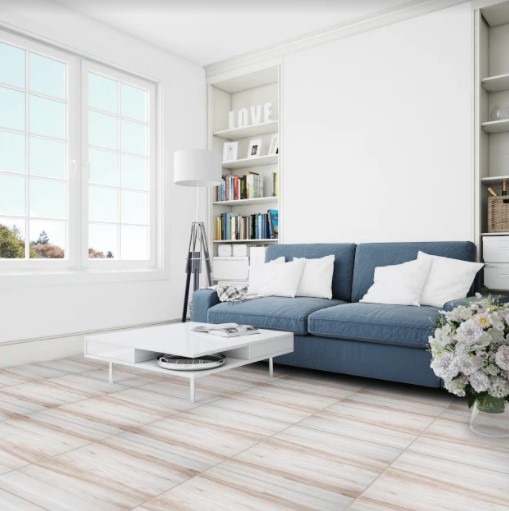 [60×60] QG26303
The most distinct feature about the QG26303 tile is the wood-like appearance that gives it a rustic and cozy feel. You certainly want the living room to be the most comfortable aspect of your home, making this the most suitable tile to give off that vibe.
For lovers of contemporary or modern-chic designs, this faux wood 60×60 tile is the perfect complement to subtle living rooms that are not riddled with bright colors. Instead, there is an emphasis on lighter and subtler hues that are cool, calm, and relaxing to the sight.
With a modern chic design, you definitely want to keep it simple. Choose accents that have a sleek and clean-cut look about them. It's also wise to add some space, for example, by adding unique wall niches for design and functionality.
Salt and Pepper Style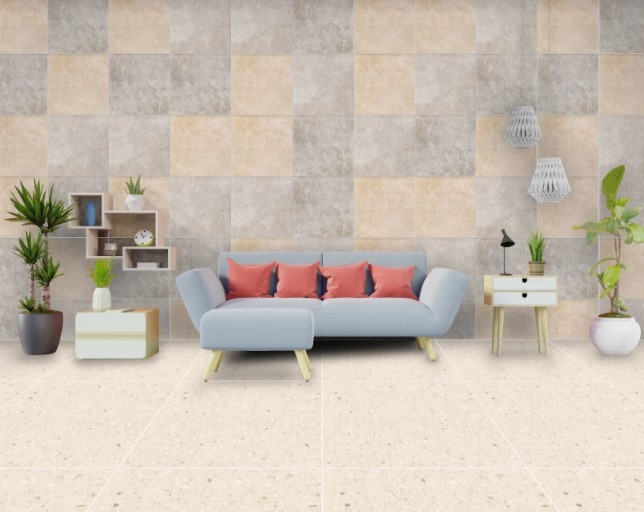 [60×60] M116
As the name suggests, this salt and pepper style takes inspiration from a culinary staple. Similar to the condiment combination that you're all too familiar with, the M116's unique salt-and-pepper look just adds a whole new flavor and spice to your new living room redesign.
This tile has a versatile design, so don't be afraid to experiment with a look that suits you. Choose lighting fixtures, furniture, or custom-built accents that have fun and vibrant colors. Don't limit yourself to textbook shades — you have the freedom to define how well you want to incorporate this tile in any living room style category that you want.
Polished Cream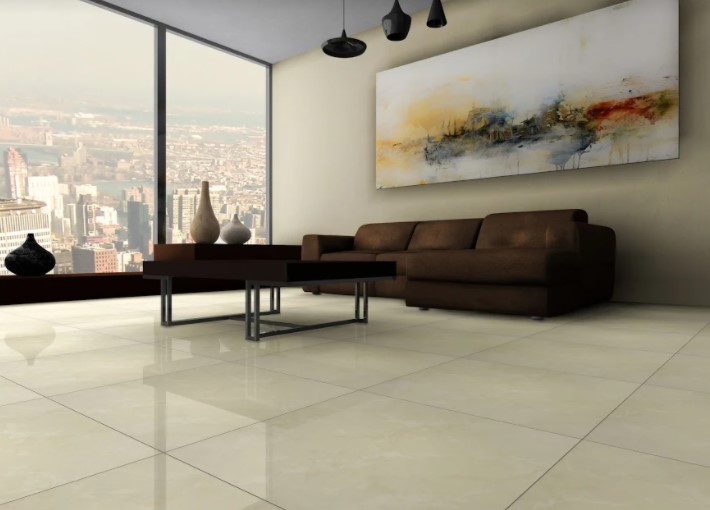 [60×60] V-D
A contemporary living room interior isn't really difficult to realize once you have the right tile with you. While this V-D polished cream-colored tile looks unassuming, it's nevertheless a must-have for any contemporary space.
To match the cream colors, you'll want to choose fixtures that have a much darker shade like black, dark beige, or hazelnut. Add a bit of flair to the entire living room by choosing a stunning centerpiece — be it a beautiful indoor plant or any awe-inspiring decor that will catch people's attention as soon as they enter the room
Key Takeaway
In this list, you've discovered some of the most beautiful 60×60 tiles for your living room. Patterned styles like terrazzo, natural stone, or wood-look designs are great for coming up with a specific stylistic living room category. However, there are choices for those who prefer to keep it simple — you may want to check out the polished cream and the salt and pepper-style tile better.
Want to know more about different ways of styling and rearranging your interiors? It's worth checking out our style and ideas guide here! You may also join our FC Tile Viber Community Group. Be at the forefront of stylish trends, tips, and tricks that you can do with our tiles.