What tiles designs can you use to transform your bathroom?
Mediterranean-style
Basic white color
Cool light-blue color
Wood-look designs
Designing your bathroom can be something that might overwhelm you. Aside from choosing the right kinds of faucets, sinks, shower head, countertop design, bathtub, lighting, or even bathroom plants, you would also need to consider many bathroom tile designs.
When researching bathroom tile designs, you have to think about which design can best complement the overall theme that you want for your bathroom. For someone with simple tastes, you might go for a basic tile design in a monotonous color, like white, for example. On the other hand, getting creative means incorporating different patterns and shapes in your bathroom.
Whatever the design you choose, you should make sure that the tiling appearance will match the overall aesthetic appeal of your bathroom. If you want to learn about how something as simple as a tile design can transform your bathroom, then continue reading.
Mediterranean-style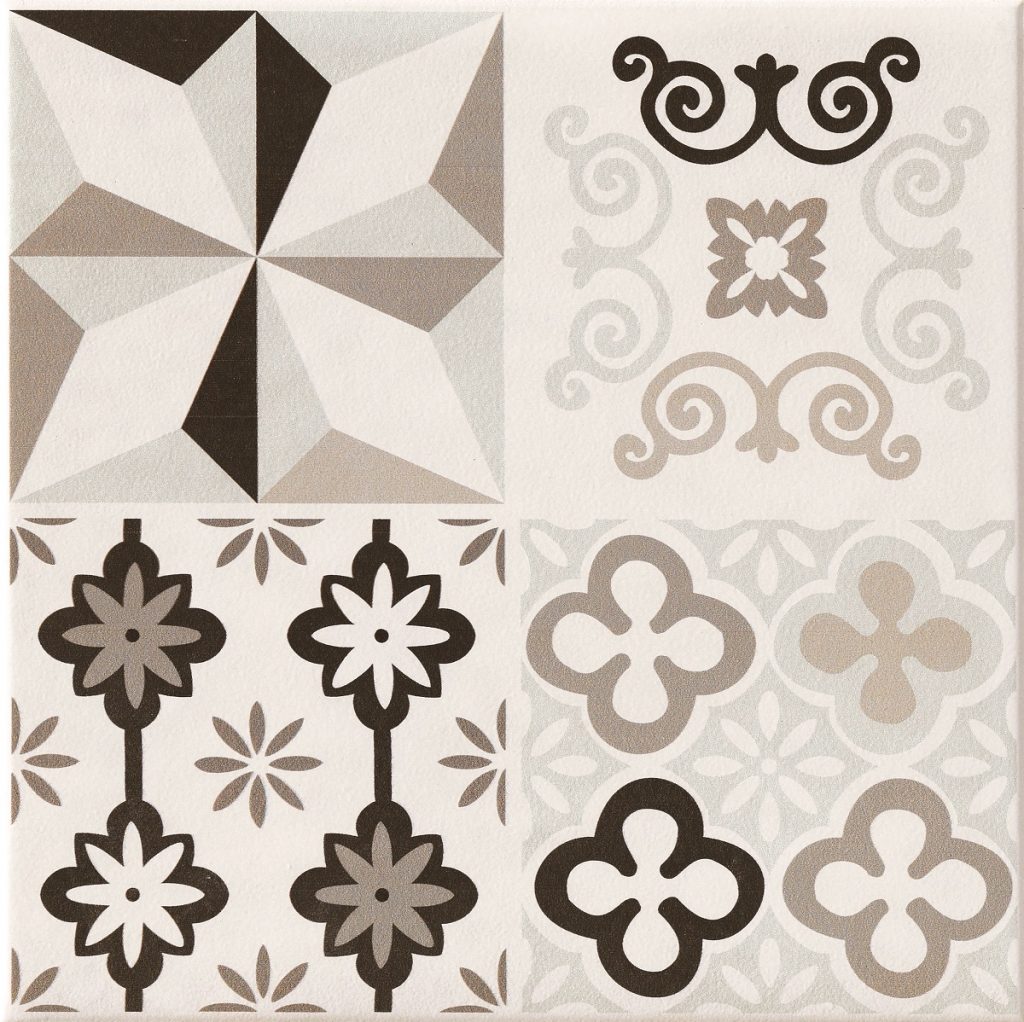 [30×30] I-3463-3
If you're a lover of Greek culture, a Mediterranean style for your bathroom would be something you would highly consider. For example, to give your bathroom a completely Mediterranean vibe, you can install lighting fixtures that give off a relaxing warm, yellow light hue. Pair this installation with a matching bathroom rug and wooden counters, and you're already halfway there.
All you need now is a tile design to match it. Luckily, Floor Center offers a 30×30 tile coming in gorgeous Mediterranean-inspired patterns. This tile design would make a lovely addition to your bathroom, with its brown geometrical patterns providing your bathroom flooring with a fun and lively appeal. Don't be daunted with the density of the shapes and figures of this tile's design – they can just as easily complement whatever design you already have planned for your bathroom.
Basic white color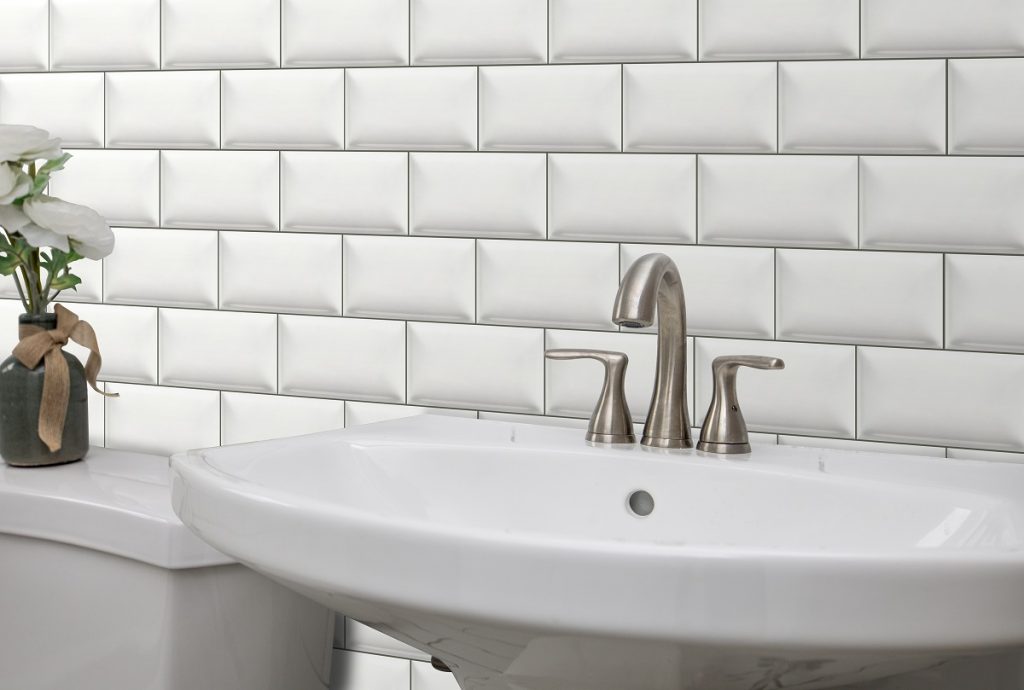 [7.5×15] 07NAW1
Now that you have a floor tile idea in your mind, it would be in your best interest to consider wall tiling. For your Mediterranean-designed bathroom, the best piece of advice to give you is to accompany the patterned tiles with a tile coming in a basic monotonous color. The contrast between these two designs creates a perfect balance of elements within your bathroom.
For a basic white tile, trust in Floor Center to provide you with a solution. Choose from the plain white tile design from their catalog for your bathroom walls. Apart from the color, another distinct feature about this tile is that it has been specifically-manufactured to be stain-resistant. With the glossy-type finish, you wouldn't have trouble maintaining and cleaning your bathroom walls again.
Cool light-blue color [11.7×24.5] A21SSWIM-LBL.G0U
One of the most common misconceptions about bathroom colors is that they should not come in the traditional blue shade. Likewise, using a predominantly-blue theme for your bathroom can be a hit-or-miss on your end – you might end up with a much too-overbearing blue design.
Similar to the plain white tile on this list, you can install light-blue bathroom tiles for your bathroom walls. Blue is an utterly striking color and this tile design can easily help the other elements of your bathroom stand out from one another.
Compounded with the design's rich and striking color is its cool and refreshing appearance to the eyes. Thankfully, toning down this vibrant blue color is easy enough. You may use a darker-colored, or stone-look tile for your shower room, depending on your preferred appearance for your bathroom.
Wood-look designs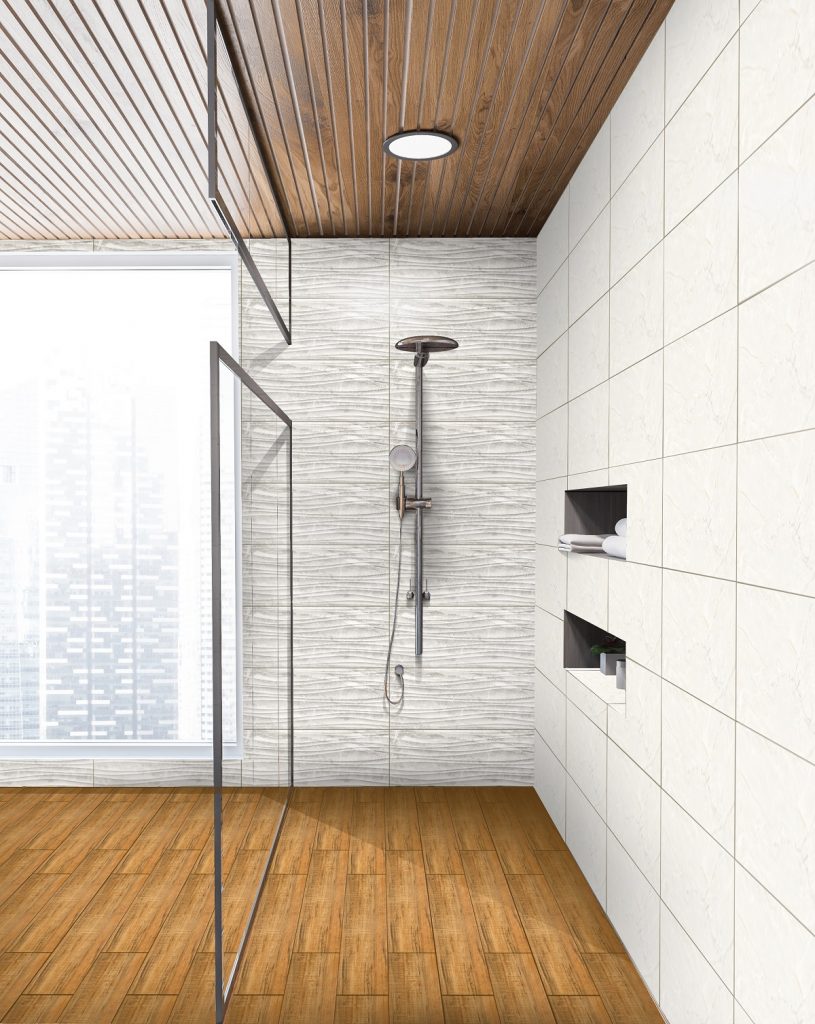 [15×60] I-AI022
Finally, if you want to transform your bathroom to give it a more rustic look, Floor Center's rustic, neutral oak tile design can easily get the job done.
The best advice for you would be to install a row of these tiles in the middle portion of your shower room's walls. Complement the rest of these tiles with a light color and you'll soon feel like you've been transported to the calm, rural countryside.
Key Takeaway
Choosing the most appropriate bathroom tile designs for this part of your home can be difficult if you don't know which colors can best complement one another.
Aside from flooring needs, you can also incorporate tiles into your bathroom's walls – provided that the design blends in seamlessly with the rest of your bathroom's fixtures.
The guide above has hopefully offered you with just some of the designs you can adopt in your own home. Click here to check out more timeless designs with Floor Center!