What are tips for elevating your home?
Make a statement wall with textured tiles
Elevate with marble-look tiles
Use dark gray tiles in the bedroom
Decorate your living room with wood-look tiles
Design your bathroom with earth-colored tiles
Brighten up your kitchen with neutral tiles
If you've just bought your first home, you might be planning to redecorate. But, where to start? Furthermore, you might be wondering how to make your home look like the grown-up, sophisticated home of your dreams. If so, you're not alone! Many first-time homeowners can get confused and overwhelmed with the prospect of designing a space all on their own. But don't worry, we compiled a few tips for elevating your home, using these elegant tiles from Floor Center.
Make a statement wall with textured tiles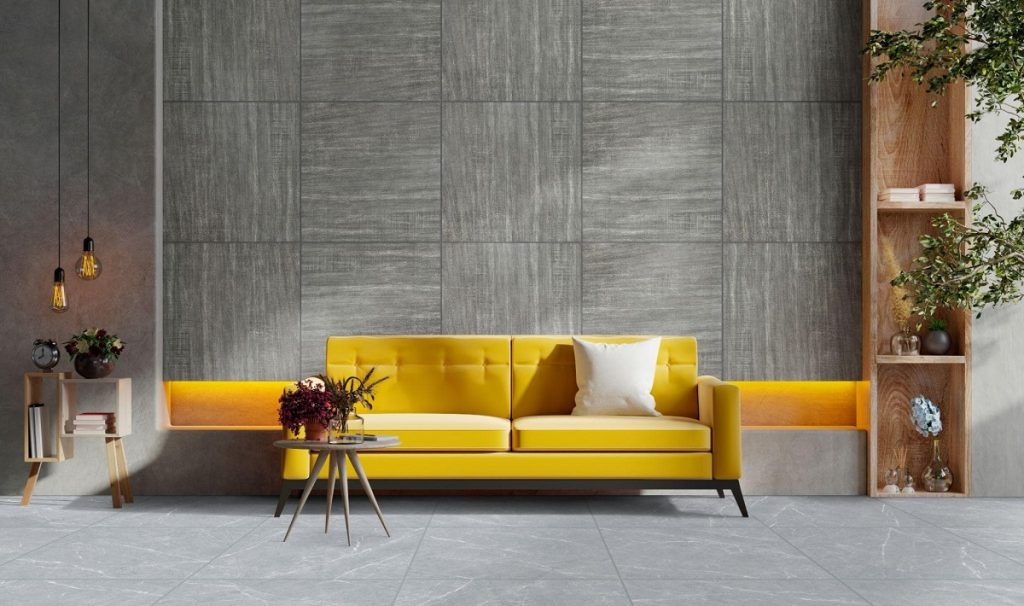 [60×60] M71 + M1524
When it comes to 'grown-up' spaces, less is more. Small details can add a lot of character to any room without overwhelming the space. This can be in the form of knick-knacks artfully positioned throughout the room, or a painting on the wall. Or, our personal recommendation — a statement wall. Keep it clean and simple, with some negative space.
Making a statement wall with some textured tile is perfect for elevating a space without taking up too much room, or creating too much clutter. It adds some visual interest in the room without being too glaring. This effect is enhanced when you use raw-looking material, like these stone-textured tiles. It provides an elegant backdrop for your other pieces. This style pairs well with other raw elements, such as wood and iron furniture.
Elevate with marble-look tiles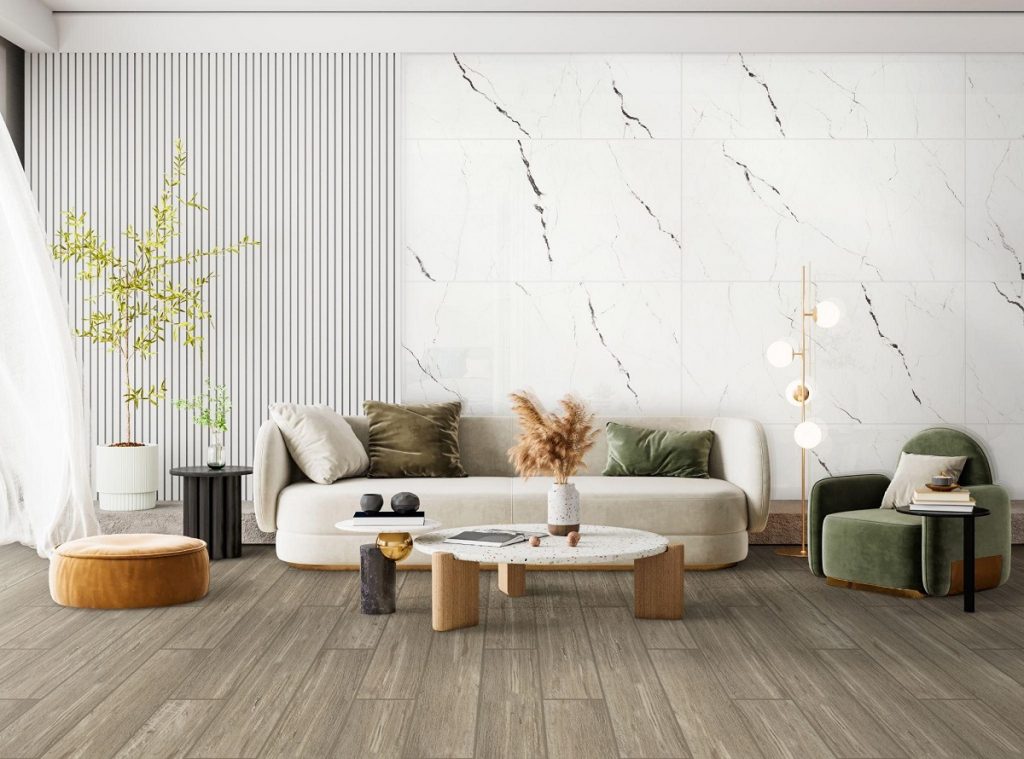 [60X120] Y1GL17GE + [15×90] 1590P1
Marble-look tiles are one of the most popular design elements for a home — and for good reason. If you're looking to create a tasteful and grown-up room, then these kinds of tiles are your best friend. They look simple yet elegant, and despite their texture, it's still a fairly neutral element. This means that you can easily pair the pieces you have with this kind of design.
When using marble-look tiles, we highly recommend decorating with wood, as well as earthy or pastel neutrals. This gives the room more layers of texture and pops of color, thus more visual appeal. Plus, wood and marble textures go great together! So simple, but it makes a huge difference. It creates a rich feeling and inviting atmosphere without being too loud.
Use dark gray tiles in the bedroom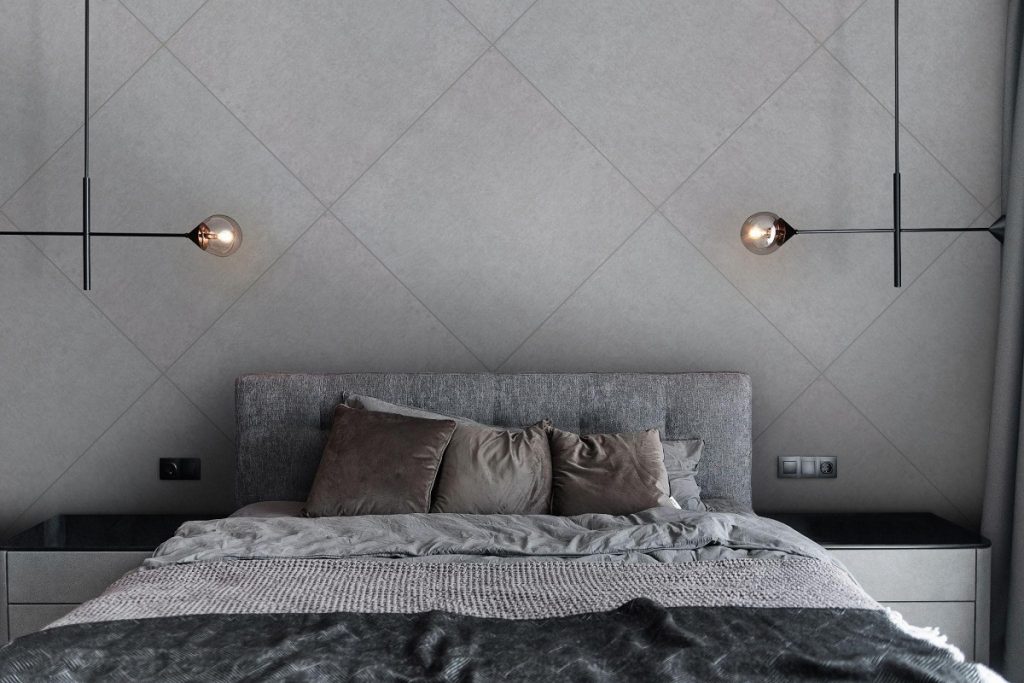 [60×60] P6615
When designing your first home, the looks are important but don't forget to account for how your spaces should feel. Spaces like the bedroom shouldn't be overpowered by too many textures and colors — it should be a comfortable area for you to rest in. Remember — a beautiful space will do you no good if you don't enjoy relaxing in it. So always choose elements that work with the purpose of the room.
For your bedroom, we suggest using dark grey tiles. This color lends a soft, tranquil feel to your room. Plus, there are many ways to work this color to create the ambiance you want. You could let in some natural light, and the color will transform into a soft, airy shade. If you want a darker style, you could shutter your windows and switch to ambient lighting to achieve this. Either way, your bedroom will look distinguished, yet comfortable.
Decorate your living room with wood-look tiles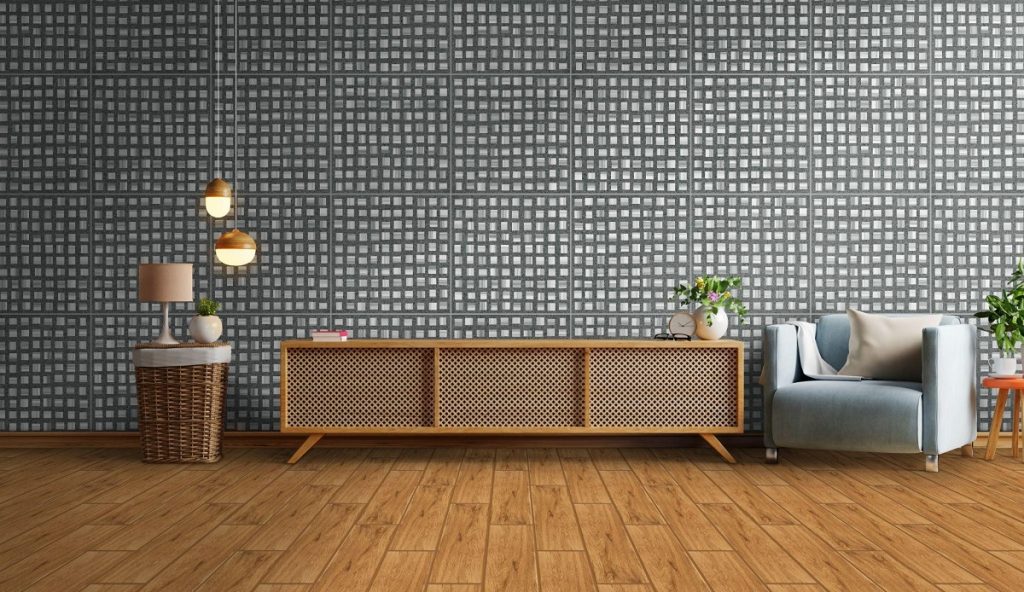 [60×60] M92 + [15×60] AI030
Figuring out a design scheme for your living room? Keep in mind that this is one of the most-used rooms in the home. Because of this, it's a good idea to add lots of warmth and personality to it. This creates a comfortable space to entertain visitors or just lounge around.
To achieve this, add a high-end and elegant touch to your living room, use wood-look tiles. This look can make an impact on the interior design of this space, and enhance the existing elements, such as the walls and furniture. The beauty of this tile is that it engages our senses, and exudes a rich warmth that other textures just can't beat. It also offers a wide range of brown hues and a tactile grain that delights the viewer. These qualities are especially good for the living room.
Design your bathroom with earth-colored tiles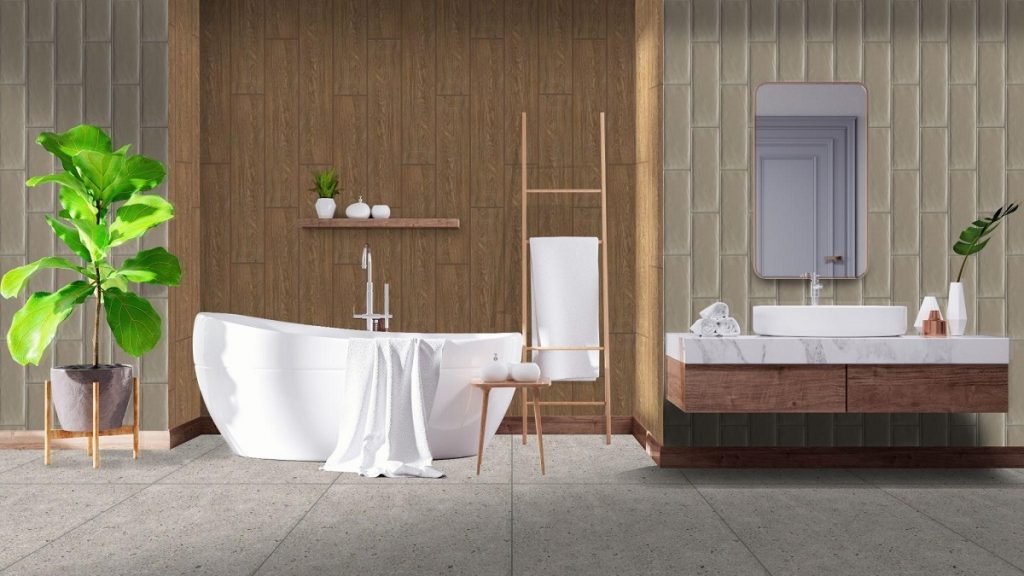 [15X80] 1580P3 + [10×30] 13UBC3 + [60×60] M101-4
Your bathroom should be a sanctuary. It's where you go after hours of work, and wash away the stress of the day. As such, choosing tiles that are perceived as calming, settling, and warm is key. Earth tones in particular are an excellent choice for this purpose.
So, design your bathroom earth-colored tiles. These tiles are incredibly relaxing and bring in a raw and organic feel into your space. This color scheme works well with wood elements like cedar, birch, and bamboo, as well as porcelain fixtures. Plants also look good with this style of tile and help to create a more tranquil environment reminiscent of nature.
Brighten up your kitchen with neutral tiles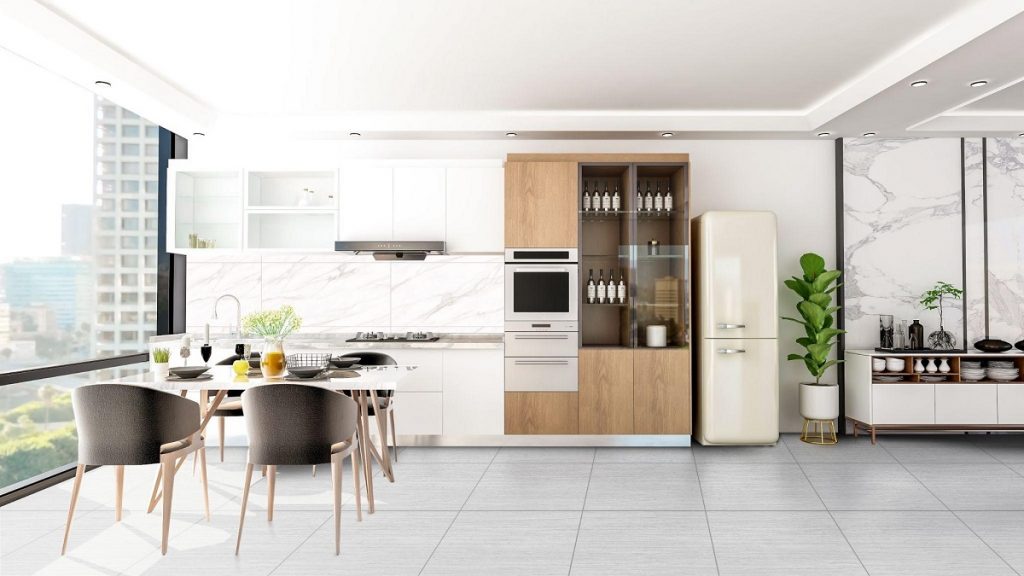 [60X120] 1305 + [60×60] M1544
When it comes to the kitchen, using a neutral color palette is key to making the space look grown-up. They create a strong foundation into which you can add different elements and decor without making the space look unrefined or cluttered. Plus, using neutral tiles adds a timeless elegance to your kitchen, meaning it won't look tacky or out of style anytime soon.
For new homes, your spaces are likely a bit on the smaller side. Using our neutral tiles will help the room feel a bit bigger. To enhance this look, we recommend letting in lots of natural light or adding ample light fixtures in the room. The result will be an open and breezy feeling, which is critical for making your home feel elevated.
Key Takeaway
When trying to create a grown-up feel for your first home, it's important to use elements and design schemes that exude sophistication and elegance. To help you achieve this, follow our tips for elevating your home using Floor Center's tile.
Need more ideas for your first home renovation? Check out our Styles & Ideas Guide for more guides and how-tos. If you need more tips, Our FC Tile Viber Community Group is here for you to learn the newest tile trends and design tricks.