What tiles from the Timber Collection can you use to create Scandinavian interiors in your home?
2100P2
AI209
AI207
2100P5
In this day and age, minimalism is the name of the game. More and more people are turning towards clean looks for their interiors in order to transform their rooms into sleeker styles. Through utilizing pastel-colored furniture, lighting fixtures, and other more calming installations, designers have turned towards the sleeker finishes inherent of that of Scandinavian looks. Coupled with contemporary decor, you can easily achieve a Scandinavian interior design with tiles, furniture, and appealing paint colors.
Having a Nordic-inspired look for any kind of room has probably eluded many designers in the past. They may have gone for more loud colors – certainly not characteristic of Scandinavian finishes. In fact, this style is all about toning down the art deco-inspired looks which proved to become too "loud" for some designers. Hence Scandinavian interior designs were born out of a desire to offer rooms with a higher level of simplicity and modesty without sacrificing on the overall functionality of space. Fortunately, Floor Center's wood-look tiles from their Timber Collection is the perfect way to offer any room with a more natural and minimalistic environment. Read on to find out how their tiles can help you achieve this look.
2100P2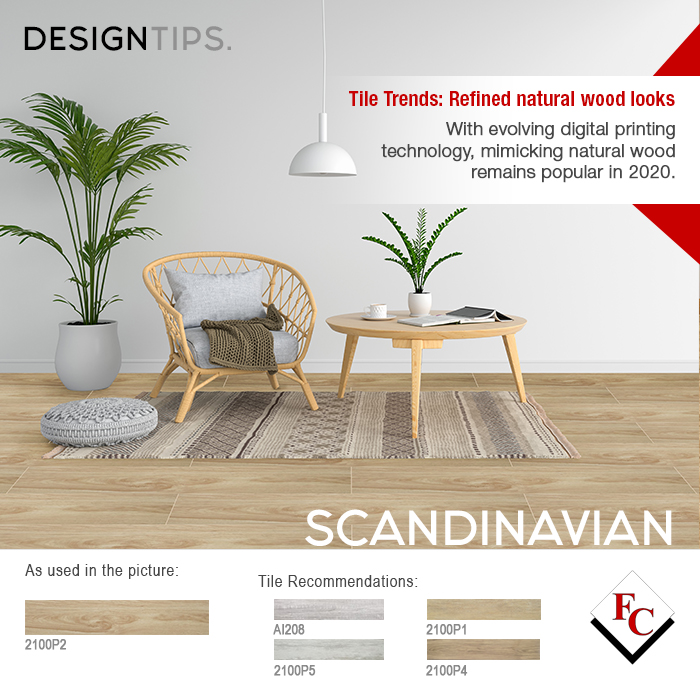 As mentioned before, Scandinavian designs are all about natural looks. It's no surprise that the wood-look finish of the 2100P2 is one of your best bets in creating calmer interiors. Whether you want to install this tile as part of wall or flooring installations, you'll be sure to come close to such an elusive design.
The first wood-look tile on this list perfectly complements living rooms, provided you have the right type of furniture and paint color. In particular, the wood-look finish blends in well with any kind of rattan furniture to give your living room the appearance of breeziness. If you're a fan of indoor plants, then you certainly won't go wrong with these tiles, as they work well with any kind of your choosing – whether it be a small pot of bonsai, bird's nest, or aloe vera.
Soon enough, you'll feel like you're transformed to the Nordic beachside, where the coolness of the sea breeze is just enough to make you sit back, relax, and enjoy the view.
AI209
Who says only generic wood-look tiles make for a perfect Scandinavian interior? Certainly not the next tile on our list. The AI209's gray wood design is another perfect tile to start off your journey of having Scandinavian-inspired designs for your home. This latest creation from Floor Center is highly versatile as it can be used for your living room, dining room, bedroom, as well as the kitchen.
Some designers may want to steer clear of using wood-look tiles for kitchen spaces – whether it be due to functionality issues, or simply uncertainty when it comes to achieving the Scandinavian design, wood-look tiles can be challenging. However, this shouldn't have to be the case. Gray wood designs are perfect for any small kitchen for the everyday minimalist. Specifically, the gray colors mingle well with natural lighting that may hit the "floorboards" of any kind of kitchen. Coupled with wooden counters and a clean, white-tiled backsplash, the gray wood appearance of this tile is as natural as can be.
AI207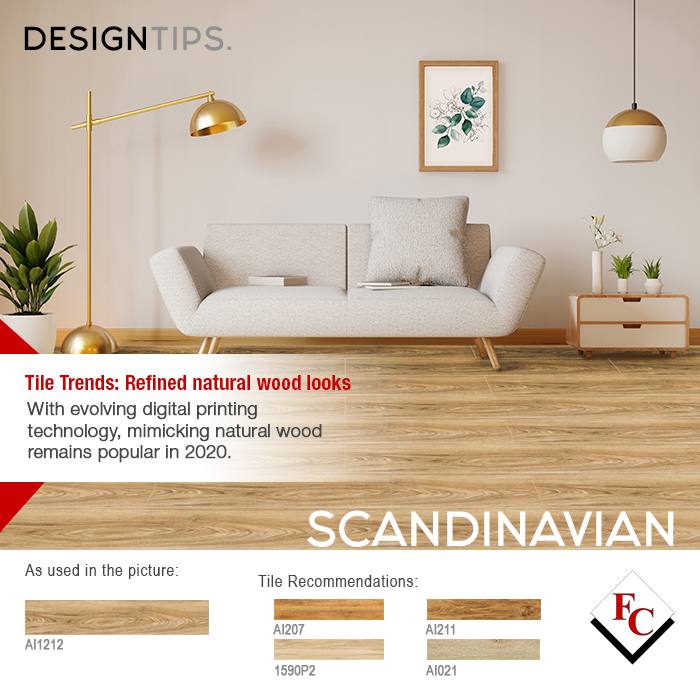 It need not be said, but working with wood when it comes to designing your home interiors can be a challenge. This material requires a significant amount of maintenance, which is why going for wood-look finishes without the drawbacks is one of the best choices you can make. Featuring a darker tone compared to the 2100P2, the A1207 is also another Scandinavian-transforming tile.
Dealing with richer-toned wood-look tiles may not initially seem to be a great choice since Nordic designs are all about cool tones and lightness. But on the contrary, the darker tones offer the best contrast, especially for 1950's Scandinavian-appropriate furniture, like egg chairs for the living room, or some stylized side tables.
2100P5
Sometimes, achieving the Scandinavian style doesn't require you to necessarily stick to the conventions and the rules surrounding this style. Simply going for Scandinavian inspirations in your interiors is also a smart choice, especially if you want to retain already-existing architectural decisions of a room.
Once again, the darker-colored tone of the 2100P5 can aid in your endeavor of achieving the contemporary-Scandinavian fusion. This tile is also perfect for wall applications, particularly for your kitchen space. The cool-look inherent in gray colors make this wall tile fit together with higher-leveled kitchen furniture such as tables and high stools. As with any wood-look tile, make sure the room is garnering sufficient natural lighting for truly eye-popping, yet relaxing visuals.
Key Takeaway
Achieving a Scandinavian interior with tiles doesn't necessarily have to be difficult, as long as you're equipped with proper knowledge when it comes to creating Scandinavian looks or those from its derivatives.
Despite the simplicity of this design, it offers any room with the highest level of sophistication, provided you use the right wood-look tiles. Click here to explore more timeless designs with Floor Center!