What are some patio remodeling ideas you should try?
Contemporary Square
Wood Look Patio Deck
Modern Wide Plank
Patterned Tiles
Lots of outdoor patios are traditionally made with masonries such as wood, concrete, brick, or stone. But it's also possible to use patio tiles in the Philippines to give you more design choices. Using patio tiles is also a great way to spruce up your existing outdoor floors once it gets old.
2020 should be used as an opportunity to bring life to your once boring patio and give it a fresh new look for the next decade. There are many different kinds of tiles you can use back post strength and style while still remaining on your desired budget. Here are some patio remodeling ideas you should try out for the next decade.
Contemporary Square
Shapes are still in for the next decade. Squares, in particular, have always been a classic design. To achieve this look you should start with a grass base. If you need it, fresh grass can be planted to really bring out the contemporary square look. When picking out the tiles is best to pick a tile that simulates natural materials. Square tiles that have a stone look a marble-like texture with rustic or matte finish will work well for this. When you lay these tiles on top of the grass, the tiles attract attention to the floor redesign. Contemporary squares are a modern twist on traditional stone aesthetics.
You can create unique quadrants by placing them diagonally across your lush grass patio to create a beautiful pathway to your patio or pool. Any color can be used for your natural texture tiles. But it's entirely dependent on your current patio design. You can choose to create contrast with cooler colors or if you happen to have terracotta colors it's also a good idea to complement the warmth with the corresponding complementary tiles.
Wood Look Patio Deck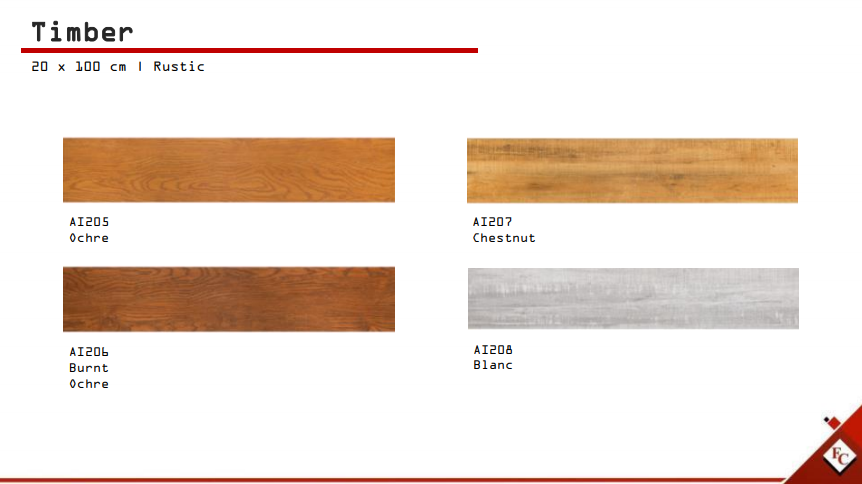 20 x 100 Timber Collection
Natural wood is beautiful but if you put it outside in the heat, rain, and other weather conditions, it won't last as long. A great way to this is to use porcelain wood look tiles four your patio deck. You can still get the natural texture wood while offering the durability of porcelain.
Porcelain is less likely to wear under the weather conditions mentioned above. This means that your deck will last longer compared to the actual natural material. It's also much more affordable compared to wood and you wouldn't have to worry about termites permeating your property. Allow your deck to survive many summers and rainy seasons by transforming it with wood look porcelain tiles.
Modern Wide Planks
Take a gander at this design idea. Using wide plank tiles brings contemporary design for both indoors and outdoors. If you want an ultra-modern and futuristic look, this is the way to go. Use wide concrete look porcelain tiles to keep your feet cool in your patio. The cool deep tones the concrete look tile looks great with a home with a modern design backdrop. It bears away from the traditional looking patio by taking advantage of modern shapes and shades. Create a cohesive look by using updated wood furniture but adds a kiss of warmth without being too overdone. Top it off with large potted plants within your patio area to keep everything grounded in nature but still being contemporary.
Patterned Tiles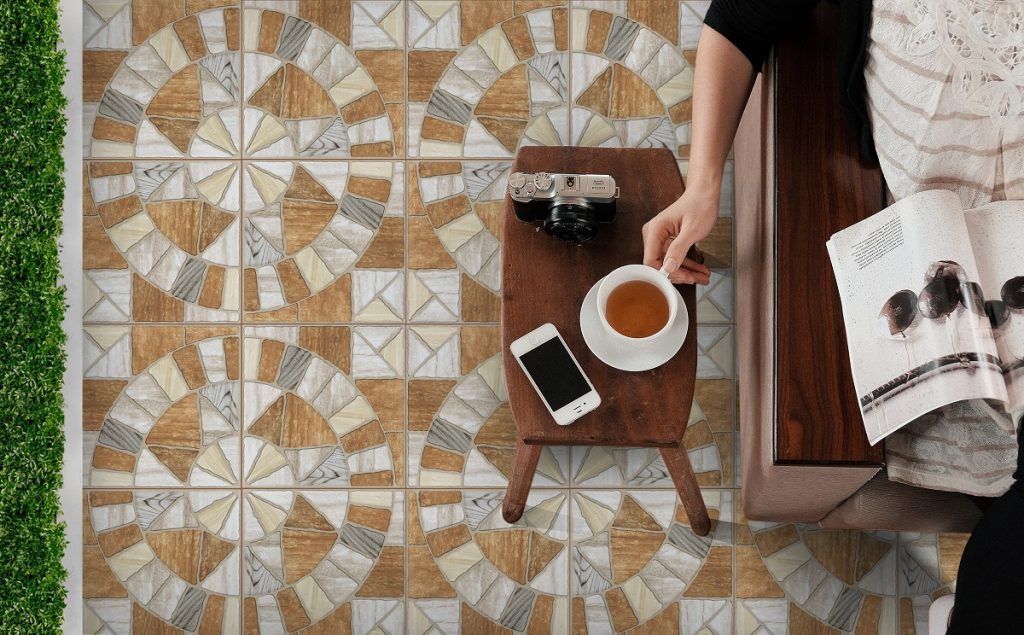 30 x 30 Roma
For this redesign, it's all about the layout. You'll also need to use a durable porcelain tile to ensure that your patio lasts a long time. You can choose from wood look tiles, stone look tiles, or a warm terracotta tile for your patterned patio. These porcelain tiles give a nice texture as you walk across it and it can complement any style home or patio.
Key Takeaway
Patio tiles in the Philippines can be used in a number of ways to remodel your exteriors. Patio tiles are available in different designs and finishes. You have a lot to choose from without worrying about potential wear and tear. The durability of porcelain compared to other natural materials like wood makes it an appealing choice for both budget concerned and design concerned consumers. Redesign your patio for 2020 by choosing among these different ideas for inspiration. Click here to get started with Floor Center!