What are great low maintenance tile designs for your kitchen?
Natural Stone Tiles
Concrete Slab
Porcelain Tiles
Ceramic Tiles
There are many tile designs in the Philippines to create a low maintenance design for your kitchen. Cooking in the kitchen is already a high-maintenance job and cleaning can be such a tedious task after a long day in the kitchen. If you don't want to have a difficult time with the cleanup, why not convert your tiles into low-maintenance and easy-to-clean design?
There are so many directions you can go with your design but thankfully, there are so many options out there that can definitely fit a low-maintenance profile. The best part about going low maintenance is that you can really adjust it according to your budget. There are tile designs out there that can fit a number of kitchen styles.
You can enjoy all the fun and enjoyment of cooking even more by eliminating the daunting part of cleaning. You wouldn't want any residue and stains on your tiles. Spills on the floor can take time to clean, especially if the mark is quite hard to remove. Let's take a look at some options you can choose for a low maintenance design.
Natural Stone Tiles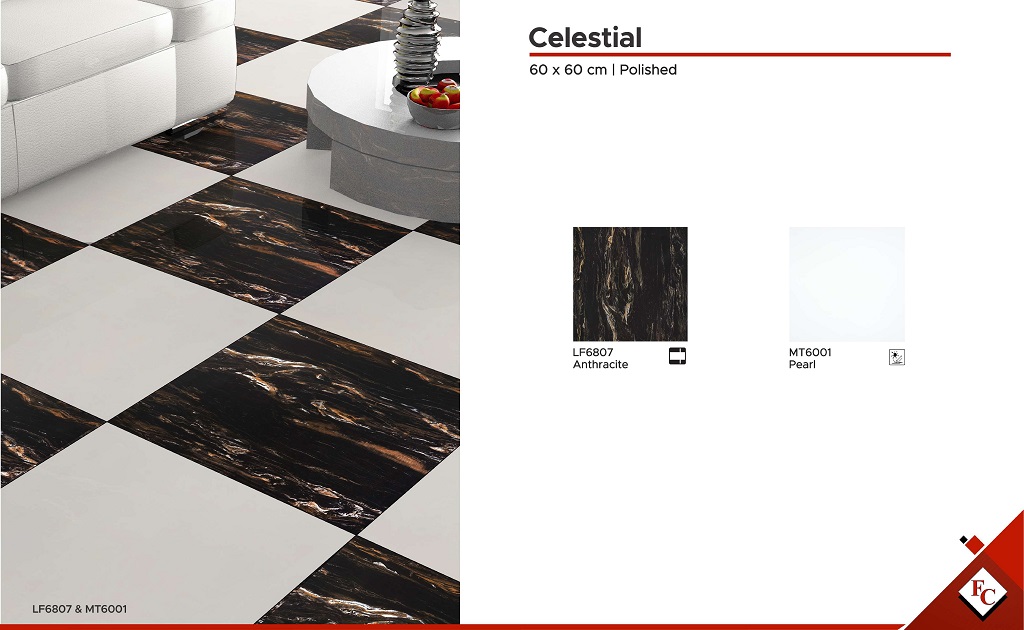 Natural stone tiles, such as marble, are simple to maintain. More suppliers are giving consumers the option to choose marble tiles for various parts of their house. This classic beauty is actually quite easy to clean. All you need is a little bit of elbow grease and dedication. One tip to avoid any problems for your marble tile is to avoid anything acidic.
Acid destroys marble and causes unsightly etching on your design. Etching on the marble actually happens if you accidentally spill liquids like lemon juice on the surface. The acids react to the natural component of the stone which can create permanent markings and a dull finish. This can easily be remedied by not allowing the acidic liquid linger on the surface.
Most marble on the market can now be polished and has a protective layer on the surface to prevent this. It's easy to wipe away stains and sweep away dust because of this protective polished layer. One design you can check out is the polished 60×60 Celestial tile collection. It is the perfect option to keep a balance of low maintenance and elegance.
Concrete Slab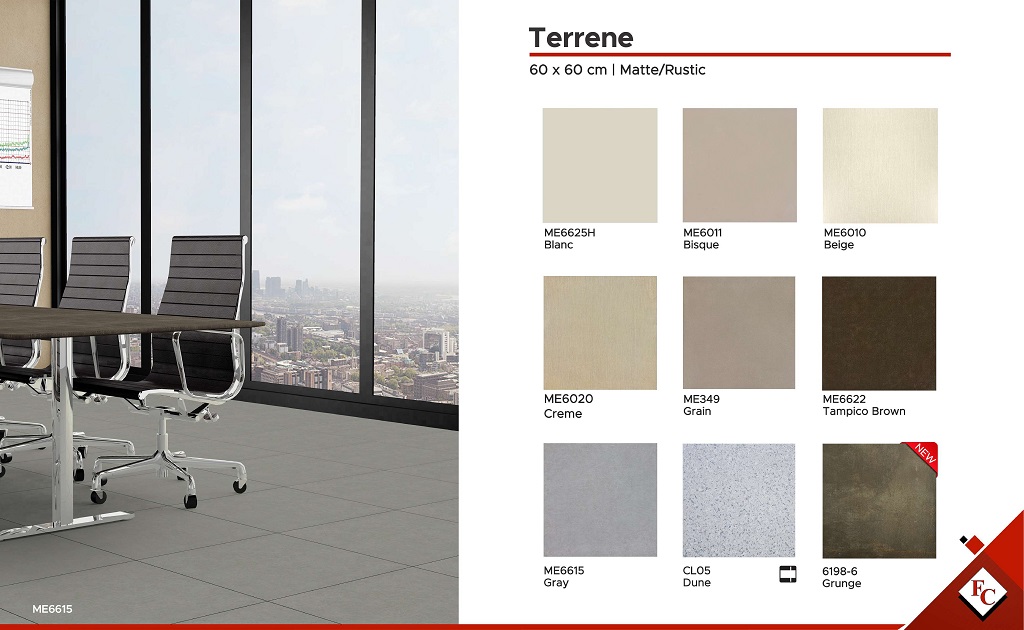 Concrete works well for the kitchen. It can take a lot of wear and tear from daily use. In terms of design, it's also very rustic, which is a popular choice among a lot of designers. It's the easiest to clean and only requires quick sweeps to get rid of any dirt and dust.
At first glance, incorporating concrete can be quite tricky, but there's a number of treatments you can do to make it look better. The 60×60 Terenne matte tile collection comes in a variety of grungy and rustic colors that can fit a variety of kitchen aesthetics.
Porcelain Tiles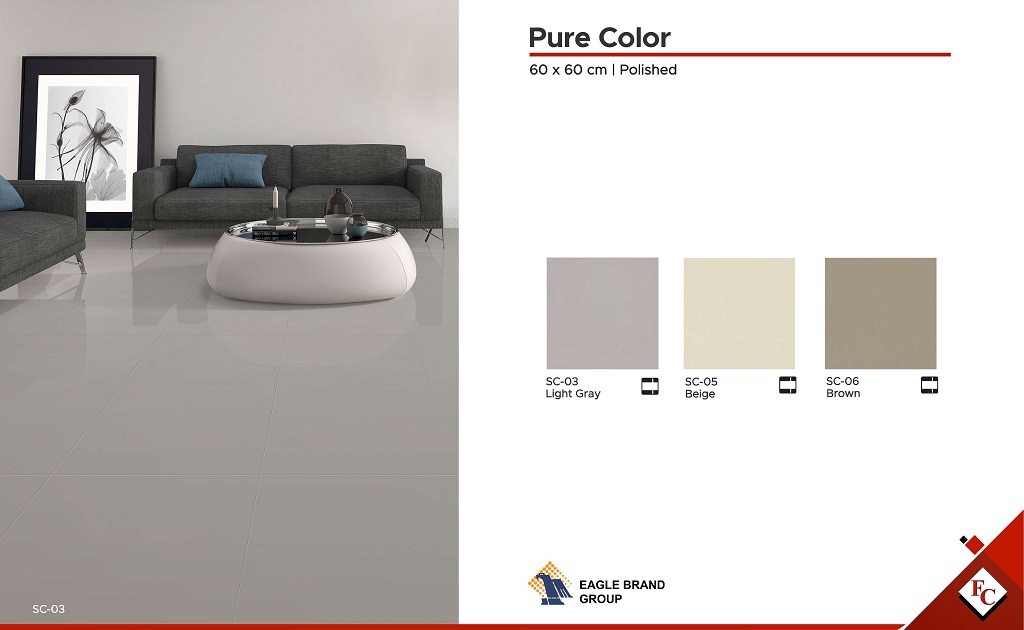 Porcelain tiles are a tried and true material that's been used in kitchens. It is very easy to clean and it isn't prone to staining as long as the tile has proper protective layers on. You can pick a polished tile like 60×60 Pure Color tile collection. The name matches how it looks – it's pure and clean. With the ability to match different kitchen designs, it's very pleasing to the eye. The 60×60 Pure Color tile collection comes in 5 shades and 2 finishes so that you always have a diverse option.
Ceramic Tiles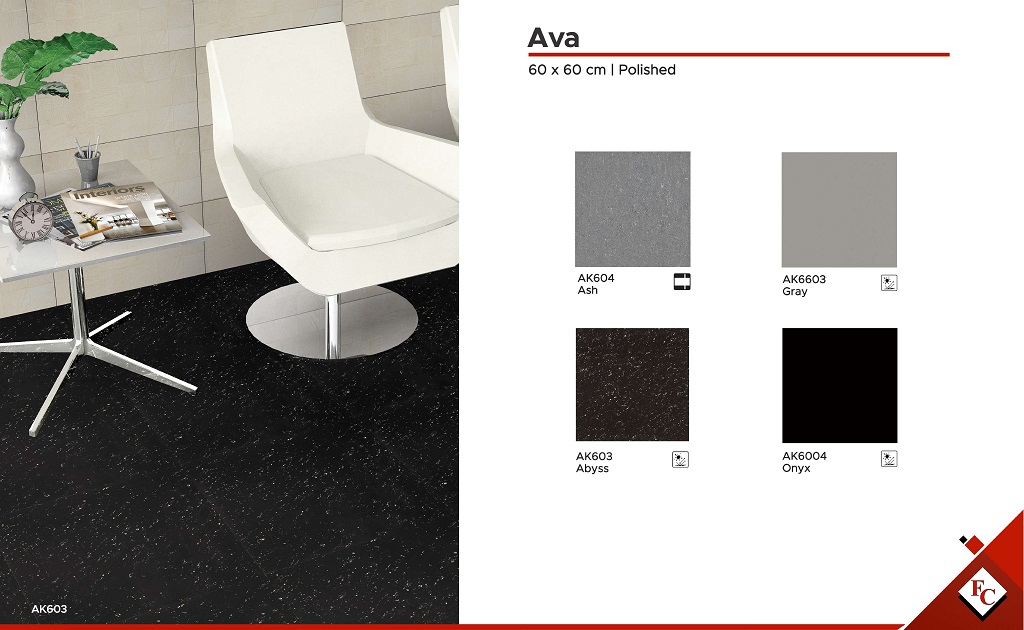 Ceramic tiles are another common kitchen tile solution. Similar to the other tiles listed above, this is also incredibly easy to clean and maintain. Proper maintenance also applies to your flooring; this is no exception. Ceramic tiles actually have the most eclectic designs out of everything as it's the most commonly available tile material on the market. If you're interested in unique ceramic tile design, the 60×60 Ava polished tile collection offers a posh and elegant design.
Key Takeaway
Have you decided on the perfect tile design in the Philippines for your kitchen yet? With this quick guide, you can get an idea of the most ideal design you want and need based on your budget and preference. Click here to check out more designs with Floor Center!