This month of March, we celebrate the wonderful women of the world! We are turning the spotlight to the ones who make a difference in our society—raising a beautiful family, playing significant roles in economic success, and bringing about positive changes.
Meet these 7 empowered Filipinas of #TodayILEad Campaign as they share their stories of hope and journey to success. All of them embody different types of leadership with ONE similar concept: Lifting one self's spirit and everyone who surrounds them.
Carla Vicente, #TodayILead a Family.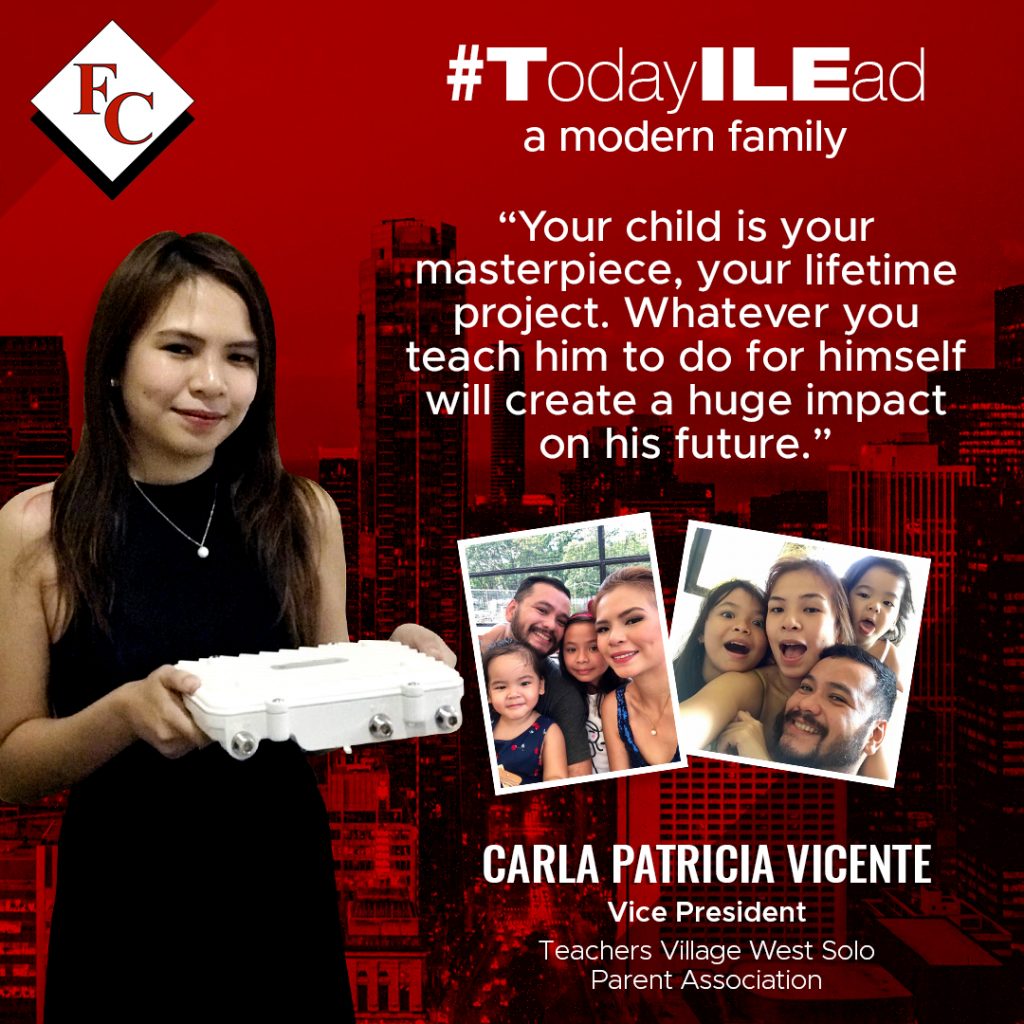 "As a single parent, we tend to think that we're not enough or (that) a 'parent-child' do not count as a family. Your child is your masterpiece, your lifetime project. Let your child be your inspiration and motivation to always move forward." Carla Vicente strongly advised every single mom.
Carla is a single mom to her daughter Iya. For her, having Iya was enough to call the two of them a family. As she turned her page to a new chapter, she met her partner Francis—also a single parent—she then welcomed a new definition of what a family is and that includes her partner's daughter, Kaisen. Their children formed a bond like siblings by blood and all of them love, help, support, and take care of each other. These are the things that for Carla, truly defines a family that she now leads.
Carla, an empowered woman, welcomed a positive definition of a single parent. She is fearless when taking leaps and readily faces changes. Today, she leads a modern family.
Coline Anne Gayle Dugang, #TodayILead an Organization.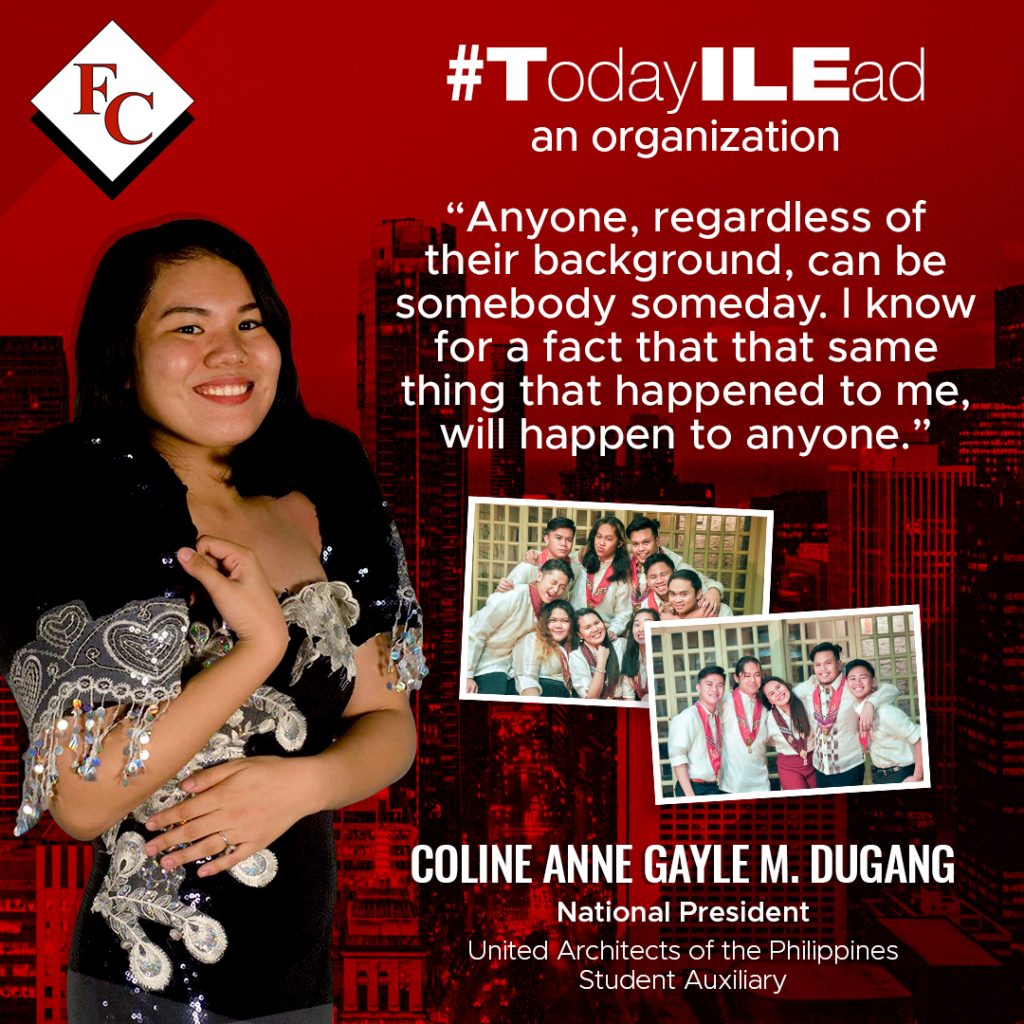 "Your strength may be someone else's weaknesses. Use it to empower. On the other hand, their strength may be your weaknesses. Use it to connect. It's always a collective effort that matters." Coline Anne Gayle Dugang shared a thought that constantly inspires her.
Coline Anne, the President of the United Architects of the Philippines Student Auxiliary, is a woman of inspiration, an absolute reminder that from being someone who used to be part of the crowd that sits and listens to the one speaking in front, you can be somebody someday. As a President of an organization she always thought that being part of an organization bears substantial personal growth for herself but she realized that as time goes by, she is bound to serve a greater purpose, and that is to serve her fellow students. Today, she remains firm as she constantly work to pursue personal and professional growth for her members.
Coline Anne Gayle Dugang, an Architecture student of Malayan Colleges-Laguna, the President of UAPSA. She is a woman of great wonders, a woman who can be anyone she wants to be. Today, she leads an organization.
Denise Fabella, #TodayILead an Advocacy.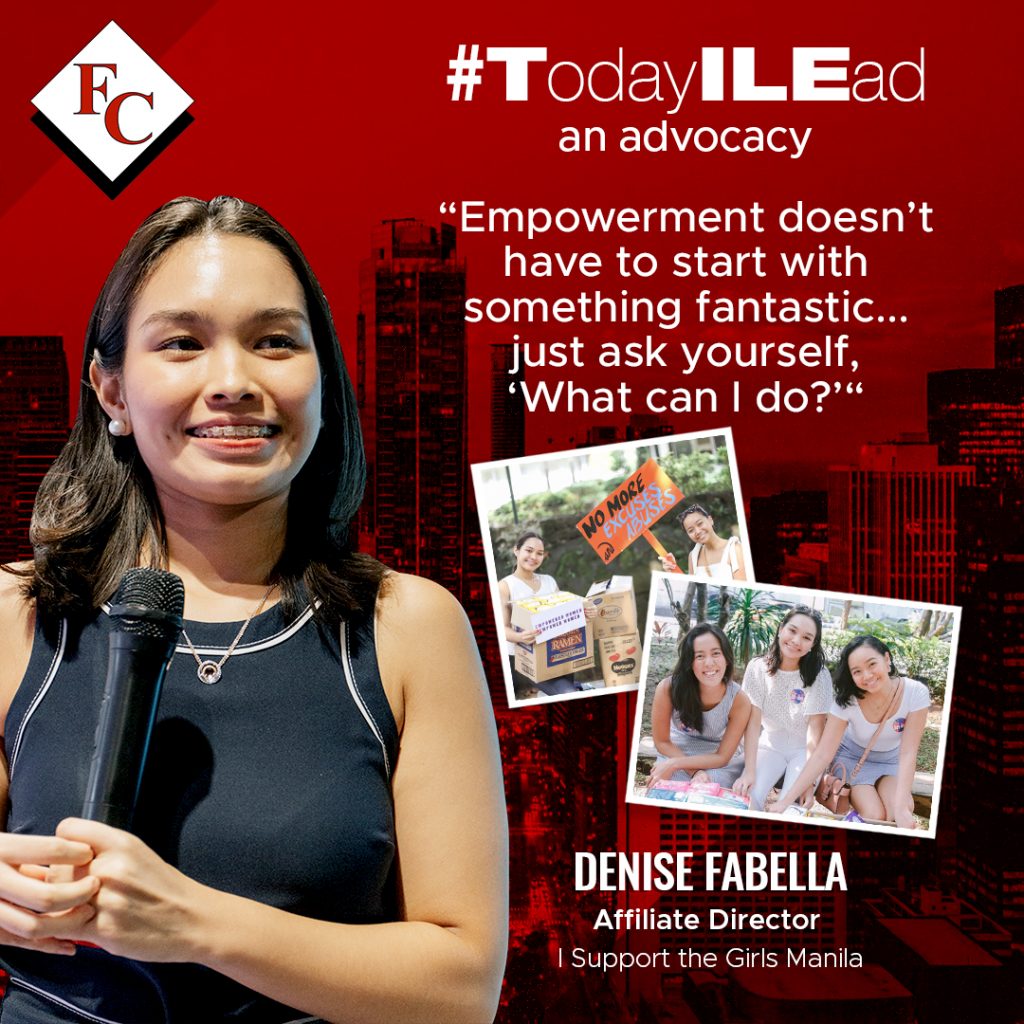 "There is only "doing" and "not doing". There is no in between. Empowerment doesn't have to start with something fantastic… just ask yourself, 'What can I do?'" Denise Fabella said as she encourages every woman.
Denise Fabella, the Affiliate Director of I Support the Girls Manila, is a woman devoted to a meaningful change. Her advocacy in uplifting woman's confidence and maintaining dignity through providing them undergarments and menstrual hygiene products continuously reminds every woman that these are needs and not just luxury. Her advocacy provides a daily push for empowered woman to empower others.
Denise Fabella, a woman's advocate, she is dedicated to pass on confidence from one woman to another. Today, she leads an advocacy.
Katrina Cruz, #TodayILead an Advocacy.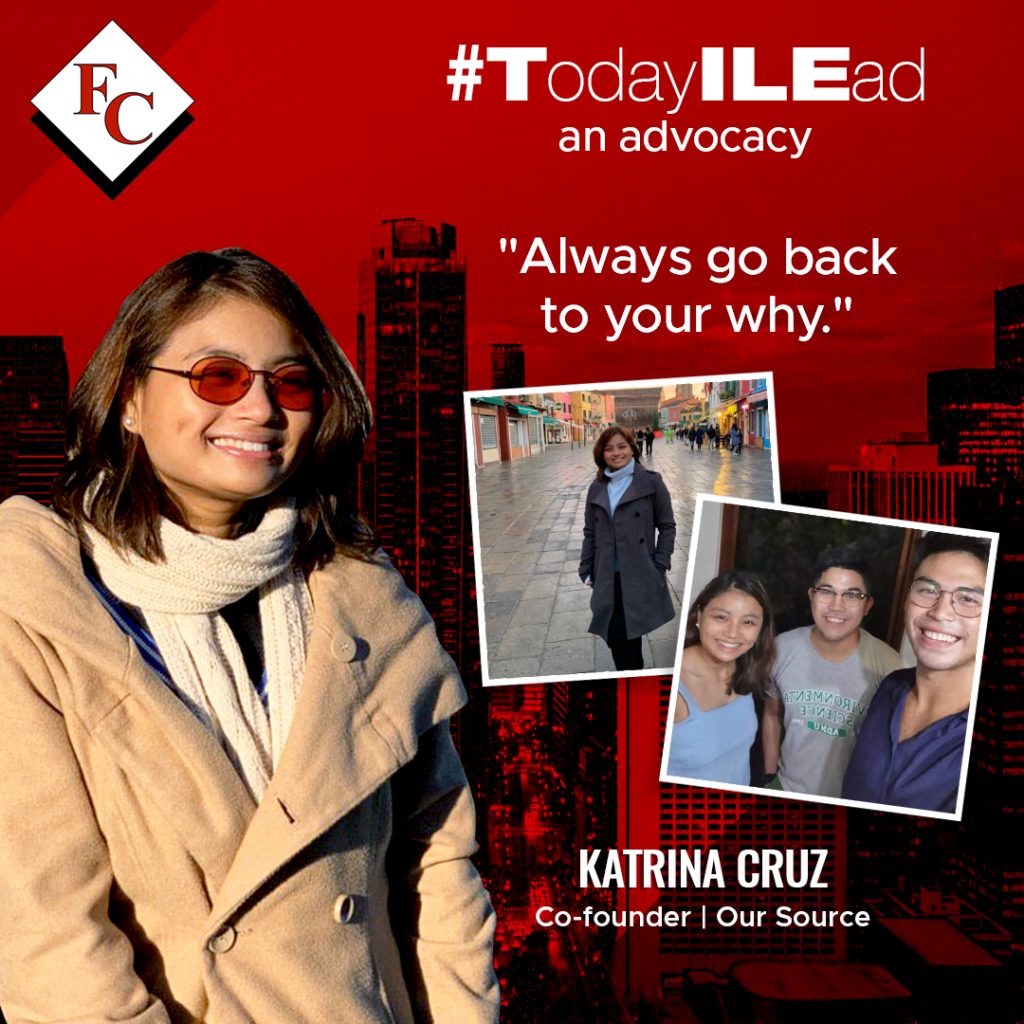 "Always go back to your why." Katrina Cruz manifested her drive in doing her passion.
Katrina Cruz, co-founder of Our Source, leads on its advocacy of growing a community for an environmental cause. A young entrepreneur, who shared her passion for sustainability together with her friends, Katrina now manages a brand that supports local sustainable brands. Committed to her stand, she is determined to take an initiative in this digital age.
Katrina Cruz, a woman driven by purpose, breaks conventional practices to promote better solutions. Today, she leads an advocacy.
Ar. Michaela Rosette M. Santos-Tayag, #TodayILEad an Advocacy.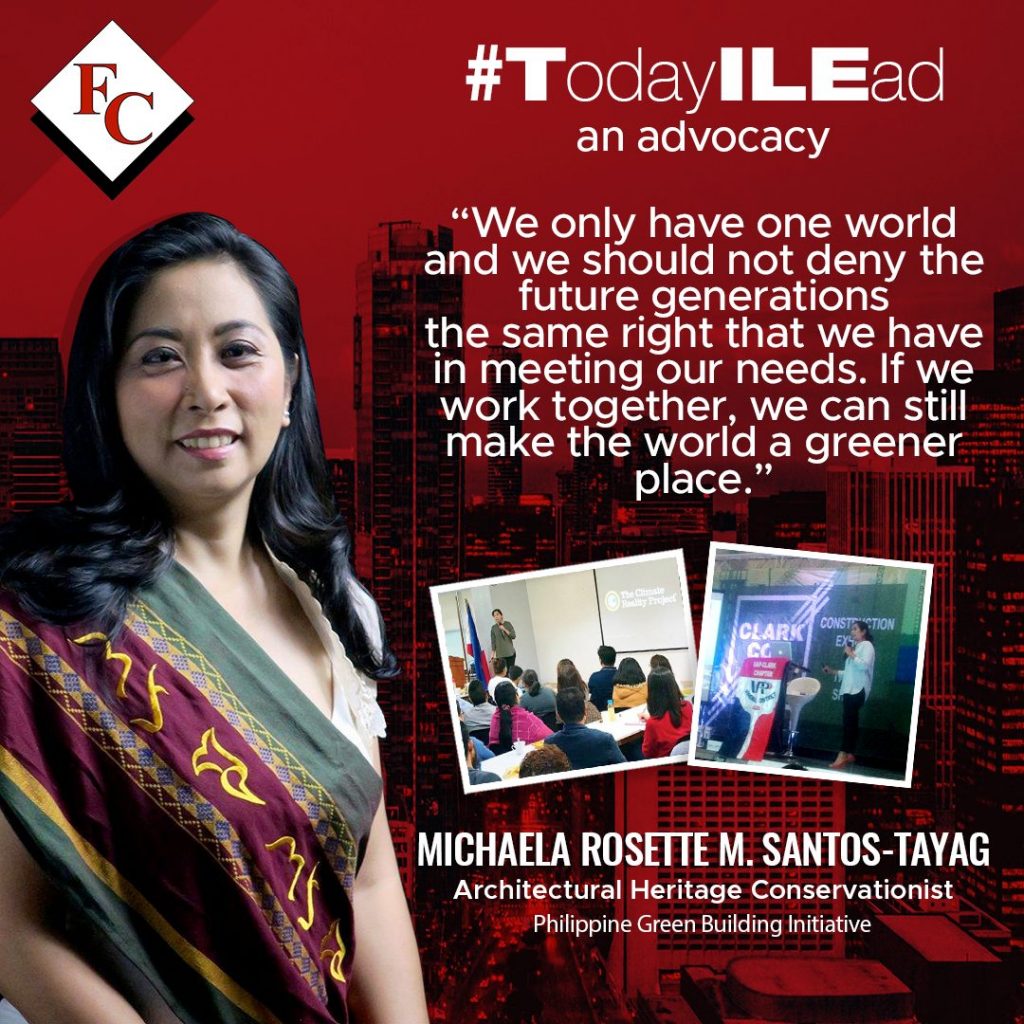 "If we work together, we can still make the world a greener place. Let's design buildings with minimal negative impact to the site; make these structures energy efficient and water efficient; use environment-friendly materials and provide comfort and health to the users of the buildings by improving the indoor environmental quality. There is still hope. Let's go green!" Ar. Rosette called out optimistically to architects like her, and to future ones.
Ar. Rosette is part of the membership committee of the Philippine Green Building Initiative and is also a LEED Accredited Professional for Building Design and Construction. She juggles her time being a sustainability consultant for various LEED and GREEEN projects in the country; an architectural heritage conservation advocate; and a lecturer at the Department of Architecture of Holy Angel University in Angeles City, the University of the Philippines Diliman, College of Architecture, and the Atlas Career Development Center, where she helps prepare aspiring architects to become registered professionals.
Ar. Rosette Santos, a woman who challenges professionals to go sustainable, takes the initiative for our future. Today, she leads an advocacy.
Karen Ibasco, #TodayILead People.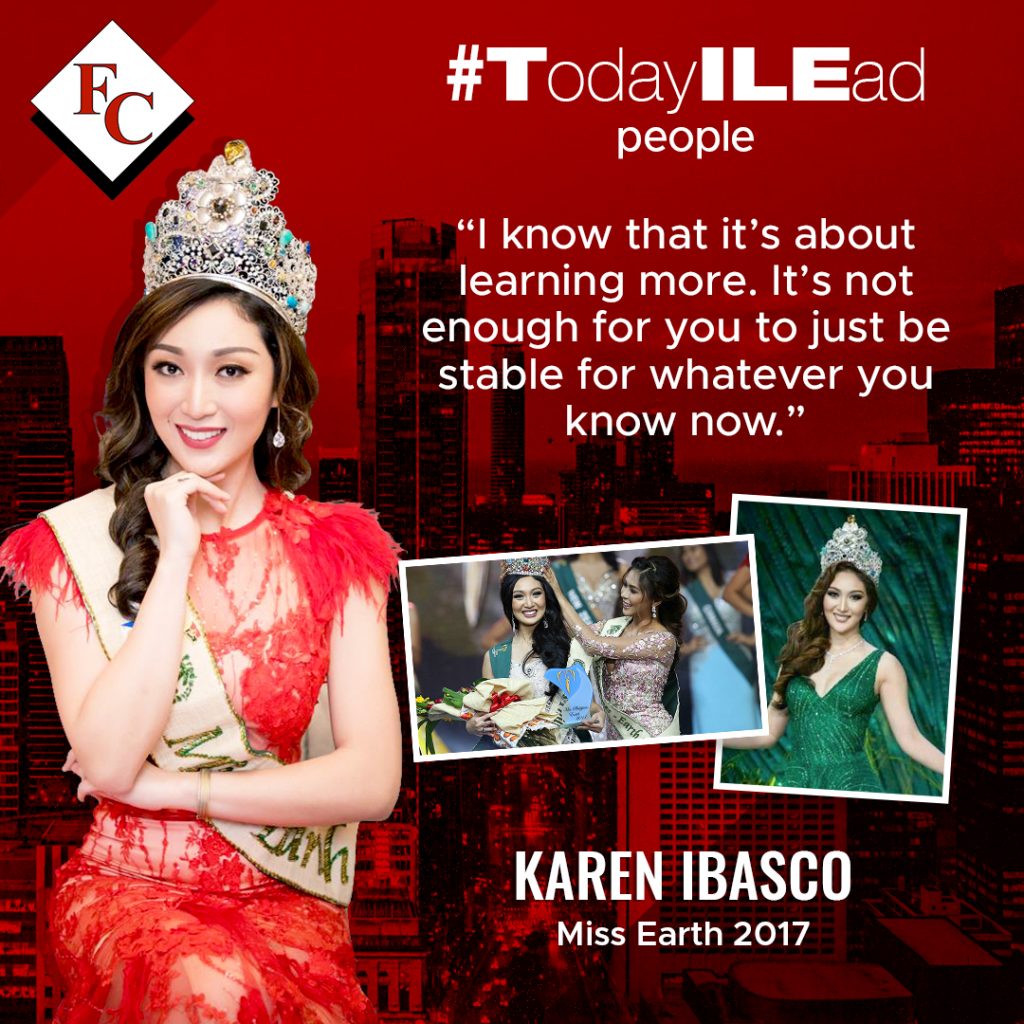 "No matter what you fight for, as long as it's beneficial and purposeful, continue in the same path by walking the talk and in time you will see the difference you can make." Karen Ibasco emphasized as she explained her personal mantra.
Karen Ibasco, the 4th Filipina crowned as Miss Earth in 2017, is a woman that best exemplifies resilience and consistency in achieving goals. Apart from being known as a beauty queen, she is also a Physicist and an environmental advocate. In 2018, she was chosen as one of the outstanding women of the year and through the years she remained active in leading the people in always making a difference.
Karen Ibasco, a beauty shielded by purpose and leadership, she is a woman willing to take a first step to lead the crowd. Today, she leads people.
Dr. Rebecca A. Wata, #TodayILead a First-Class company.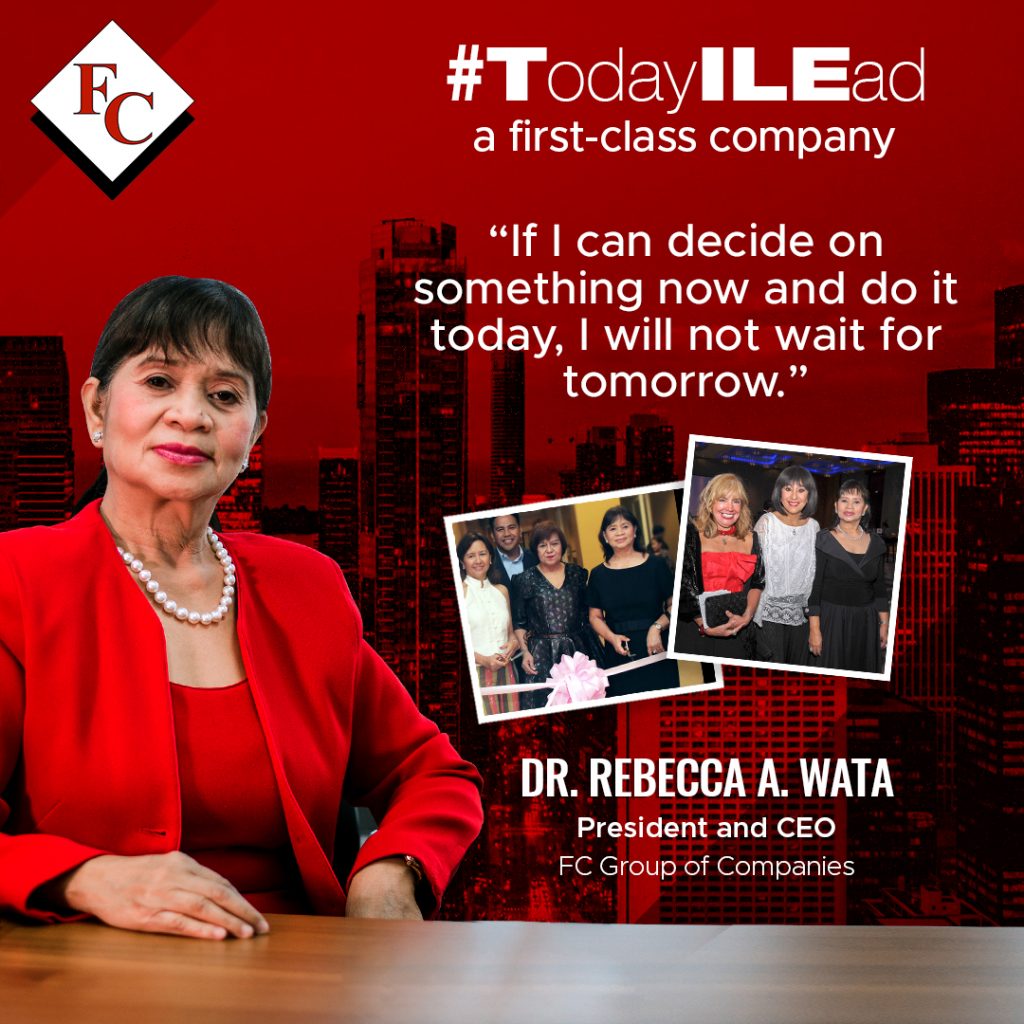 "Do what you can today because tomorrow is another day. Do what your instinct dictates. If you think that is right, go for it. Don't make it hard. If I can decide on something now and do it today, I will not wait for tomorrow." Dr. Rebecca A. Wata bravely expressed like a call for action.
Dr. Wata, the CEO and President of the FC Group of Companies, is a woman with a strong vision. She is a reflection of women independence to create brave choices. As a businesswoman, she courageously stepped into opening a jewelry store and a carpet showroom but it is with being the country's largest tile provider she stood the best. Here, she exudes an exceptional personality that balances all together her care for family, clients and employees.
Dr. Rebecca A. Wata, President, CEO, wife and a mother, she is a woman with a constant drive for success and a passionate attitude towards people. Today, she leads a First-Class company.