What are designs to try with large porcelain tiles from Floor Center?
Classic White
Sleek Marble Effect
Sophisticated Black
Modern Composition
There's just something about using porcelain tile: Whether you love using classic colors or are looking for a contemporary look, choosing the right tile design can be a game-changer. And nowadays, larger formats are trending for their aesthetics and their ability to transform any interior space. If you're interested in using this style, you've come to the right place. To help you start brainstorming for a home makeover, we've come up with four designs to try with large porcelain tiles — made by Floor Center!
Classic White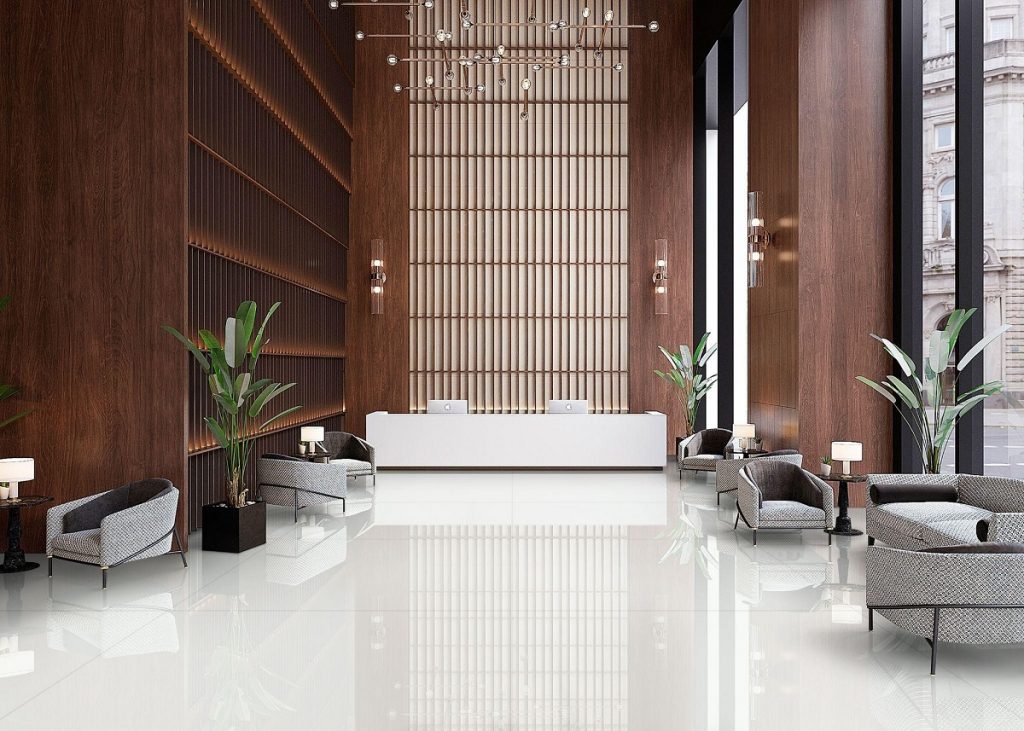 [90×180] L0D6GA-80E
White is the staple of any modern or minimalist design. If this is the look you want for your home, our large porcelain tiles will help you effortlessly achieve this style. Our classic white tiles can make any space look bright and flawless, with an outstanding feel. This becomes more pronounced when used in open spaces, as our large tiles give the eyes relief from any distracting grout lines. The result? A room that looks and feels spacious.
There are many ways to apply our large white tiles. You could install them horizontally, which creates the look of a wider space. You could also install them on your walls, which would make them look taller. As a plus, you don't have to worry about any stains spoiling the image of your room. With tiles, white is a color you can fully utilize thanks to the material's resistance to water damage, dirt, and chemicals.
Sleek Marble Effect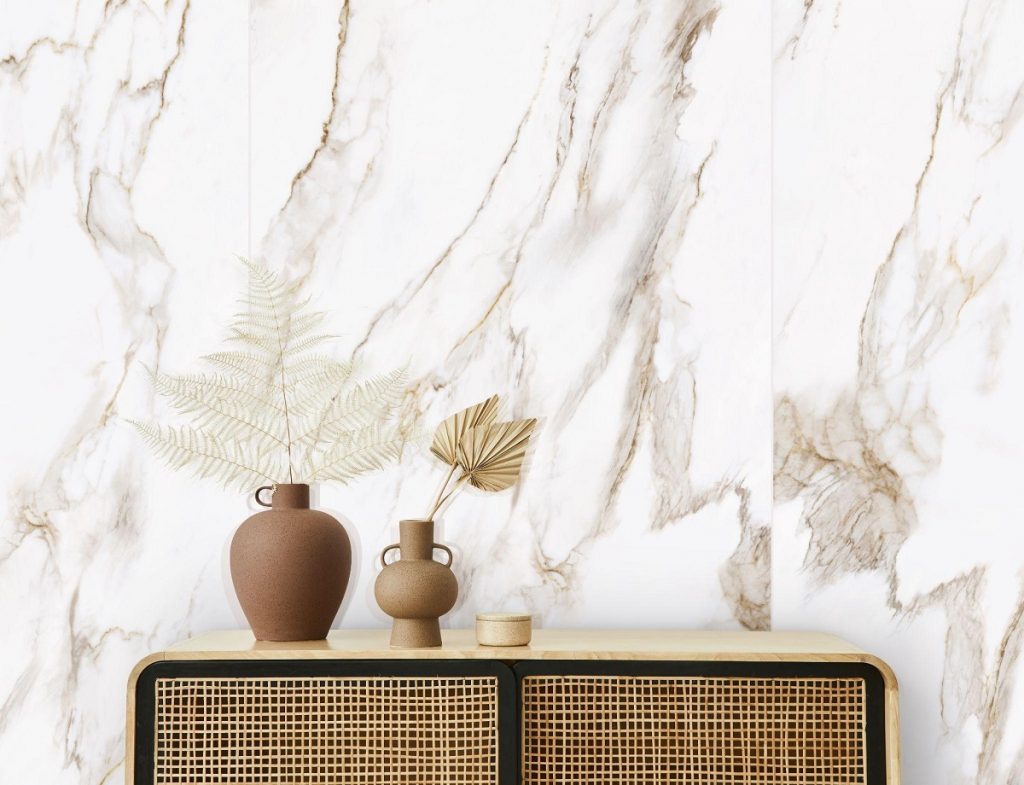 [90X180] L0D6GA-02E
Choosing the right look for your large porcelain tiles is the best way to modernize an outdated room. In addition, using the right patterns and larger format tiles can make the space feel airier and vibrant. With our marble-look tiles, you're sure to achieve a more luxurious feel for your interiors. Our tiles are designed to exude the sophisticated beauty of natural marble. What's more, this design is preserved using highly durable material — porcelain. Applying our large tiles on your walls will create a timeless design that will make any home or establishment feel high-end.
For example, you could use our large marble-look tiles in smaller rooms, such as a foyer, sitting room, or bathroom. In these spaces, applying our large tiles to the walls of the room will extend the space, making it feel less cramped. The marble effect will not only update the look of the room, but also accentuate the spacious feeling. With the tile's rich, polished white surface with marble veining, the eye perceives a larger, modern-feel room.
Sophisticated Black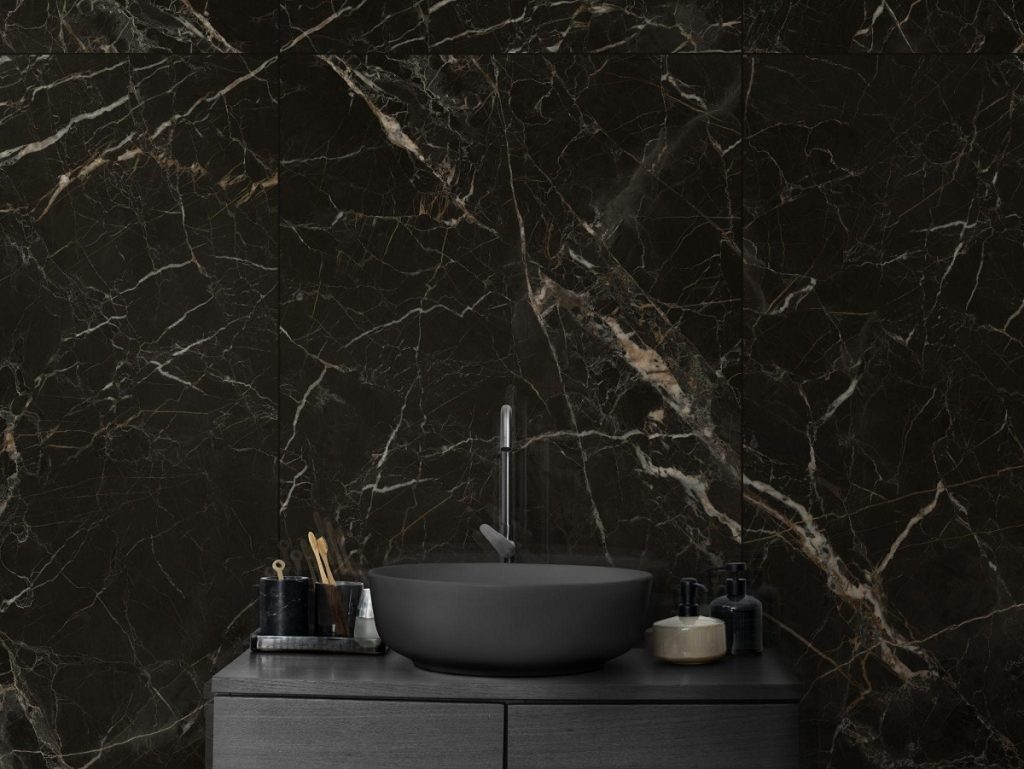 [90×180] L9LE07BH
Using black creates a sophisticated yet cutting-edge aesthetic for your interior design. While using black paint to cover your walls might make a room feel smaller, this is not a problem for large black tiles. When using our porcelain tiles, you'll be getting shiny and sleek surfaces that counteract the effect of dark colors. What's more, our black tiles draw their finish from natural elements, creating a stone-like effect. Adding these black tiles to cover walls, counters, backsplashes, and other areas will enhance the beauty and ambiance of every room.
When using this tile, you might be wary about using such a large tile in small spaces. But don't fret! No matter what size the room is, using large tiles will create the illusion of extra space. So, we highly recommend using this black tile in enclosed spaces, such as your bathroom. When applying this color, it is also a good idea to use the same material for both the floors and the wall, which will give a more unified look in your small space. Pairing this tile with a darker grout color will remove any lines that could distract from the décor.
Modern Composition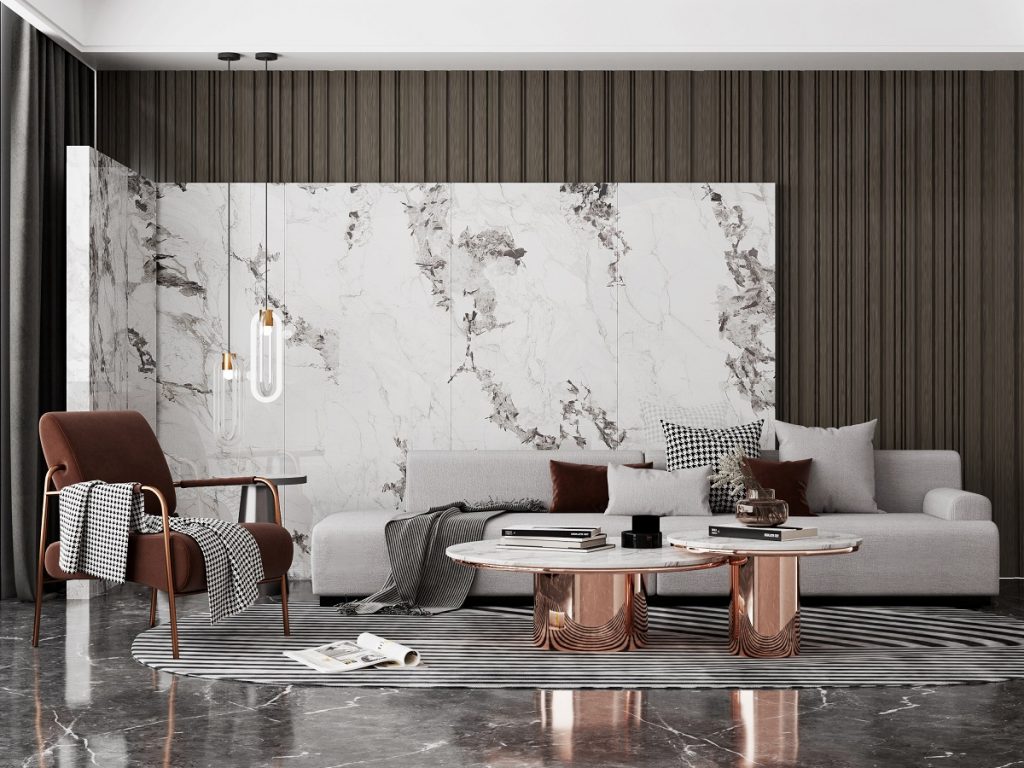 [90×180] L9FL46UE
If you don't prefer a streamlined look, then you could mix and match our large tiles to create contrasting surfaces. Consider using lighter tiles — such as our L0D6GA-80E or L9FL46UE — with the dark L9LE07BH tile. By choosing this combination, you can combine the look of a bright and dashing tile with a dark and stunning one. This bold look offers a sensational style that's perfect for any modern home.
To apply this design, we recommend splitting your rooms into sections. Rather than using one tile for the floor and another for the walls, you can use the darker tiles for the floor and a section of the wall, while placing the lighter tiles from wall to ceiling. By using the large dark tiles to cover a majority of the space, you can create a subtler and muted environment — perfect for private areas, such as the bathroom. Furthermore, the room will still feel airy and spacious, as the lighter tile will extend the upper portions of the wall and give the illusion of a higher ceiling.
Why use tiles from the Whalemax Collection?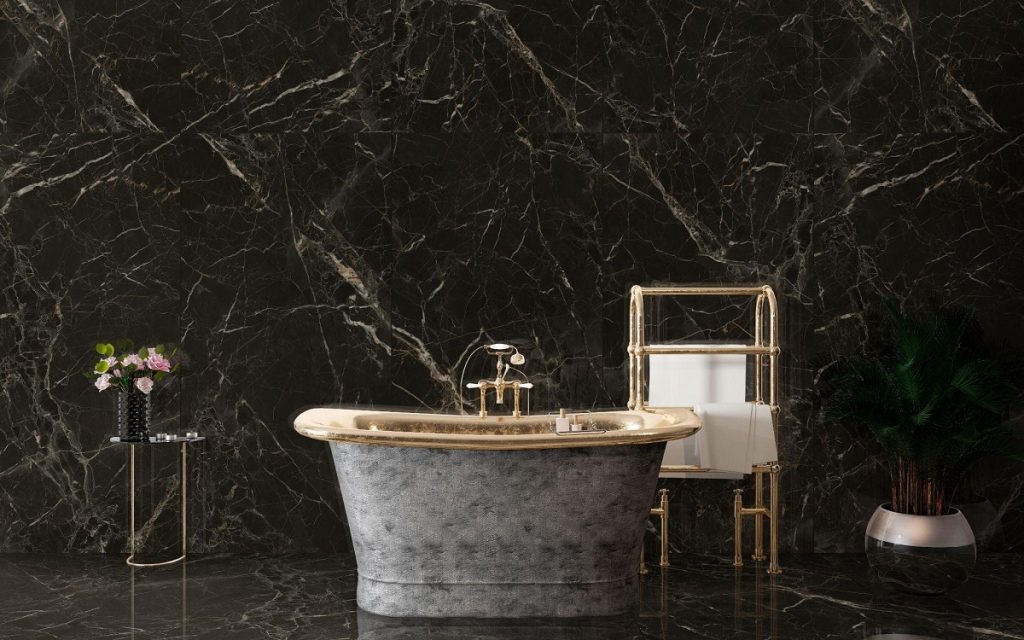 [90X180] L9LE07BH
With the most advanced tile production techniques and equipment at our fingertips, Floor Center guarantees that our Whalemax Collection tiles are the best on the market. They will deliver high performance in any type of application, and provide a smooth, seamless look for any interior. This tile's careful design provides other benefits, such as:
Made from 100% porcelain material — Every tile is highly water-resistant and can withstand high traffic and use.
Seamless installation — Super flat glazed surfaces with rectified edges.
Extremely durable — Can last a lifetime when properly installed and maintained.
Stylish and elegant — Timeless and tasteful designs that won't go out of style.
Hygienic and eco-friendly — Free from toxic substances, with no negative impact on the environment even at disposal.
Key Takeaway
Interested in using one of these designs with large porcelain tiles? If yes, we have good news for you. These 90x180cm tile slabs are a limited collection made by Floor Center, and we're now opening reservation slots for these amazing tiles. Reserve yours now by filling this form!
Feeling inspired? Browse through our design collections for even more ideas on how you can use tiles to transform your home. Our FC Tile Viber Community Group is also open for you to join and keep up to date on tile designs and trends.